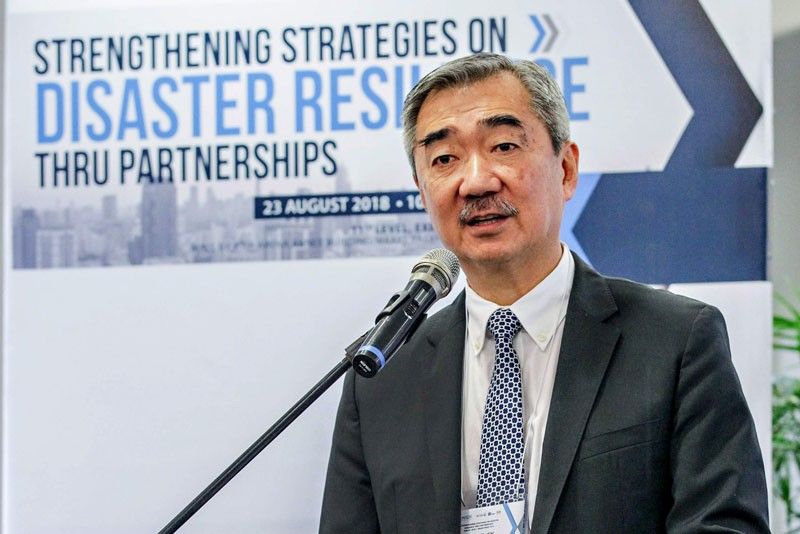 SM Prime Holdings Inc. and ARISE executive committee chairman Hans Sy speaks during a discussion on disaster risk reduction and resilience strategies at the SM Arena MAAX in Pasay City yesterday.
Geremy Pintolo
Investments in disaster risk reduction urged
MANILA, Philippines — SM Prime Holdings Inc., the property arm of SM Group, called for investments on disaster risk reduction (DRR) management yesterday, saying this helps not only businesses but communities as well.
"A lot of people would even challenge if you can really do something about natural disasters. I cannot promise anything, but if we don't start doing something then that's gonna be even worse," SM Prime Holdings Inc. told The STAR on the sidelines of the Private Sector Alliance for Disaster Resilient Societies (ARISE) event yesterday.
Sy is also executive committee chairman of ARISE led by the United Nations Office for Disaster Risk Reduction (UNISDR), which is urging more members of the private sector to collaborate with local government units to raise awareness and deliver impacts on DRR management and resilience.
SM Prime serves as the secretariat for ARISE Philippine chapter.
"That's why I encourage people, no matter how small or big your share is, if we combine everybody together it will make impacts and save lives," he added.
The Philippines remains on top of world risk indices based on several vulnerability factors including geographic location, population growth, urbanization, income inequality and socio-cultural conflict.
Sy said DRR management is at the forefront of the company's investment, allocating at least 10 percent to disaster risk resilience in every construction project.
"In every project that we do, it is really part of our program and I can say that it gave us peace of mind, we can sleep and eat better. Investing on disaster resilience makes good business sense," Sy said.
"There were incidents that happened like the one in Marikina recently where we were able to save a lot of money because if we had not done those things, we may have suffered a lot more," he added, referring to the flooding in the city and other parts of Metro Manila due to heavy monsoon rains.
UNISDR Special Representative of the Secretary-General Mami Mizutori, for her part, lauded the Philippines for being at the forefront in dealing with disaster risk reduction, saying the country is in an "excellent track of accomplishing national and local strategy for DRR."
However, she said the problem on informal urbanization, which is gaining prevalence in the country, should be addressed as this might lead to chain of disasters.
"Urbanization is happening very rapidly but there are also a lot of informal urbanization happening where people (are) living in houses which are not built resilient enough and that is becoming one of the big risks globally," Mizutori said.
"In the Philippines too, there is informal urbanization happening so we need to find a solution to this in order to protect those people who are more vulnerable," she added.
Meanwhile, ARISE as a whole continues to collaborate to achieve the outcomes and goals of the Sendai framework.
Adopted in 2015, the Sendai Framework for Disaster Risk Reduction is a 15-year voluntary, non-binding agreement that recognizes the role of states and the shared responsibility of local government units, private sector and civil society groups.
It aims to reduce global disaster mortality and economic losses, at the same time increasing international cooperation of developing countries and access to multi-hazard early warning systems and disaster risk information and assessments.
Apart from the SM Group, other ARISE Philippine members are Aboitiz Equity Ventures, Double Dragon Properties, Jollibee Foods Corp., Manila Electric Co. and The STAR Group of Publications, among others.