What we know so far: Duterte's 'no new casinos' directive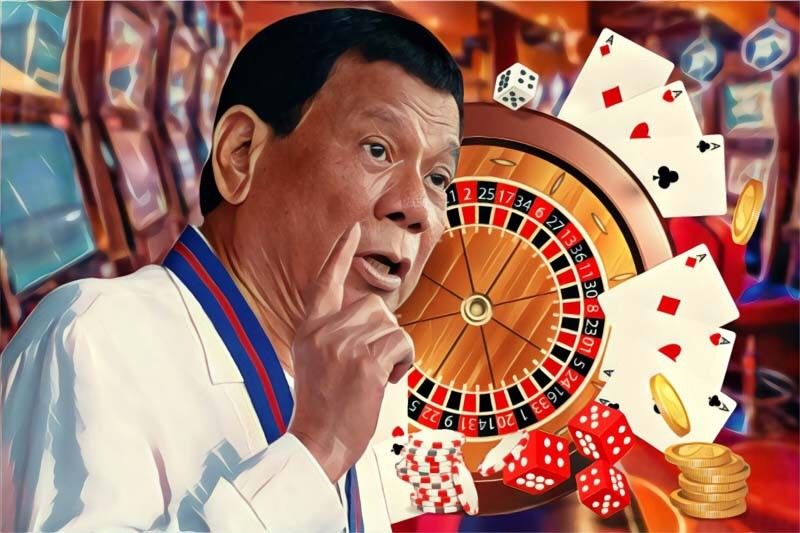 MANILA, Philippines— President Rodrigo Duterte has revived his ire for gambling and has reiterated that there will be no casinos built aside from those that already exist.
What the president said
In his speech during the 117th Police Service Anniversary Celebration on Wednesday, Duterte stressed that he fired the board and management of the Nayong Pilipino Foundation on Tuesday for awarding casino-resort investor Landing Resorts Philippines Development Corp. (LRPDC) a deal without public bidding.
"You do not give gambling licenses or franchise for 75 years. Mean to say that a child is born today and 75 years later, he is that old. There will still be gambling in the city," Duterte said.
"I will not allow it. I hate gambling. I do not want it. There will be no casinos outside of what are existing here. I am not granting anything... Better look for something more enticing just waging your — to wager a war, a money," the president added.
The dismissal of the NPF officials was announced on the same morning as the groundbreaking ceremony for the $1.5-billion NayonLanding integrated resort-casino in Entertainment City, Parañaque.
LRPDC is a subsidiary of Hong Kong's Landing International Development Ltd and the integrated resort-casino it has started building is the fifth to be launched in the Entertainment City.
This is not the first time the highest official of the land has waged war against casinos under his administration.
Last April 9, Duterte said no casinos would be allowed on Boracay island, which was closed to tourists on April 26 for rehabilitation.
"There are no plans for a casino. That's enough, because it's too much. There's a casino here, casino there," Duterte said in Filipino at a press conference in April before his departure for the Boao Forum for Asia in Hainan, China.
This statement contradicted the repeated declaration of Macau casino giant Galaxy Entertainment Group Ltd. that it would push through with the project because it has been granted provisional license from the Philippine government's gaming regulator last March.
Galaxy's local partner, Leisure and Resorts World Corp., earlier said its subsidiary acquired 23 hectares of land in Barangay Manoc-Manoc, Boracay Island—where the $500 million casino project will be constructed.
RELATED: Duterte: 'The billionaires' only thought Boracay casino was allowed
What PAGCOR said
Philippine Amusement and Gaming Corp. chairperson Andrea Domingo, who was present during a courtesy call to Duterte by Galaxy executives in December, affirmed that the president knew of the project. She also said the gaming firm assured Duterte that they will protect the environment.
READ: To build or not to build: Contradictory statements on Boracay casino plan
The gaming regulator however changed its tune after Duterte lambasted the casino project.
"PAGCOR, being a government entity under the Office of the President, abides by the laws and orders of the land. As regulator, it ensures that its licensees comply with pertinent laws, rules, regulations and ordinances promulgated by authorities relative to the establishment and operation of casinos," the agency said.
"The provisional license is only the start of a very long and tedious process of compliance that every integrated-resort operator must go through before they can be issued by PAGCOR a Notice to Commence Casino Operations and, eventually, a regular casino gaming license," it added.
PAGCOR added that Boracay Philippines Resort and Leisure Corp."[has] yet to submit a proof of ownership or lease of the land wherein the casino-resort will be built, a detailed Project Implementation and Development Plan, an escrow account, performance assurance, surety bond, financial statement, and documentary requirements, among others."
It also said that Duterte imposed a moratorium on new casinos effective Jan.13, 2018. It added that PAGCOR has also stopped accepting and evaluating applications for integrated resort casinos.
In its February 2015 casino regulatory manual for Entertainment City licensees , PAGCOR defined "License" "as the Provisional License or Authority to Operate issued by the regulatory board in favor of the Licensee to establish and operate a Casino(s), as the same maybe amended, supplemented or modified from time to time in accordance with the terms of the Provisional License or Authority to Operate."
The 350-page casino regulatory manual is the supplement the Provisional License and Authority to Operate.
A cursory check by Philstar.com showed that PAGCOR awarded four companies provisional licenses to operate integrated resorts on the 100-hectare Entertainment City in 2008.
According to World Casino Directory, Resorts World Manila was the first integrated resort casino in the Philippines. It had its soft launch in August 2009.
It said the first to open in the Entertainment City however, was Solaire Resorts Manila, which started operating on March 16, 2013.
The three integrated resorts are City of Dreams Manila that had a soft opening in 2014 and was officially opened on Feb 2.2015; Okada Manila which opened in 2016 and Resorts World Bayshore set to open in 2020.
On its website, World Casino Directory lists casinos that have been proposed and are soon to open.
These are the following:
Boracay casino in Malay, Aklan – proposed

Nayon Landing in Parañaque City – proposed

Mactan Leisure City in Lapu-Lapu City, Cebu- proposed

Solaire in Quezon City – coming soon

Westside City in Parañaque City – coming soon

Filinvest Mimosa + Leisure City in Clark, Pampanga – coming soon
Despite these floating casino plans, presidential spokesperson Harry Roque last week said the president is firm on his decision that there will be no casino built on Boracay and elsewhere.
"I don't think any private entity should test the political will of the president on the issue of casinos in Boracay," Roque said when asked of a comment on a gaming firm's statement that it would push through with the casino on the island last July 30.
Roque also said Duterte already ordered the Department of Justice to review the integrated resort casino deal between Nayong Pilipino and Landing.
What the Department of Justice said
For its part, Justice Secretary Menardo Guevarra said pursuant to the president's order he has instructed the Office of the Government Corporate Counsel (OGCC) to probe the deal.
"I have instructed the [Office of the Government Corporate Counsel], as statutory counsel of all government-owned and -controlled corporations, under the direct supervision of the Department of Justice, to immediately review all the relevant facts and re-evaluate and examine all contracts, agreements, and other documents pertaining to this questioned transaction," Guevarra told the reporters.
Guevarra said the review includes the legal opinions previously rendered by the OGCC to its client NPF. He also asked the agency to submit a report with recommendations on the proper course of action for the government as soon as possible.
On May 4, Bloomberg reported that Chinese migration to the Philippines was stirred up partly a gambling boom in the Southeast Asian country. The report added that has been pushing up property prices in the capital Manila, where offshore gaming operators hired thousands of employees, most of whom are Chinese nationals.
READ: Political risks seen hurting Chinese bets in booming Philippine gaming industry
What the Tourism department said
With a gambling boom in the country, the Department of Tourism has been frequently asked to comment on how it would promote entertainment and gaming tourism in the country.
Last June, Tourism Secretary Bernadette Romulo-Puyat said the agency would abide by the president's directives. She said the president "doesn't want more casinos."
Puyat also previously shrugged off reports that Chinese tourists are coming to the country for gambling.
She said the Chinese visit the country for tourist destinations including beaches.
At a budget hearing on Wednesday, Puyat also said her agency would not promote casinos.
"We are not promoting casinos because there's a presidential directive — no to casinos," said when asked by Rep. Gus Tambunting (Parañaque), who leads the House Committee on Games and Amusements.
Puyat said the DOT has no data on how many tourists coming to the Philippines do so for gaming.
"We just hope that, basically, our tourists come for the beaches, for the food, for diving… We will just intensify our campaign for the first three," the Tourism head said.