Duterte: 'The billionaires' only thought Boracay casino was allowed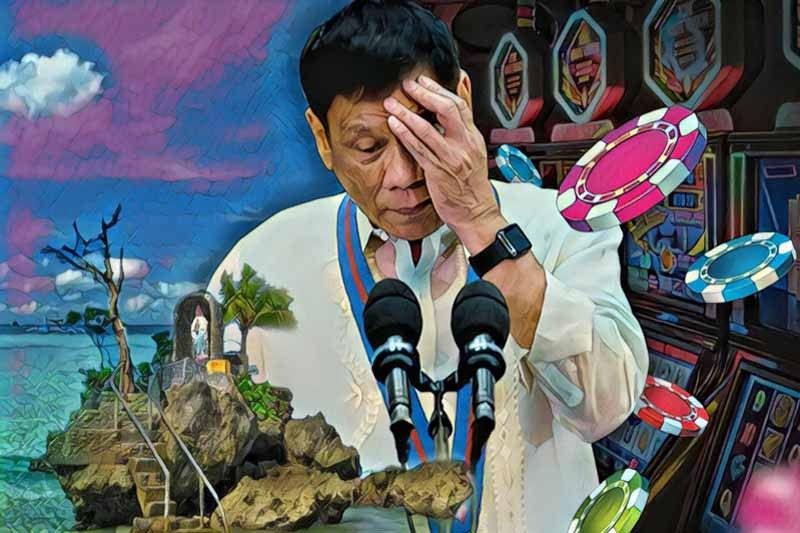 MANILA, Philippines — President Rodrigo Duterte on Sunday said that there was never any plan to put up a casino in Barangay Manoc-Manoc in Boracay.
"There will never be one," Duterte said in a press briefing after he returned from the ASEAN Summit in Singapore.
"You know the billionaires? Are they from the Okada (group)? All of them made a courtesy call before they started on a project. They were of the belief that that island there is okay for anything. And since there are casinos there, they want to build casinos there. I did not allow it," he said.
The president was referring to executives of Macau-based Galaxy Entertainment who visited Duterte in the presidential palace last December.
Galaxy chairman Lui Che Woo, also Hong Kong's sixth richest man, personally met Duterte to explain the plan to build an entertainment complex in Boracay.
Woo was accompanied by Lui Yiu Tung and Asian Infrastructure Investment Bank Director Rolando Macasaet during the courtesy call.
Galaxy president Michael Victor Mecca, Senior Director for Strategic Planning Roland To Chi Kay, Senior Director for International Premium and Mass Market Development Raymond Yap Yin Min, Senior Manager Andrew Nicolas Lui, and Rep. Alfredo Benitez (Negros Occidental) were also at the courtesy call.
Benitez, an administration ally and potential senatorial canddiate for PDP-Laban, is founder of listed Leisure and Resorts World Corp. It had earlier said that its subsidiary had acquired 23 hectares of land in Barangay Manoc-Manoc where the $500 million casino project would be constructed.
Philippine Amusements and Gaming Corp. chair and CEO Andrea Domingo, Tourism Secretary Wanda Teo, and Socio-economic Planning Secretary Ernesto Pernia were also at the meeting.
PAGCOR announced in March that it had granted Galaxy a provisional license for the Boracay casino project. Duterte disavowed knowledge of the plan to build a casino on the island despite a Palace spokesman earlier defending the project.
Duterte said gambling has "deleterious effects" and should be reduced to the "barest minimum."
RELATED: To build or not to build: Contradictory statements on Boracay casino plan | What casino? Boracay will go to farmers, Duterte claims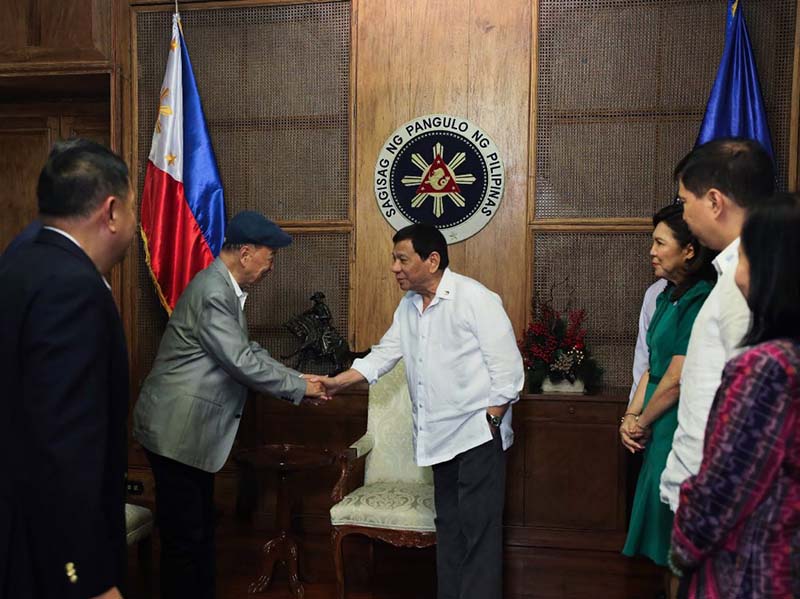 President Rodrigo Duterte greets Galaxy Entertainment Group Limited Chairman Dr. Lui Che Woo who paid a courtesy call on the president in Malacañan Palace on Dec. 6, 2017. Presidential photo/Ace Morandante
Duterte stands by closure order
Duterte stood by the recommendation of his Cabinet to close Boracay for six months despite concerns that the closure period may be too long and can seriously affect the livelihood of residents.
"I said, I do not interfere in the work of the Cabinet members. If that's the recommendation of Cimatu, Año, and Teo then that is it," Duterte told reporters in Davao City when asked to react to criticisms against the six-month closure of the island.
"I do not just revoke recommendations. Once a Cabinet member makes a recommendation, it's a 90 (percent approved). The ten percent (probability that it won't be approved) will matter if there are abuses. But (it) seldom (happens)," he added.
Duterte insisted that there is a "huge problem" on the island that "places every person, a tourist or locals in jeopardy."
"If we do not intervene, there will come to a point that it's no longer swimmable. Not just habitable. You know, you do not own it. You just take care of it for the
next generation. So that people can find livelihood there," he said.
Last February, the president called Boracay a "cesspool" because of the lack of proper sewerage system and threatened to file cases against local officials who allowed the island to deteriorate.
A task force composed of the environment, tourism and interior and local government departments has recommended a six-month closure of the island to allow the government to implement rehabilitation projects.
Last week, Duterte issued Proclamation No. 475 placing Boracay under state of calamity for six months and ordering agencies to assist people affected by the closure.
The closure is expected to cost the economy some P1.9 billion and to displace about 35,000 workers, according to official estimates.
Duterte stressed that he is ready to make Boracay a land reform area once it is rehabilitated. He also warned businesses in Boracay not to derail efforts to rehabilitate the island, which he said belongs to the Filipino people.
"Do not put us in a corner. You box me in. Remember, I'm telling you now, as I have said before, the entire island still considered (forest) and agricultural. It would need a law or a presidential proclamation to segregate. I have not signed anything...setting aside a portion of the island as open to commerce, commercial area," the President said.
"So do not insist. If something happens there, I will close it. As I have said, I want to declare the entire island a land reform area. I will give it to the Filipinos," he added.