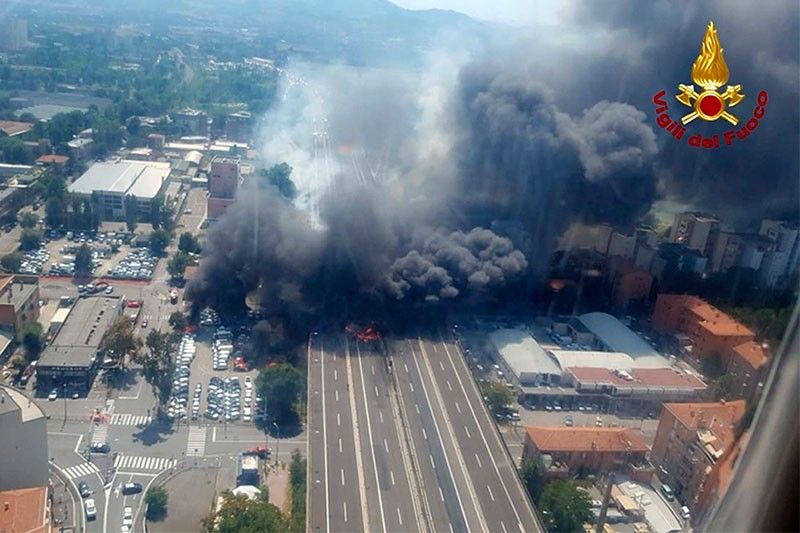 In this photo released by the Italian firefighters, an helicopter view of the explosion on a highway in the outskirts of Bologna, Italy, Monday, Aug. 6, 2018. The explosion was reportedly caused by an accident involving a truck that was transporting flammable substances and exploded upon impact.
Vigili Del Fuoco via AP
3 Filipino families affected in Italy road explosion
(philstar.com) - August 7, 2018 - 6:04pm
MANILA, Philippines — The apartments of three Filipino families were affected when a fuel tanker exploded in a highway in Bologna, Italy, the Department of Foreign Affairs said Tuesday.
A total of 10 Filipinos, including two minors and two infants, were affected by the blast but were not injured.
The apartment units of the Filipino families sustained major damage from the explosion, according to Consul General in Milan Irense Susan Natividad.
According to Natividad, the doors and windows of the apartments of the three Filipino families were blown off.
"There were no injuries reported among the family members who were evacuated by authorities and accommodated at a local hotel," the DFA said.
In its latest update, the DFA said that the Office of Civilian Protection in Bologna informed the Philippine Consulate General in Milan that no Filipinos were injured in the blast.
Italian police said one person has died in the incident while 60 to 70 people were injured, with serious burns, when a tanker truck carrying explosive materials was in a traffic accident.
Italian news agency ANSA reported that the tanker was carrying liquefied petroleum gas. The explosion sent flames soaring into the air. — Patricia Lourdes Viray with Associated Press