Senators hope Bangsamoro Organic Law will bring peace to Mindanao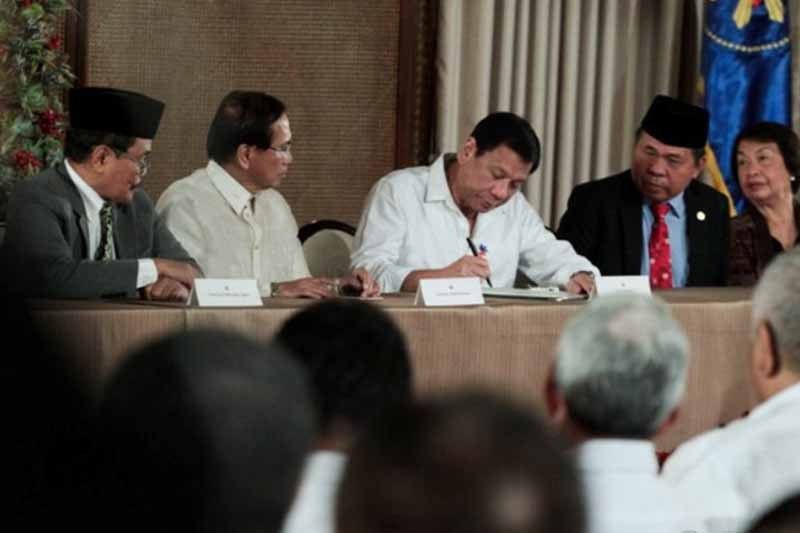 MANILA, Philippines — Two senators on Friday expressed hope that the newly-signed Bangsamoro Organic Law would bring peace and development to Mindanao.
Sens. Panfilo "Ping" Lacson and Juan Edgardo "Sonny" Angara also credited President Rodrigo Duterte for the political will he displayed to push for the passage of the law, which the chief executive said was needed to bring peace to Mindanao.
The BOL will carve out a self-rule region for Muslims in Mindanao which will be called the Bangsamoro Autonomous Region, which has more powers and has guaranteed funding compared to the current Autonomous Region for Muslim Mindanao.
"As chairman of the Senate committee on local government, it is our hope that the greater powers and autonomy given the new Bangsamoro Autonomous Region of Muslim Mindanao will be used for the greater good and welfare of its residents," Angara said in a statement.
"We are hopeful that a new chapter in the history of the Bangsamoro will make their lives better," he added.
Though he lauded the BOL's signing, Lacson sounded more cautious about the hopes of bringing peace to Mindanao, an island of 22 million which has been plagued by violence and rebellion in the past decades.
Lacson said that he had advised Duterte to create two sub-regions under the Bangsamoro Autonomous Region to preclude break-away groups from ethnic groups from Basilan, Tawi-Tawi and Palawan.
"We should learn from history when the Maguindanaoans and Maranaws and others from Central Mindanao broke away and formed the Moro Islamic Liberation Front (MILF) when the central government talked peace with Misuari's Moro National Liberation Front (MNLF)," Lacson said in a separate statement.
The president was supposed to sign the BOL on Monday during his State of the Nation Address but failed to do so after a leadership showdown in the House delayed its ratification of the chamber.
Following Duterte's signing of the BOL on Thursday, Sen. Sherwin Gatchalian urged communist rebels to pursue peace negotiations just like how the Moro Islamic Liberation Front and MNLF did with the government.
He said that this was an opportunity for the communist rebels to sign a peace deal with the government which would end decades of armed rebellion which is already one of the longest in the world.
Negotiations between the government and rebels were postponed following Duterte's decision not to send negotiators to the Netherlands while he was supposedly conducting consultations on the signed deals with the communists.
"Now is the time for the CPP-NPA-NDF to step up. The passage and signing of the BOL into law is proof that there is always a way to work out our differences and come together to achieve lasting peace," the senator said.