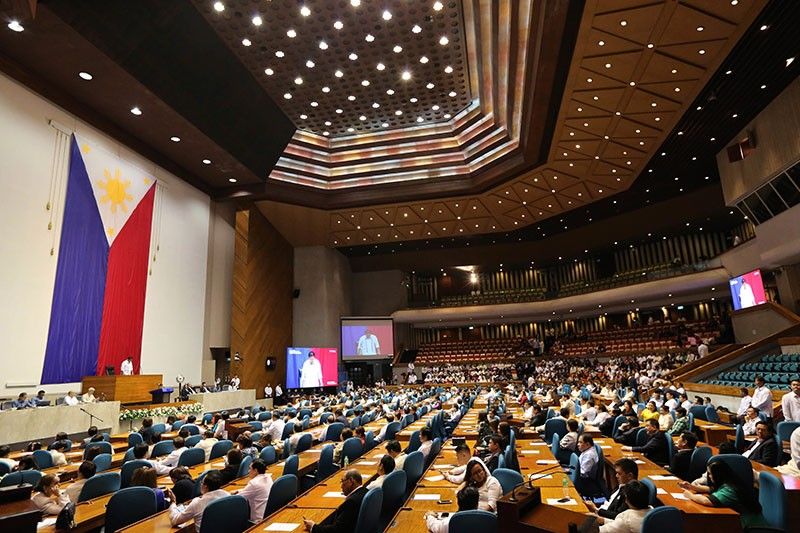 Former House Speaker Pantaleon Alvarez, left, speaks during the third regular session of the 17th Congress in Quezon City on Monday, July 23, 2018.
AP/Aaron Favila
LP solons form House minority bloc under Arroyo leadership
(Philstar.com) - July 25, 2018 - 4:37pm
MANILA, Philippines — Liberal Party members at the House of Representatives have expressed their intent to form the new minority bloc as Speaker Gloria Macapagal Arroyo assumes leadership at the lower chamber.
Marikina Rep. Miro Quimbo relinquished his post as deputy speaker as he and 11 other lawmakers will now form the minority as they did not vote for Arroyo.
"The duly-constitued minority, under the rules, under the most recent jurisprudence involving Teddy Baguilat and manong Edcel (Lagman) themselves, we are ready to start working as the minority of the House to perform the function of insuring that there is check and balance in the legislative process," Quimbo said in a press conference.
In a letter addressed to Arroyo, the following House members declared that they would be working as the minority bloc:
Francis Gerald Abaya (Cavite)
Kaka Bag-ao (Dinagat Islands)
Teddy Brawner Baguilat (Ifugao)
Jorge "Bolet" Banal (Quezon City)
Jose Christopher Belmonte (Quezon City)
Gabriel Bordado Jr. (Camarines Sur)
Raul Daza (Northern Samar)
Christopher De Venecia (Pangasinan)
Edgar Erice (Caloocan City)
Edcel Lagman (Albay)
Jocelyn Sy Limkaichong (Negros Oriental)
Romero "Miro" Quimbo (Marikina)
These 12 LP members abstained from voting last Monday when Davao del Norte Rep. Pantaleon Alvarez was unseated as speaker.
Quimbo stressed that Quezon Rep. Danilo Suarez could not retain his post as minority leader as he even campaigned for Arroyo, making him a part of the House majority.
Suarez earlier expressed his intent to remain as a member of the minority even though he voted for Arroyo.
House rules indicate that those who voted for the winning speaker will constitute the majority, making Suarez' insistence to remain in the minority baseless.
"Former Minority Leader Suarez cannot be minority leader because he's already part of the majority," Quimbo said.
Stressing House rules on who can form the minority, Sen. Francis Pangilinan said the LP would "remain standing as the genuine minority" at the House.
"Throughout this administration, its members have proven to be the vigilant, credible, and responsible opposition voice against killings in the war on drugs, nonchalant stance in the West Philippine Sea dispute, the imposition of martial law, and the dangerous Charter change move," Pangilinan said in a statement.
Echoing Quimbo's pronouncements, Pangilinan stressed that an authentic minority bloc is needed at the House for maintaining checks and balances in the chamber.
"Recognizing the Liberal Party as the genuine minority bloc ensures a vibrant and productive chamber," Pangilinan said. — Patricia Lourdes Viray