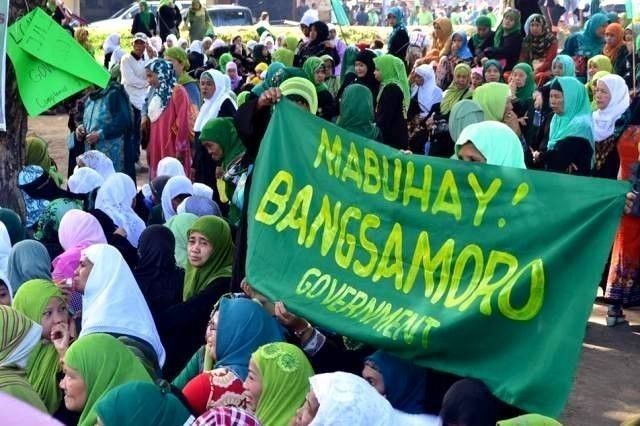 Supporters of the Bangsamoro Basic Law, now called the Bangsamoro Organic Law, call for its passage in a rally in Cotabato City.
File photo
House fails to ratify Bangsamoro Organic Law for SONA
(philstar.com) - July 23, 2018 - 2:22pm
MANILA, Philippines — The House of Representatives on Monday deferred the ratification of the proposed Bangsamoro Organic Law, delaying the enactment of the new legislation granting more autonomy to the country's predominantly Muslim region.
That was after the session at the House plenary hall was abruptly adjourned. The Senate earlier on Monday ratified the version of the BOL crafted by a bicameral conference committee.
President Rodrigo Duterte was expected to sign the bill, which would implement the 2014 peace agreement between the government and the Moro Islamic Liberation Front, into law on the same day he will give his annual State of the Nation Address.
READ: Wealth sharing, Islamic law among highlights of reconciled BBL
The BBL is the product of a rocky 20-year peace process between the state and the MILF in a bid to end years of rebellion in that part of resource-rich Mindanao that has stunted the region's economic growth.
The passage of the delayed peace deal is also seen as a crucial tool in curbing extremism in the war-torn southern region.
The Palace, in a statement, said it was unfortunate that the House failed to ratify the landmark piece of legislation in time for the president's annual speech to Congress.
"We consider this as a temporary setback in the administration's goal of laying the foundation for a more genuine and lasting peace in Mindanao," presidential spokesperson Harry Roque says.
He says Duterte will sign the bill once both houses have ratified the bill.
The House abruptly adjourned its session amid talk that Speaker Pantaleon Alvarez would be ousted from the leadership position of the lower house of Congress.
Asked for comment on speculations of Alvarez' ouster, Roque said that it would defer ti the House on matters internal to the chamber.
Meanwhile, allies of Rep. Gloria Macapagal (Pampanga) are circulating a manifesto calling for a change in leadership at the House. — Ian Cigaral and Patricia Lourdes Viray with Alexis Romero