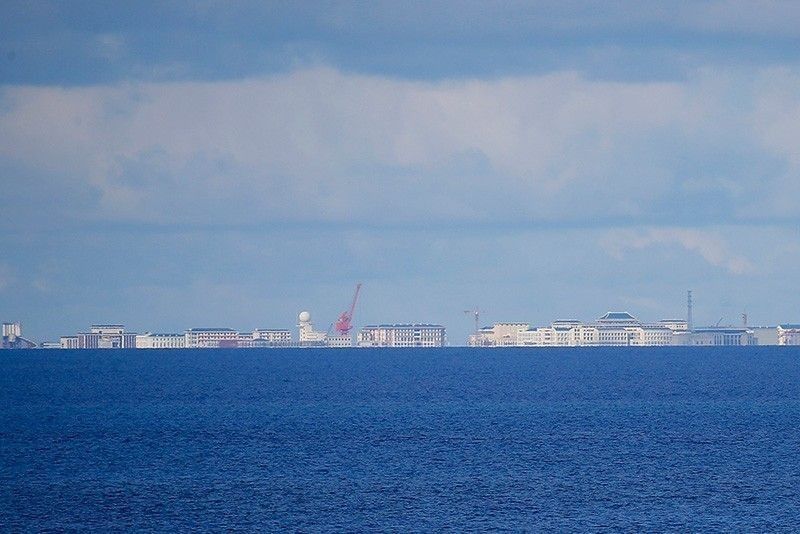 China's construction activities on Subi Reef is seen from Philippine-controled Pagasa Island in the South China Sea off Palawan province on April 21, 2017.
AP, file
Palace denies inaction on South China Sea dispute
(Philstar.com) - July 16, 2018 - 4:04pm
'We file protests but we do it quietly'
MANILA, Philippines — Malacañang on Monday said it has been asserting the Philippines' claims in the South China Sea after a nationwide poll suggested that four out of five Filipinos reject the government's perceived inaction on the issue.
Presidential spokesman Harry Roque said President Rodrigo Duterte has repeatedly declared that he would not give up the country's territory.
"The government of President Duterte is not guilty of inaction," Roque told radio station dzRH.
"Whenever China does something that violates our sovereignty, we file protests but we do it quietly," he added.
Foreign Affairs Secretary Alan Peter Cayetano has said in the past the the Philippines has filed "50-100" protests with China, a claim that administration critics like Senate Minority Leader Franklin Drilon doubt.
Roque stressed that the president would not quarrel with China over the dispute because it would not benefit ties between Manila and Beijing.
"He (Duterte) believes we can set aside temporarily the things that cannot be resolved immediately. We can pursue those that can be pursued like the economy," he added.
A Social Weather Stations survey conducted from June 27 to 30 found 81 percent of Filipinos believing that the government should not "leave China alone with its infrastructures and military presence" in Philippine-claimed areas in the South China Sea.
RELATED: Philippines now 'willing victim' in South China Sea dispute, Del Rosario laments
Eight out of ten Filipinos believe it is right for the government to strengthen the military capability of the Philippines, SWS said.
About seven out of ten or 74 percent of respondents think it is right for the government to bring the issue to international organizations while 73 percent back "direct, bilateral negotiations between the Philippines and China."
Meanwhile, 68 percent of Filipinos believe the government should ask other countries to mediate the issue.
Roque said all Filipinos, not just 81 percent of them, should oppose inaction on the maritime dispute.
"It should be 100 percent because there is no government inaction...Five out of five Filipinos should protest inaction because it is not true that President Duterte is not doing anything," the presidential spokesman said.
RELATED: Chinese took Filipino fishers' catch as 'barter exchange,' Duterte explains
"We are just not making noise but we have an immediate action if we think China is violating our sovereignty and sovereign rights," he added.
Roque said Duterte, who has been accused of being too soft on China, is continuously fighting for the interests of the Philippines.
Critics have accused Duterte of abandoning the Philippines' maritime claims in the South China Sea in exchange for military and economic assistance from China
Duterte has denied this and has given assurance that he would discuss the South China Sea row with Chinese officials within his term. The president has also admitted that the Philippines would be courting "trouble" if it insists on its maritime claims, a claim that critics say paint war as the country's only option. — Alexis Romero
RELATED: With mere words, Duterte can lose to China rights Philippines won in arbitral ruling