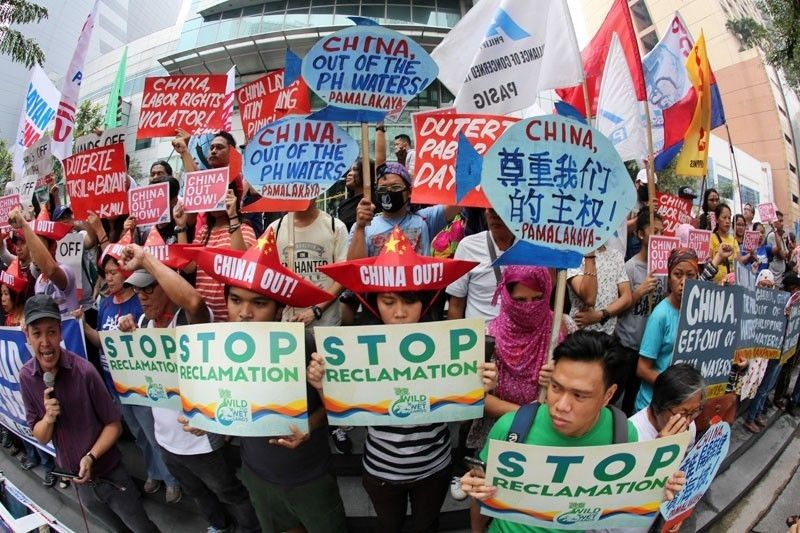 Activists protest Chinese reclamation work in the South China Sea, part of which Manila claims and calls the West Philippine Sea
KJ Rosales, file
Philippines now 'willing victim' in South China Sea dispute, Del Rosario laments
MANILA, Philippines — Two years after a United Nations-backed tribunal handed down its ruling on the arbitration case on the South China Sea, the positions of both the Philippines and China remain "less than acceptable."
Former Foreign Affairs Secretary Albert del Rosario on Thursday lamented that the Philippines had set aside the landmark ruling.
"The Philippines had two years to take advantage of its position to develop and obtain the support of many countries whose principles are aligned with our own and with whom our own voice could be magnified. Sadly, however, this was not made to happen," Del Rosario said in a forum organized by independent think tank Stratbase ADR Institute.
Del Rosario, who led the Philippines in its arbitration case against China, stressed that the ruling was also beneficial to other countries relying on the UN Convention on the Law of the Sea.
The arbitral ruling was also beneficial to all states determined to maintain peaceful relations by committing to international law.
"In this light, we must as well consider our own country's character since we have once been a reliable advocate for international law," Del Rosario said.
READ: DFA urged to bare 100 protests filed vs China
The Philippines has become "a willing victim" and "an abettor" for its current policy in the disputed waters, he added.
"What may we call one that acquiesces to the abuses against it? Answer: a willing victim," Del Rosario said.
"What may we call one that defends an aggressor at every opportunity? Answer: an abettor," he added.
'China, a grand larcenist'
China, meanwhile, is a "grand larcenist" and "international outlaw" for unlawfully taking the property of others and refusing the rule of law.
Moving forward, Del Rosario noted that the Philippines still has opportunities to promote rule of law, whether through multilateralism with the UN or ASEAN or through bilateral engagements.
"To close, we reiterate our position that coercive diplomacy has no place in a rules-based international order," Del Rosario said.
He reiterated that Filipinos should urge the government to raise the country's indignation against China.
"Finally, we need a of our friends in the community of nations who believe in the rule of law to help us. But before we can hope for help, we must first demonstrate that we are worth helping," he said.
The July 12, 2016 ruling effectively invalidated Beijing's nine-dash line claim over the South China Sea.
The Chinese government, however, refused to acknowledge the arbitration and has since installed anti-ship cruise missiles, surface-to-air missile systems and electronic jammers on its outposts in the contested waterway.
READ: Poll: 8 of 10 Filipinos want rights asserted in West Philippine Sea
Related video:
As It Happens
LATEST UPDATE: July 12, 2018 - 3:25pm
Social media users, including former Solicitor General Florin Hilbay, are reporting seeing banners saying "Welcome to the Philippines, Province of China" hanging from overpasses in parts of Metro Manila.
The sightings coincide with the second anniversary of an arbitral tribunal ruling that China's sweeping nine-dash line claim over the South China Sea has no legal basis. The Philippines has opted to play down the ruling and focus on nurturing better political and economic relations with China.
NOT FUNNY.

On this day, July 12, we commemorate our victory in Philippines v. China.

On Metro Manila footbridges, these tarps suddenly appear.

MMDA, LGUs, and citizens should immediately take these down. pic.twitter.com/gDR6BMbojI

— florin hilbay (@fthilbay) July 11, 2018
It is unclear who put up the banners, which are a possible reference to a "joke" that President Rodrigo Duterte told Chinese-Filipino business leaders in February.
"He (Xi) is a man of honor. They can even make us 'Philippines, province of China," we will even avail of services for free," Duterte said in apparent jest. "If China were a woman, I'd woo her."
The Palace said the remark was meant to impress the audience, who were Filipino citizens of Chinese descent.
July 12, 2018 - 3:25pm
Presidential spokesperson Harry Roque, in response to criticism from former Foreign Affairs Secretary Albert Del Rosario of the Duterte administration's handling of issues in the West Philippine Sea, says: "We do not agree with those who lost control of territory by their confrontational hubris."
He says President Rodrigo Duterte has instead "forged friendship which has obtained benefits for our people, boosted investment and trade for our economy, reduced the threat of conflict, and opened the door to confidence-building talks between ASEAN and China."
He says issues with China are handled through a dialogue between friends and not as an argument between adevrsaries.
"All this time, we are building up our capabilities to eventually assert our sovereign rights and interests. That is the policy that works for our nation," he says.
July 12, 2018 - 12:18pm
The Quezon City government has ordered its Public Safety personnel to remove tarpaulins that refer to the Philippines as a province of China.
ADVISORY - The Quezon City government is directing its Department of Public Order and Safety and Parks Department as well as concerned barangays to take down all tarpaulin signs that say that the Philippines is a province of China.

— Quezon City PIO (@QCPublicAffairs) July 12, 2018
In a Palace briefing earlier Thursday, presidential spokesperson Harry Roque said "enemies of the government" are behind the banners.