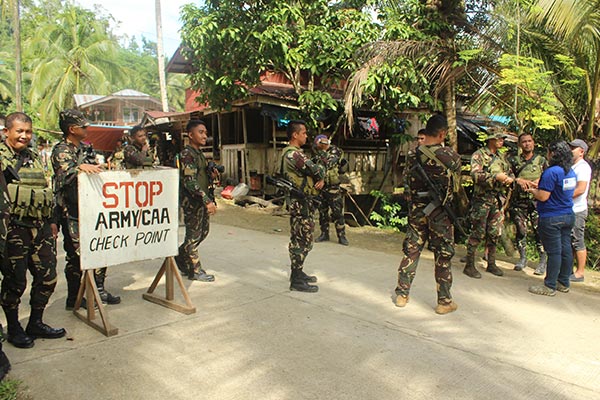 The military said it was implementing security measures, not a food blockade. Save Our Schools, file
Lumad group: We evacuated for our safety, not propaganda
(Philstar.com) - December 15, 2017 - 12:50am
MANILA, Philippines — A Lumad organization on Friday disputed military claims that residents of indigenous peoples' communities in Surigao del Sur left their homes as part of a plan to discredit the government.
"What we know is that the people of Lagangan evacuated to Caras-an, Tago last December 2 because military men encamped in the community of Lagangan and a helicopter was flying over their community. President Rodrigo Duterte himself threatened to bomb the Lumad communities. Who will not be frightened?" Malahutayong Pakigbisog alang sa Sumusunod (MAPASU, or Persevering Struggle for the Next Generation) said in a press statement.
"We did not want to leave the crops that we have toiled over. We know that the animals we left behind will die. But we had to evacuate to save our lives," the group said.
The group released the statement to counter a claim by Col. Andres Centino, commander of the Army's 401st Infantry Brigade, that Lumad communities had been forced to evacuate by supposed front organizations of the Communist Party of the Philippines-New People's Army.
On Nov. 28, the Philippine Information Agency in Caraga, quoting Centino, said the Alternative Learning Center for Agricultural and Livelihood Development Inc. and Teachers from Tribal Filipino Program of Surigao del Sur forced residents to go to Barangay Diatagon in Lianga, Surigao del Sur.
Centino claimed in the PIA report that Alcadev and TRIFPSS are "known front organizations of the NPAs exploiting the Lumads by coercing and agitating them to evacuate in order to pressure the government in ordering the military to stop its operation against the terrorists."
The two groups run schools for Lumad communities in what the Department of Education calls "geographically isolated and disadvantaged areas", or places that are too far away for regular public schools or where DepEd schools have yet to be built.
MAPASU has also been accused of supporting the NPA.
The military had initially denied that Lumad communities had to evacuate to Barangay Diatagon in Lianga to escape clashes between government forces and the NPA in late November but later said in a PIA situation report that the evacuation was a "leftist ploy."
"This ploy of these leftist groups to forcibly evacuate the residents is intended to maliciously discredit the government, exhaust its resources, gain national attention, and shield the escaping NPAs from pursuing government forces," PIA Caraga reported on November 28.
"You continue to belittle us. It is clear discrimination when you imply that we are easily deceived, easy to to fool," the Lumad group said.
"What wrong have we committed that you continue to persecute us Lumad? We who have long been forgotten by the government, deprived of social services, the reason why our elders never knew how to read and write thus were easily deceived. We who are constantly driven away from our ancestral lands because you want to clear all resistance to the entry of logging companies in the past and now coal?" MAPASU said in its statement.
MAPASU also disputed a claim by the Armed Forces of the Philippines that the military did not restrict the flow of food aid to evacuees in Diatogon.
The group said that NGOs Assistance and Cooperation for Resilience and Development Inc. and Friends of the Lumad in Caraga brought 10 sacks of rice to the evacuation center on November 28 to augment relief goods distributed by the Municipal Social Welfare Department.
"You denied them entry. You allowed the MSWD to come but they were only able to bring five sacks," MAPASU said, adding this was not enough for more than 1,000 evacuees at the center.
The group said the military also blocked the entry of food for a cultural festival on December 1 "despite the entreaty of our [Lianga] councilor Sammy Dollano to let the food in because it was already cooked."
"What do you call controlling the entry of food, is it not a food blockade?" the group said.
The 401st Bde said it directed the group who wanted to distribute relief goods on December 1 to coordinate with local social welfare officials.
"[M]ay mga kasama silang bata kaya ang alam namin di sila binigyan clearance ng LGU dahil sa delikado ang sitwasyon dahil sa nangyaring encounter sa bundok nung [November] 28 at may report kami na may mga armadong humalo sa mga bakwit."