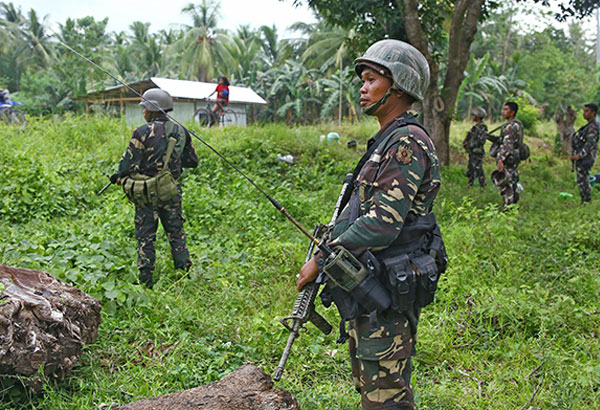 The 6th ID sent reinforcements but the militants retreated into the Liguasan Delta as they were closing in.
AFP, file
4 BIFF killed, 2 soldiers wounded in Maguindanao clashes
MAGUINDANAO, Philippines — Clashes in Maguindanao on Sunday left four members of the Bangsamoro Islamic Freedom Fighters dead and two soldiers wounded.
The BIFF uses the Islamic State flag and is opposed to the peace process between the government and the Moro Islamic Liberation Front.
The first two BIFF fatalities, Muktar Undi and Orai Sangkay, were killed in a gunfight with personnel of the 21st Mechanized Infantry Company in Barangay Pamalian in Shariff Saydona Mustapha town in Maguindanao.
The hostilities erupted when BIFF gunmen attacked soldiers dispatched to Barangay Pamalian to check on reports that BIFF militants were collecting money from residents.
The soldiers, led by 1Lt. Juvylito Lisondra, returned fire and engaged their attackers in an hour-long firefight.
The BIFF bandits who ambushed Lisondra and his companions retreated to the Liguasan Delta as reinforcements from the Army's 57th Infantry Battalion and the 64th Division Reconnaissance Company of the 6th Infantry Division were closing in.
Members of municipal peace and order councils in the second district of Maguindanao province confirmed the deaths of Undi and Sangkay in the encounter.
Staff Sgt. Alfredo Tambo and Private 1st Class Ian Cajeta of the 21st Mechanized Infantry Company were wounded in another firefight several hours later with BIFF bandits in Barangay Elian in nearby Datu Saudi-Ampatuan.
Tambo and Cajeta were in a platoon sent to patrol open fields in Barangay Elian when BIFF members attacked from two directions.
Two more terrorists, whom barangay folk identified as Aliman Bontah and Idris Udar, reportedly perished in the gunfight.
Capt. Arvin Encinas, public affairs officer of 6th ID, said the wounded Tambo and Cajeta were rushed to a hospital.
The clashes on Sunday preceded skirmishes between BIFF bandits and soldiers in the Pusao area at the boundary of the Saydona and Datu Saudi towns on Monday morning.
Local officials said the encounter was provoked by the BIFF's incursion into a farming community there to collect rice and money from villagers.
Encinas said the tactical maneuvers of 6th ID in the second district of Maguindanao are law enforcement operations meant to weaken the BIFF.
The group, which has three factions, espouses hatred of the government and stokes public animosity against non-Muslims.