Xi to US: China will not lose any inch of territory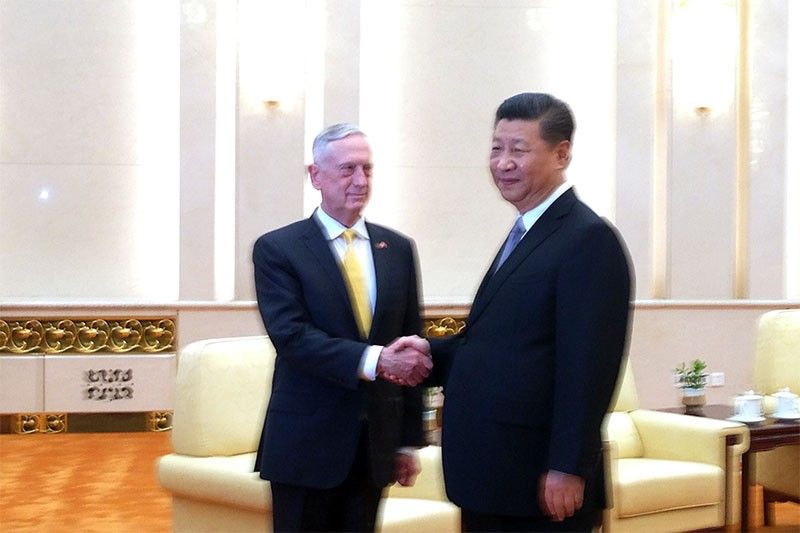 MANILA, Philippines — Chinese President Xi Jinping reiterated Beijing's position on the disputed South China Sea in his meeting with United States Defense Secretary Jim Mattis.
Becoming the first Pentagon chief to visit China since 2014, Mattis is in China to seek improved security dialogue with the country.
Chinese state-run Xinhua reported that Xi said the US and China should promote development of bilateral ties based on mutual respect and "win-win" cooperation.
The Chinese leader, however, stressed that Beijing's stance remains "steadfast and clear'cut" when it comes to its sovereignty and territorial integrity.
"Any inch of territory passed down from ancestors can not be lost while we want nothing from others," Xi told Mattis, as quoted by Xinhua.
Xi noted that military relations between China and the US maintained "sound development momentum" in the past years.
"It has long been known that the real experts on military affairs do not want to employ military means to solve issues," Xi said.
Mattis, meanwhile, said that Washington is willing to strengthen strategic communication and expand mutually-beneficial cooperation as the US attaches great importance to US-Sino relations.
However, both the American and Chinese sides made no mention of certain topics that strained the relationship of the two countries such as Taiwan, militarization of the South China Sea and the Korea peninsula.
In their public comments, Xi and Mattis focused on the importance of US-China military relationship.
"This is an important time in the history of China and the United States as we work our way forward. It reminds me just how important this is for both of our nations. So I'm here to keep our relationship on a great trajectory, going in the right direction, and to share ideas with your leadership, your military leadership, as we look at the way ahead," Mattis said.
Mattis' visit to China comes a month after the Pentagon disinvited the People's Liberation Army Navy from participating in the 2018 Rim of the Pacific Exercises, the world's largest multionational naval exercise.
The Pentagon chief has been vocal in his criticisms against China's conduct in the South China Sea.
The Pentagon withdrew its invitation for China as an "initial response" following reports that the latter had deployed anti-cruise ship missiles, surface-to-air missiles and electronic jammers on the artificial islands in the Spratlys. The US also expressed alarm over the Chinese Air Force's deployment of a nuclear-capable bomber on Woody Island in the Paracel Islands.
Related video: