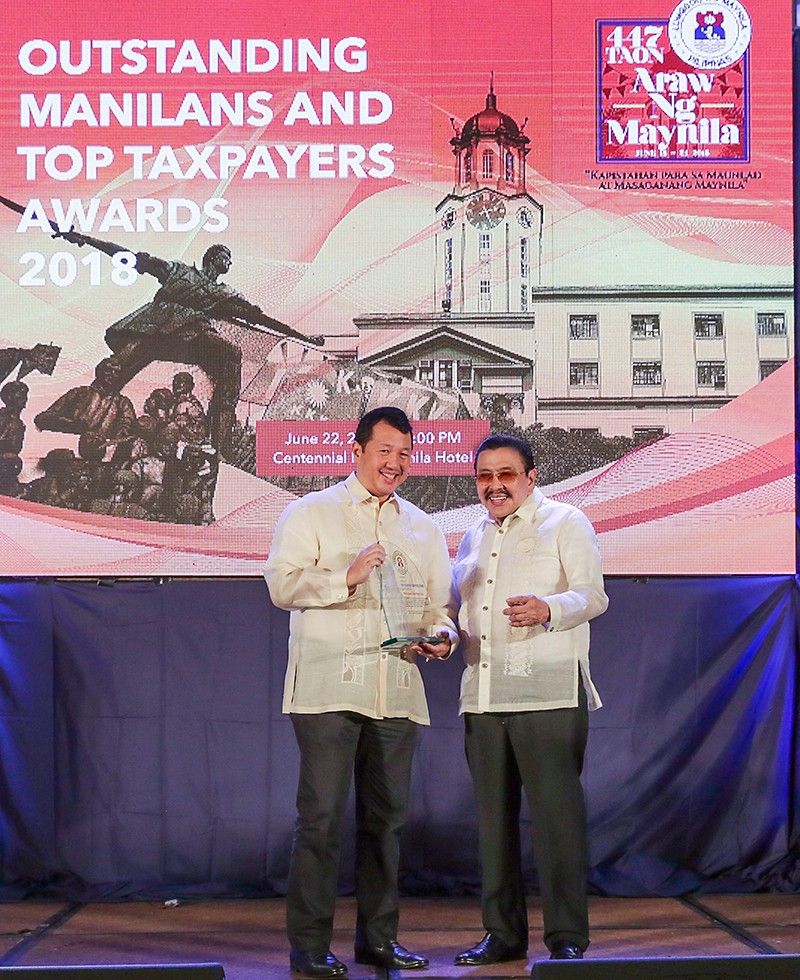 STAR president and CEO Miguel Belmonte receives an award as Manila's 8th top business taxpayer from Manila Mayor Joseph Estrada during a ceremony at the Manila Hotel the other night. The event is part of the celebration of the 447th Araw ng Maynila today.
Geremy Pintolo
Top Manila taxpayers: 5 in a row for STAR
MANILA, Philippines — For five consecutive years, The Philippine STAR was awarded as one of the 10 outstanding business taxpayers of Manila.
The Philippine STAR landed in eighth place this year, one notch higher than last year.
The STAR Group president and chief executive officer Miguel Belmonte said the award was the result of hard work of all employees and officers of the company.
"Whenever The STAR wins the award, this is our award. This is not my award. This is not an award of MVP (PLDT chairman Manuel V. Pangilinan). This is the award of all the men and women of The STAR Group who contributed to our receiving this award," Belmonte said at the sidelines of the awarding ceremony at the Manila Hotel on Friday evening.
In March 2014, The Philippine STAR was acquired by MediaQuest Holdings Inc., which is owned by Pangilinan.
Belmonte also encouraged the employees and officers of The STAR Group to continue doing their best.
"As individuals, you know if what you are doing is really your honest, best effort. That's my only request to our staff, because our company can continue to be profitable and can be a positive contributor to Manila or in whatever city we might end up in the future," he said.
"We want to be a contributor. We don't want to be a burden to anyone," he added.
Belmonte also said he is "very proud and happy" that The STAR Group has been among the top 10 taxpayers for five consecutive years.
"But I am a little bit surprised that we won because since our publishing company is very challenged this year compared to the past, I was thinking that the tax we paid was also based on what we are earning," he said.
"So, since our earnings were slightly affected, I thought that we would not reach the top 10. But we are quite surprised and happy that we reached number eight," he added.
Belmonte said that in the last five years, The Philippine STAR's best ranking was sixth place.
"I think last year, we landed in the ninth spot. This is good because we improved one notch. We are happy because we want to do our part to help the city. You know the city gets the funding for its various projects from taxpayers. That is why it's really our duty as responsible citizens of Manila to pay the correct taxes. Not to be like those people who are hiding their true income. That is not our culture," he added.
Belmonte also said that having been included in the top 10 business taxpayers for five straight years is an indication that The Philippine STAR is an honest taxpayer.
"We want to play our role in the development of the city of Manila. We know that there are some big companies in Manila, but we paid more than them. So maybe, that is a testament to our honesty in terms of our payment. I hope this will continue. We now have the 5-peat. I hope we can have a 10-peat," he said.
"Former president and Manila Mayor Joseph Estrada still has another term. I hope we will continue to win until President-Mayor Estrada – presuming he will win which is most likely – finishes his term. I hope we will be an awardee until he finishes his term," he added.
Other awardees are Manila Electric Co., International Containers Terminal Services, SM Prime Holdings, Unilever Philippines, Mercury Drug Corp., Asian Terminals, Maynilad Water Servies, Puregold Price Club and Golden Arches Development Corp.
This year's top 10 real property taxpayers include Asian Terminals, Manila North Harbour Port Inc., Unilever Philippines, SM Prime Holdings, Bangko Sentral ng Pilipinas, International Containers Terminal Services, Home Guaranty Corp., Manila Electric Co., Robinsons Land Corp. and Megaworld Corp.
The awardees received plaques of appreciation and trophies from the city government.
Estrada congratulated all the awardees. He said it is an honor for him to give awards yearly to 10 outstanding business taxpayers and real property taxpayers.
"Those who will receive the award as top taxpayers are included among those we consider as heroes of the city. For as we move forward in our aspiration to create a city for the future, we must likewise recognize all those who have helped make this possible," he said.
"They have all kept in step with our city's march to the future and contributed immensely to Manila's role as a hub for progress," he said.
Estrada noted that Manila is a historically vital center for commerce and trade, where many enterprises were established in the distant past with many more following suit in recent years.
"This year, we celebrate the 447th Araw ng Maynila, a landmark event that sees our city at a point of great significance. There is a new spirit of hope among our citizens, as we see evidence of development everywhere: from infrastructure to health initiatives, education and job opportunities, to increased social spending that benefits the most marginalized sectors of society. Manila is certainly fulffilling its destiny as the show window to our nation's destiny," he added.
Belmonte said he is very satisfied with Estrada's performance as mayor.
"Based on what I read in the papers, he has been doing many things. He is helping many people. We know that the heart of President-Mayor is for the poor, which is what we want because many people need help. So we need a leader like that. There are also other leaders with that quality. I am not saying that it was only Mayor Erap. But surely, Mayor Estrada has that quality," he added.
Outstanding Manilans
Meanwhile, former trade and industry secretary Jose Trinidad Pardo led the outstanding Manilan awardees for 2018.
Estrada personally handed to Pardo the Gat Andres Bonifacio Award during Friday night's ceremony.
Pardo was also a recipient of The Outstanding Young Men (TOYM) award, The Outstanding Filipino (TOFIL) award, The President Manuel Roxas Memorial Award and Man of the Year award 2000.
During Estrada's presidency, Pardo served as trade and industry secretary from 1998 to 2000 and finance secretary from 2000 to 2001.
He also served as president of Philippine Seven Corp., Wenphil Corp., Asian Holdings Corp. and Land & Housing Dev't. Corp.; member of the Bangko Sentral Monetary Board, Philippine governor of the Asian Development Bank and the International Monetary Fund and governor of the International Fund for Agricultural Development.
During his earlier years in government, Pardo was a member of the Presidential Council of Economic Advisers, Association of Southeast Asian Free Trade Area Advisory Council in 1992, Commissioner of the Presidential Anti-crime Commission and career executive board in 1994.
In 1998, Pardo chaired the Trade and Investment Development Corp., the Council of ASEAN Trade ministers, the National Development Co. and became chairman of Economic Coordinating Council in 1999.
Other awardees are Arturo Valenzona for sports and youth development, Karen Antonette Papilleras for youth role model, Teresita Cruz Sison for women/social relief and Francis Chua for corporate and community service.
Estrada thanked all the awardees for helping Manila rise from the multibillion-peso debts he inherited from the past administration.
"With your support, Manila is truly regaining its historical title as the Pearl of the Orient," he said.?Estrada also said Manila is now financially stable and actively implementing infrastructure projects that will benefit millions of Manileños.
"We have cemented roads, cleaned esteros, renovated hospitals and health centers and we're able to purchase state of the art medical equipment and build new schools," he added.