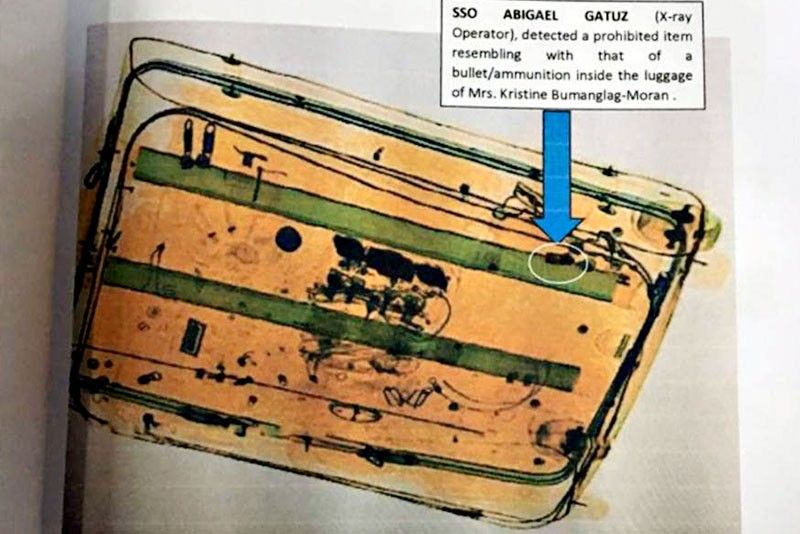 An x-ray image released by the Manila International Airport Authority shows what looks like a bullet in the luggage of Kristine Bumanglag-Moran, who alleged that an airport employee planted the bullet.
New tanim bala? Duterte wants NAIA report
DAVAO CITY, Philippines — President Duterte expects the management of the Ninoy Aquino International Airport (NAIA) to submit its report on an alleged bullet planting or tanim-bala incident involving a passenger bound for Zamboanga City last Friday.
Airport authorities say Kristine Bumanglag-Moran's luggage had shown a 9mm bullet when it went through x-ray inspection. Moran claimed the bullet was planted.
The bullet was confiscated by NAIA personnel after the incident was recorded. Moran and her companions were then allowed to take their flight to Zamboanga.
"We assure the public that tanim bala is already a thing of the past. We will not condone any act contrary to the directive given to us by no less than President Duterte," NAIA said in a statement.
"We shall punish erring airport personnel if proven guilty of any abuse hurled against them," the statement added.
NAIA appealed to the public to be more circumspect in reacting to social media posts, as the management suspects some people are out to discredit them on social media.
Special Assistant to the President Christopher Go said Duterte had given NAIA management 24 hours to resolve the incident, which has gone viral on the internet since it happened.
"We reiterate that the Duterte administration will never tolerate this modus operandi. We have ordered the concerned agencies to address this within 24 hours. We are expecting them to comply or suffer the consequences," Go said.
Go reiterated the President's warning that he will force those who plant the bullets to swallow them whole.
"I assure everyone, he will really do it," Go said.
He added that the President's office is open to receive complaints of whatever nature, including tanim-bala incidents at the country's leading airports, Go told reporters in an interview following the Eid'l Fitr celebration at the SMX Convention Center last Friday.
Go said the Department of Transportation, Manila International Airport Authority and Office for Transportation Security have concluded their investigation into Moran's complaint, with the agencies ready to submit their report within Duterte's 24-hour deadline. – With Rudy Santos