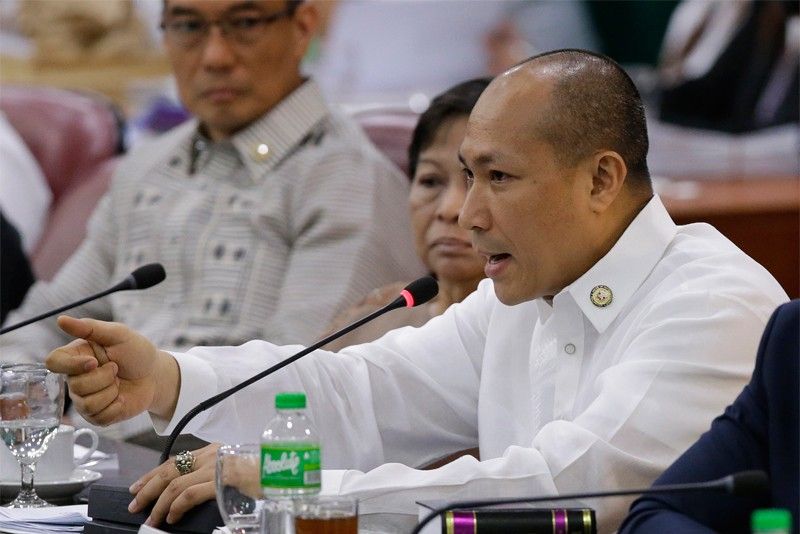 Rep. Gary Alejano said that plan of the state-run PTV-4 to air Chinese shows and movies is a sign that the Duterte administration had already surrendered to China's power.
AP/Bullit Marquez, File
Alejano wary of plan to air Chinese shows on PTV-4
MANILA, Philippines — The plan to air dubbed Chinese shows on government television is an indication that President Rodrigo Duterte's administration has surrendered to China's power, an opposition lawmaker said on Thursday.
On Wednesday, the Chinese Embassy announced that state-run PTV-4 would air TV series, documentaries, cartoons and movies from China by August.
Chinese Ambassador to the Philippines Zhao Jianhua siad that it would serve as an opportunity for Filipinos to better understand China, its people, its history and its rich culture.
According to Rep. Gary Alejano (Magdalo), this is part of China's strategy to influence and infiltrate Filipinos through economic, political and now cultural tools.
"PTV's airing of Chinese shows is a clear display of Duterte administration's surrender to China's power," Alejano said in a statement.
Alejano said that China is using cultural tools to influence Filipino sentiment towards "the oppressors and grabbers" of the country's islands in a subtle and subliminal way.
The Philippines is heavily influenced by Western, particularly American, culture. Recently, however, it has also been taking cues from Taiwanese, Korean and Japanese popular culture.
"What's worst is this is being done by an institution of government and being funded by taxpayers' money," Alejano said of the plan to air Chinese content on PTV-4.
"PTV is mandated to be a vehicle of the government to promote national pride, identity and culture," he added.
This is not the first time that warnings have been raised over China's soft diplomacy.
China's 'debt trap'
Alejano has cautioned the Duterte administration against careening into China's debt trap diplomacy that could cost the Philippines territory in the South China Sea.
The government is currently using Chinese loans to fund some of its projects under its ambitious infrastructure program.
Loans that China has been providing to countries are seen as part of Beijing's efforts to increase its influence.
Just recently, Australia stepped in to help build a key piece of infrastructure for the Solomon Islands after its intelligence and security chiefs warned against the deal originally bagged by Chinese firm Huawei.
Senate Minority Leader Franklin Drilon meanwhile said that the airing of Chinese shows on the government-run station is part of the Duterte government's policy of appeasement toward China.
The senator urged the government to reconsider this position as this had not resulted in economic and tourism benefits for the country.
Related video: