#BabaeAko to mobilize 10,000 rallyists on June 12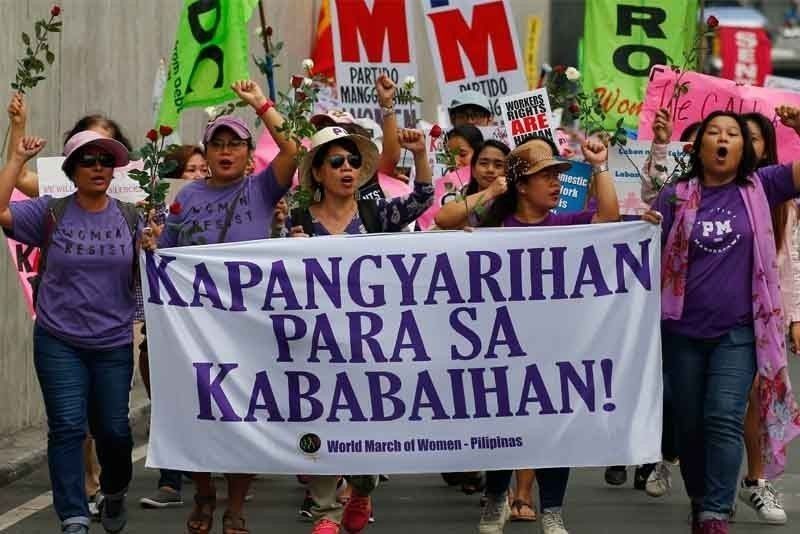 MANILA, Philippines — Organizers of the #BabaeAko movement is targeting to mobilize around 10,000 people for protest actions against misogyny and sexism on Independence Day.
Zena Bernardo, co-convenor of the movement, yesterday said they expect 10,000 people from various groups will join the protest on Tuesday.
The demonstrators will gather at the Rizal Park in the afternoon of June 12 and will march to Liwasang Bonifacio.
The gathering is in protest of President Duterte's kissing a woman in public during a recent trip to South Korea.
Bernardo said Communications Assistant Secretary Mocha Uson is welcome to join the protest march.
Uson, an avid supporter of Duterte, figured in a spat with Kris Aquino after she dragged the latter's father, the late senator Benigno Aquino Jr., into the controversy.
Bernardo said Duterte's supporters are missing the point when they reasoned the woman in the middle of the controversial kiss, Bea Kim, did not complain about what happened.
"The focus is the President. Is he expected to act like that in a public function?" she said.
'Greater unrest'
Meanwhile, Duterte's threats to impose a state of national emergency or nationwide martial law will only foment a situation of greater unrest, according to human rights group Karapatan.
Karapatan secretary general Cristina Palabay said Duterte's use of worn-out and make-believe reasons betray his real intent, which is to promote his tyrannical rule and militarist approach in dealing with the country's problems, instead of solving the root causes of social problems.
"Such threats should be opposed, with his propensity to walk the talk when it comes to using state violence and terror and further promote his thuggish and anti-people governance," Palabay said.
The group said the numerous cases of human rights violations in Mindanao during the one-year implementation of martial law is testament to the disastrous impacts of Duterte's pandering to military rule.
In May last year, Duterte declared martial law in Mindanao, purportedly in response to the Marawi siege.
Karapatan said it was able to document at least 49 victims of extrajudicial killings in Mindanao since May 23, 2017 up to May 23 this year, averaging one victim killed every week.
Most of the victims, the group said, are indigenous peoples and members of local peasant organizations targeted for their campaigns for genuine agrarian reform and against militarization.
Karapatan said it has documented at least 22 cases of torture, 116 victims of frustrated extrajudicial killings, 89 victims of illegal arrest and detention and 336,124 victims of indiscriminate gunfire and aerial bombings.
On June 12, Karapatan will join a march to uphold and defend people's rights.
"We join progressive groups and broad formations in opposing Duterte's tyrannical rule as we continue to remain vigilant on the forms of repression employed by the government. – With Artemio Dumlao