NEDA: Family of 5 needs P42,000 a month to survive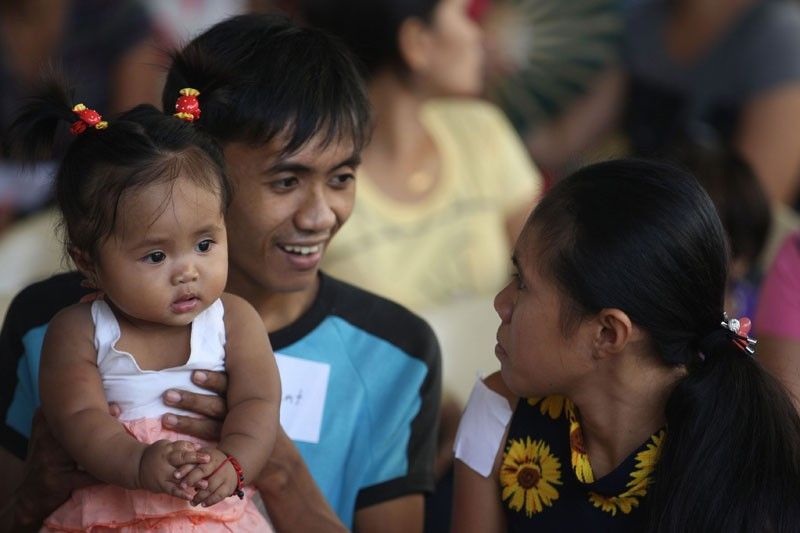 MANILA, Philippines — Amid the ruckus sparked by a government economist's pronouncement that a P10,000 budget is enough for a family of five to survive, Socioeconomic Planning Secretary Ernesto Pernia clarified the figure should actually be P42,000.
Pernia was quoted as saying in an interview with GMA-7 that an average Filipino family would actually need an aggregate income of P42,000 to live above the poverty line.
This is based on the assumption that a household has two family members earning P21,000 each per month which, under the tax reform law, exempts them from paying income tax.
At a press briefing on the May 2018 inflation figures last Tuesday, National Economic and Development Authority (NEDA) undersecretary for policy and planning Rosemarie Edillon used the amount of P10,000 to illustrate the effect of the rise in inflation to 4.6 percent last month on a household budget for a family of five.
The presentation showed that for the average household with an assumed P10,000 monthly budget, its expenses in May rose by P459.
Such illustration triggered indignation and disbelief from numerous citizens who took to social media to air their sentiments.
The following day, NEDA issued a statement explaining that the amount was "hypothetical monthly budget" broken down into items commonly consumed by a Filipino household based on the Consumer Price Index (CPI) weights published by the Philippine Statistics Authority.
This included commodities most affected by inflation such as food and fuel.
Before Pernia made a clarification, senators expressed bewilderment at Edillon's figure, with Sen. Grace Poe calling it a "throwback estimate."
"Only an economist who has been living under a rock will believe that a family of five can live decently on P334 a day," Poe said. Such estimate, she added, might have been applicable 15 years ago.
"That amount will perhaps be enough if the family will go on a forced diet, live off the grid in a lean-to, forego schooling, among other deprivations," she added.
Poe said the officials who came up with that estimate should "prove their thesis by staging a reality show a la Survivor, where they would live on a budget of P10,000 a month."
Sen. Sherwin Gatchalian said it was clear that no family of five could possibly survive on P10,000 a month.
He said the P3,834 monthly food budget cited by the NEDA would translate to P8 per meal per person only, which he said is not even enough to buy a pack of instant noodles.
The P10,000 hypothetical budget also presupposes transport fare of P806 per month or only P5 per person per day. "That's not even enough for a one-way jeepney ride," he said.
As for the P2,204 monthly budget for lodging and utilities, Gatchalian said this would force a family of five to share a small cramped apartment or just a single room, without even the most basic household comforts.
"P10,000 simply isn't enough. The government's economic managers should use more realistic benchmarks," Gatchalian said.
Sen. Juan Miguel Zubiri, for his part, said the P10,000 figure of the NEDA is possible for some areas of the country such as Bukidnon, where the cost of living is relatively low.
However, he admitted that the figure is not enough for families living in major urban areas such as Metro Manila or Cebu.
Zubiri said the government should immediately provide subsidies for the poor and low-income families to help them cope with the rising prices of goods and services.
Militant group Partido ng Manggagawa (PM) also scoffed at the P10,000 figure, saying the figure should at be least P39,000 or P1,300 a day.
"NEDA's assessment is utterly erroneous. Just to cite one flaw: NEDA alleges that P959 out of the P10,000 is allotted for rice. Such a budget can only buy 30 kilos of P32 NFA (National Food Authority) rice – which is hard to find in the market – for one month or 1 kilo per day to be shared by five people," PM national chairman Renato Magtubo said.
"This translates to just one cup (200g) per person per day or around 250 calories, far below the recommended daily calorie intake of 1,500-2,000. P10,000 means malnourished and stunted workers and children," he explained.
Citing their own study, Magtubo said one family needs P3,150 a month to buy 2.5 kilos of the cheapest commercial on a daily basis.
He added that P17,160 is earmarked for food while P21,840 is allotted for non-food items.
The remaining amount covers other expenses such as electricity and water bills, transportation expenses and education.
"Our cost of living study is in fact an underestimation as it does not provide for leisure and recreation, savings or social security which should comprise 10 percent as a standard or for a house help, which is a necessity if the government insists that both parents must work to sustain the family," said Magtubo.
Caritas Manila executive director Fr. Anton Pascual said that the living wage is P20,000 monthly and not P10,000 as earlier mentioned by a NEDA official. Caritas Manila is the social arm of the Archdiocese of Manila.
The P20,000 monthly family income is Caritas Manila's benchmark for a family to be considered "out of poverty," Pascual said.
He noted, however, that P90 percent of Filipinos earn less than P20,000 a month.
"We respect NEDA. It's a matter of paradigm. It just so happens that the Church has a different paradigm, especially the Caritas, on matters of decent family living standard," he said.
He explained that the government might have been using a "minimalist" estimate while Caritas has a more "balanced, idealist and realist living with dignity." – Marvin Sy, Evelyn Macairan, Emmanuel Tupas