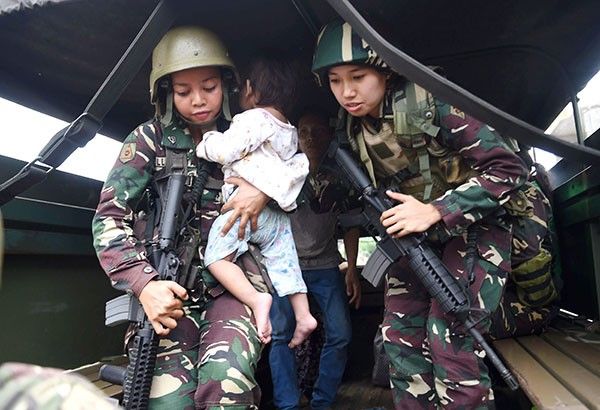 A soldier holds a child rescued from the battle zone in Marawi City in June 2017.
AFP, file
Duterte says some jobs are inappropriate for women
MANILA, Philippines — Amid criticisms of sexism and misogyny, President Rodrigo Duterte on Thursday said that some jobs are inappropriate for women.
The remark was made days after activists and women's rights advocates who accuse the president demeaning women launched the #BabaeAko movement.
Speaking at the inauguration of a bridge project in Davao City, the Philippine leader stressed that he is a believer in the abilities of women but stressed that some jobs are not for them.
He explained that, unlike men who are used to brawls and fights since childhood, women easily melt with just one look from their mothers. Both are generalizations that may not be accurate in 2018.
"These women they are prim and proper. Just one look from their mothers they will melt," Duterte, who regularly makes controversial statements, said.
With the expected retirement of Ombudsman Conchita Carpio-Morales, Duterte said last week that the next head of the anti-graft office should have integrity but should not be a woman.
"[S]omeone whose integrity is admired by people. Of course, it could not be [a] politician, especially not a woman" he told reporters.
This remark prompted critics to slam the controversial chief executive, with a woman's group calling his comments reeking of misogyny.
Every Woman, a women's advocacy group, said that Duterte's statements and the way he interacts with women on his Cabinet show Philippine machismo's most disgusting aspects.
Palace denies discrimination, misogyny
Malacañang defended the president, citing as evidence Duterte's appointment of women on his Cabinet.
Presidential spokesman Harry Roque, a former human rights lawyer, explained away Duterte's remarks by saying that these were just a reflection of his frustration over the relentless criticisms of his administration.
In a briefing on Thursday, Roque said that Duterte loves women. "The problem is, he loves them too much," Roque is quoted by Rappler as saying.
In stressing his point, the president asked what a woman member of the Philippine Drug Enforcement Agency would do if a drug dealer sends her a photo of her child to intimidate her."
"I believe in women, the competence and capability. But not all in life. It should be the case. It's not appropriate when you cannot stand threats and intimidation," the president said in Filipino and English, implying that only men can withstand threats and intimidation in the performance of their duties.
Ombudsman Morales, a woman, was subjected to threats from Duterte and his allies last year over the office's investigation into allegations that the president had undeclared wealth.
"You'll be investigated also. One of these days, I am sure you will be pursued because of your partiality. If you don't start investigating yourself, I will set up a commission to investigate you," Duterte, who later created the Presidential Anti-Corruption Commission, said in September 2017.
Morales had inhibited herself from the investigation because of family ties with Duterte but also said: "Sorry, Mr. President, but this office shall not be intimidated."
Duterte also had spicy words for the United Nations and human rights groups, whom he accused of being headed by individuals who were not democratically elected.
"There are members there who are not even elected. These are those who own fiefdom, kings, prince. What do you know about human rights when you run a kingdom? You have citizens there who can vote? Can they remove you? Can they put you to prison when you start to f*** up with the people," he said.
Just recently, the president said that he was advised by National Security Adviser Hermogenes Esperon to tone down his criticisms of the head of the UN human rights office.
According to Esperon, Jordan's king, who is a cousin of UN High Commissioner for Human Rights Zeid Ra'ad Al Hussein, is donating two Bell AH-1 Cobra attack helicopters to the Philippines.