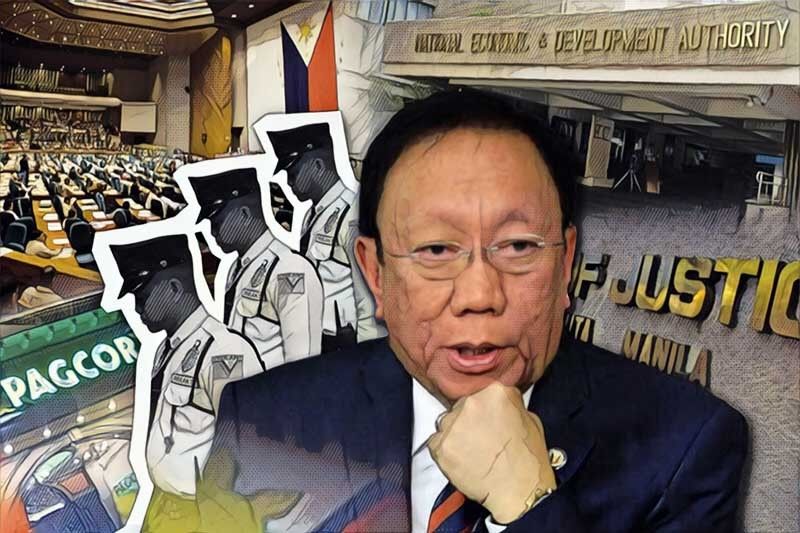 Vigilant Investigative and Security Agency Inc., that provides security personnel to several government agencies, is owned by Solicitor General Jose Calida and his family. The government's chief legal counsel said that he sees no 'conflict of interest' in his stock ownership of the agency. Even President Rodrigo Duterte backs up his defense.
Philstar.com/Jonathan Asuncion
What we know so far: Vigilance on Calida's security agency
MANILA, Philippines — Jose Calida, the government's chief lawyer, is facing criticism and scrutiny for being the major stockholder of a security agency that has multimillion-peso contracts with several government offices.
Calida, who has scored victories for the Duterte administration at the Supreme Court and whom the president said is simply "lucky" for his security agency getting so many government contracts, faces a graft and corruption complaint, a probe at the Department of Justice, and increasing calls for his resignation.
Solicitor General Calida on May 31 said that he is ready to face all "attacks" against him. He challenged his critics: "Can they handle my counter-attacks?"
What the complaint says
Jocelyn Acosta-Nisperos, on May 10, filed a complaint against Calida at the Office of the Ombudsman.
Acosta-Nisperos said that, according to the General Information Sheet from the Securities and Exchange Commission, Calida owns 60 percent of Vigilant Investigative and Security Agency Inc. Calida's wife and three children own 10 percent each.
The SEC documents also state that Vigilant has contracts with four government agencies:
On Aug. 11, 2016, the National Economic Development Authority awarded a three-year service agreement to Vigilant. Each year of service costs P6,876,737.76.
On Sept. 9, 2016, the National Anti-Poverty Commission contracted Vigilant for one year. The contract price however was not stated in the document.
On May 8, 2017, the Philippine Amusement and Gaming Corporation signed a three-year contract with Vigilant.
On Jan. 29, 2018, the National Parks Development Corporation issued a Notice of Award to Vigilant. The contract amounts to P29,244,670.62
In an interview with CNN's "The Source" on May 31, Calida said that Vigilant's contract with NEDA has already expired.
READ: Calida faces graft raps for owning security agency with government contracts
Other contracts with government?
While Acosta-Nisperos' complaint only refer to contracts between Vigilant and four government agencies, Calida's security firm also bagged contracts with the following offices:
Department of Justice, 2 contracts
House of Representatives, 2 contracts
National Electrification Authority, 1 contract
Calida confirmed this in the same interview with CNN.
Dito sa House of Rep ay Vigilant Investigative and Security Agency din. The long time sec agency was kicked out at the start of 17th Congress. Lakas mo pre! https://t.co/egNARerPy6

— Rep. Gary C. Alejano (@AlejanoGary) May 28, 2018
What Calida says
Calida kept mum on the issue for weeks after the complaint was filed, but broke his silence last weekend.
In a statement issued on the night of May 26, the solicitor general clarified that he resigned as chairman and president of Vigilant on May 30, 2016.
He also denied that he violated the Section 9 of Republic Act 6713 or the Code of Conduct and Ethical Standards for Public Officials and Employees. He said that the provision requires that he either resign from the position of a private company or divest himself of stock ownership.
While he did not divest, Calida stepped down from the management of the security firm that he has a 60-percent stake in.
READ: Calida insists: Conflict of interest allegations 'baseless'
He also stressed that the OSG did not have a say on Vigilant's contracts with the NPDC. The statement further reads: "Vigilant was awarded its first contract with NPDC in July 2014 or two years before Solgen Calida became the solicitor general."
A second statement was issued on the night of May 28, where Calida reiterated that there is no conflict of interest in Vigilant's contracts with its clients as the OSG does not possess the power to approve the said agreements.
"It is not the mandate of the OSG to regulate, supervise or grant licenses to security agencies such as Vigilant," the statement reads.
What laws were allegedly violated?
Acosta-Nisperos said that Calida's ownership of Vigilant is in violation of the Republic Act No. 6713 or the Code of Conduct and Ethical Standards for Public Officials and Employees.
Section 9 of the said republic act states: "A public official or employee shall avoid conflicts of interest at all times. When a conflict of interest arises, he shall resign from his position in any private business enterprise within thirty days from his assumption of office and/or divest himself of his shareholdings or interest within 60 days from such assumption."
Section 3(i) of the RA 6713, meanwhile, provides that "conflict of interest "arises when a public official or employee is a member of a board, an officer, or a substantial stockholder of a private corporation or owner or has a substantial interest in a business, and the interest of such corporation or business, or his rights or duties therein, may be opposed to or affected by the faithful performance of official duty."
While the complaint did not cite a violation of the Republic Act 3019 or the Anti-Graft and Corrupt Practices Act, critics pointed out that Calida's ownership maybe in violation of Section 4 of the anti-graft law.
The provision holds: "It shall be unlawful for any person having family or close personal relation with any public official to capitalize or exploit or take advantage of such family or close personal relation by directly or indirectly requesting or receiving any present, gift or material or pecuniary advantage from any other person having some business, transaction, application, request or contract with the government, in which such public official has to intervene."
Sen. Risa Hontiveros said that Calida violated a provision of the Constitution, the highest law of the land.
Article VII, Section 13 of the Constitution states: "The President, Vice-President, the Member of the Cabinet, and their deputies or assistants shall not, unless otherwise provided in this Constitution, hold any other office or employment during their tenure. They shall not, during said tenure, directly or indirectly, practice any other profession, participate in any business,or be financially interested in any contract with, or in any franchise, or special privilege granted by the Government or any subdivision, agency, or instrumentality thereof, including government-owned or controlled corporations, or their subsidiaries. They shall strictly avoid conflict of interest in the conduct of their office."
What critics, Palace say
Opposition lawmakers have called for Calida's resignation since news hit of the latter's ownership of Vigilant.Sen. Risa Hontiveros dared President Rodrigo Duterte to make good on his promise to fire officials at the slightest whiff of corruption and file cases against Calida.
She said: "After all, if he can order the solicitor general to file a case against the Supreme Court chief justice, he can do the same to the former. Otherwise, his anti-corruption stance is pure hogwash."
Sen. Francis "Kiko" Pangilinan also called on Calida to step down from his position. He stressed that the amount his family's security agency bagged is almost three times larger than the money involved in the advertisement placement scandal that led to the resignation of Wanda Tulfo-Teo as Tourism secretary.
But President Rodrigo Duterte publicly backed up his top legal counsel amid the slew of criticisms against him.
"This Calida, his security guard (agency) has been there for a long time. It's been there ever since. Why should I fire him? He's good," Duterte said during a ceremony at the Bureau of Customs which saw the destruction of another batch of luxury vehicles on May 30.
Calida has won controversial cases for the government before the courts including the controversial decision to bury the late strongman Ferdinand Marcos at the national heroes' cemetery, the extension of martial law in Mindanao, the drug cases against Sen. Leila de Lima and the quo warranto petition that ousted former Chief Justice Maria Lourdes Sereno.
Presidential spokesperson Harry Roque also attributes critcisms against Calida to bitterness from the solicitor general's opponents for scoring an unprecedented victory at the SC against Sereno.
Where are we in the investigation?
On the legislative front, the Senate minority bloc has filed a resolution seeking an inquiry into Vigilant's contracts.
Minority senators filed Senate Resolution 760, which urges the Senate Committee on Civil Service and Government Reorganization Committee, chaired by Sen. Antonio Trillanes IV.
Justice Secretary Menardo Guevarra said that he can only look into Vigilant's contracts with the DOJ and only on whether procurement law was violated. "There's a presumption of regularity but that's just a presumption. So if there's evidence to the contrary, maybe there's some violation of, let's say the procurement laws, then that's something worth looking into," Guevarra said.
READ: DOJ to look into contracts with Calida security agency
He stressed that he is not privy to contracts Vigilant entered into with other government agencies.
The Office of the Ombudsman has yet to make public whether it has acted on Acosta-Nisperos' complaint against Calida.