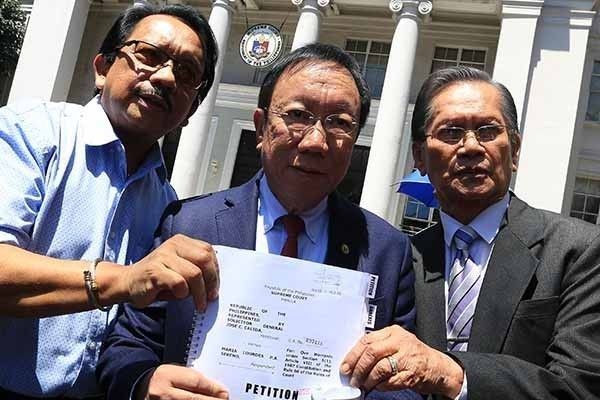 Solicitor General Jose Calida, suspended lawyer Eligio Mallari and Volunteers against Crime and Corruption president Dante Jimenez hold a copy of the petition for quo warranto they filed before the Supreme Court on Monday, March 5.
Edd Gumban
2 senators want Calida out over family agency's government contracts
MANILA, Philippines — Two opposition senators are calling for the removal of Solicitor General Jose Calida from office over the more than P150 million in government contracts his family's security agency bagged since becoming the government's top lawyer.
Sen. Risa Hontiveros dared President Rodrigo Duterte to make good on his promise to fire officials at the slightest whiff of corruption and file cases against Calida.
"I challenge President Duterte to prove his anti-corruption rhetoric. I challenge him to not only fire Mr. Calida but also to file the necessary charges against him," Hontiveros said.
"After all, if he can order the solicitor general to file a case against the Supreme Court chief justice, he can do the same to the former. Otherwise, his anti-corruption stance is pure hogwash," the Akbayan senator added.
Sen. Francis "Kiko" Pangilinan, the president of the Liberal Party, also called on Calida to resign, saying that the amount his family's security agency bagged is almost three times larger than the money involved in the advertisement placement scandal that led to the resignation of Wanda Tulfo-Teo as Tourism secretary.
"Solicitor General Jose Calida, who is the government's lawyer, should also resign because of the P150-million contract with the [Department of Justice], [National Economic and Development Authority], [Philippine Amusement and Gamign Corp.], etc., that the security guard agency owned by his wife and children bagged," Pangilinan said in Filipino in a statement.
The OSG is attached to the Department of Justice for budget purposes and the solicitor general is tasked with representing the government in legal proceedings.
"Family TV production company. Family security guard company. Millions in government contracts. Same-same. It's just that Calida got three times the amount. There are three times more reasons for him to resign," the senator added.
Over the weekend, it was reported that Calida's security firm bagged more than P150.8 million worth of government contracts from six agencies, including the Department of Justice.
It was also said that Calida's company, Vigilant Investigative and Security Agency Inc., won 10 government contracts since August 2016.
Calida denied wrongdoing and said that there was no conflict of interest as he had already resigned as president and chairman of the firm when he became the government's top lawyer in 2016. He reportedly still owns a controlling share — 60 percent — of the agency.
Hontiveros said that the government should not tolerate a solicitor general who lawyered for plunderers like alleged pork barrel scam mastermind Janet Lim-Napoles and the Marcoses and whose personal businesses profited from the government.
He also criticized Duterte for his "fire and recycle policy," referring to Duterte's practice of reappointing officials fired because of anomalies in government.
"Recycling corrupt public officials is recycling corruption. Corrupt public officers, who have been shielded from calls of transparency and accountability, are non-recyclable," she said. "President Duterte should stop recycling corruption."
The Palace has downplayed the accusations of anomaly against Calida and attributed it to his successful bid to remove former Chief Justice Maria Lourdes Sereno through a quo warranto petition. This defense is despite Duterte's pledge to fire officials even if there was just a whiff of it.
Presidential spokesman Harry Roque said that Calida's enemies were just getting back at him and stressed that there was not conflict of interest in the case.