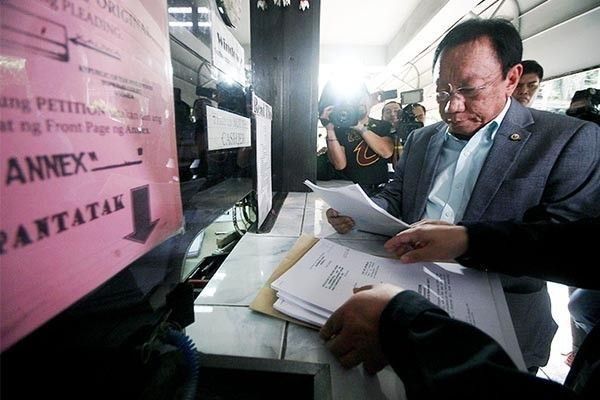 Calls for Calida to resign mounted after it was revealed that Vigilant Investigative and Security Agency Inc. (VISAI), owned by the solicitor general's family, signed contracts with the National Parks Development Committee, National Anti-Poverty Commission and National Economic and Development Authority.
Miguel de Guzman/File
Calida insists: Conflict of interest allegations 'baseless'
MANILA, Philippines — Solicitor General Jose Calida has insisted that he has complied with the law and that there is no conflict of interest over his stock ownership of a security firm that has contracts with government agencies.
Calida, in a statement late Monday night, said that he did not violate provisions of the Code of Conduct and Ethical Standards for Public Officials and Employees, as his office did not have a hand with the approval of contracts between Vigilant Investigative and Security Agency Inc. and its clients.
"It is not the mandate of the OSG to regulate, supervise or grant licenses to security agencies such as Vigilant," Calida also said.
The solicitor general stressed that he resigned from the management of Vigilant and only retains stock ownership of the company.
Vigilant is known to have contracts with the National Economic Development Agency, National Anti-Poverty Commission, Philippine Amusement and Gaming Corp., National Parks Development Corp. and the Department of Justice.
Opposition lawmakers also claimed that the security agency has a contract with the House of Representatives.
Recalling that President Rodrigo Duterte has repeatedly said he has no tolerance of corruption in his administration, Sens. Francis Pangilinan and Risa Hontiveros dared the president to fire Calida. Several lawmakers have called on Calida's resignation over the issue.
READ: 2 senators want Calida out over family agency's government contracts
Ombudsman complaint
The government's chief legal counsel was slapped with a complaint at the Office of the Ombudsman for being a major stockholder of Vigilant that has a contract with at least four government agencies.
The complaint also alleges that he violated Republic Act 3019 or the Anti-Graft and Corrupt Practices Act.
READ: Calida faces graft raps for owning security agency with government contracts
Section 4 of the said act provides: "It shall be unlawful for any person having family or close personal relation with any public official to capitalize or exploit or take advantage of such family or close personal relation by directly or indirectly requesting or receiving any present, gift or material or pecuniary advantage from any other person having some business, transaction, application, request or contract with the government, in which such public official has to intervene."
But Calida maintains that he sees no conflict of interest with his and his family's ownership of Vigilant. Sixty percent of Vigilant's stocks are under his name while the remaining 40 percent is divided among his wife and three children.
"The allegation that there is conflict of interest is baseless," Calida stressed.
OSG is independent from DOJ
The solicitor general also stressed that his office is an attached agency to the DOJ only for budgetary purposes, but it remains an "independent and autonomous office."
"To reiterate, the OSG is not the approving authority for the subject contracts, which were all obtained through public bidding in accordance with the law," he said.
"Neither is the OSG in the business of licensing, regulating or supervising security agencies such as Vigilant."
Calida also refuted that the agency earns P150 million from the contracts as he said that a huge fraction of the bagged contract goes to the salaries and benefits of the employees.
The Palace has downplayed the accusations of anomaly against Calida and attributed it to his successful bid to remove former Chief Justice Maria Lourdes Sereno through a quo warranto petition.
Duterte had earlier pledged to fire officials even if there was just a whiff of it.
Presidential spokesman Harry Roque said Calida's enemies were just getting back at him and stressed that there was no conflict of interest in the case.
Related video: