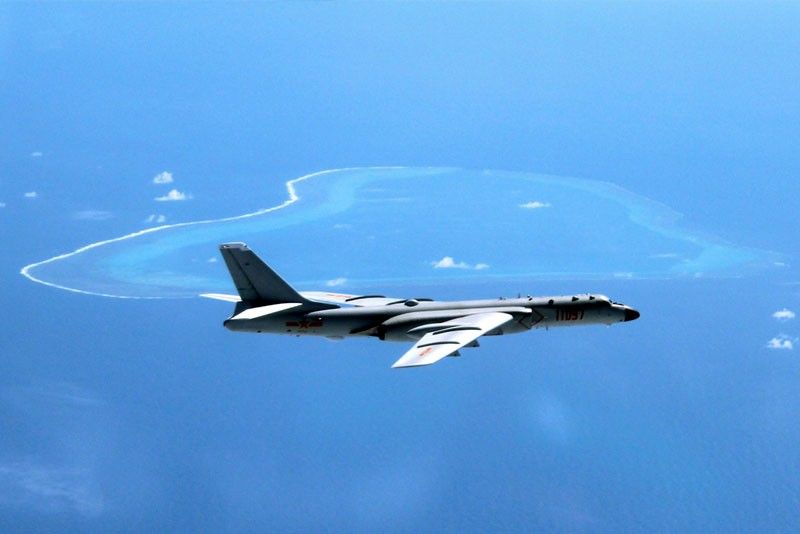 In this undated file photo released by Xinhua News Agency, a Chinese H-6K bomber patrols the islands and reefs in the South China Sea. The People's Daily newspaper reported Saturday that the People's Liberation Army Air Force conducted takeoff and landing training with the H-6K bomber in the South China Sea.
Confronting China means trouble – Duterte
MANILA, Philippines — Trouble would ensue if the Philippines insisted on its maritime claims in the South China Sea, President Duterte said.
Duterte stressed he is open to a joint exploration with China to avoid conflict, instead of confronting the military giant.
He reiterated that the Philippines does not have the capability to declare war on China, adding that a conflict would only result in the massacre of Filipino soldiers.
"You know, if you insist, there will be trouble. To the Chinese, what does it mean to you? War. What will we arm ourselves with if there's a war? Will we resort to slapping each other?" the President said during the opening of the oil and gas production of the Alegria oil field in Cebu on Saturday.
"So will we be able to win that war? If my troops are massacred, after the war, the soldiers and police will come after me next. Our troops will really be finished off there," he added.
Duterte made the remark a day after Chinese paper People's Daily reported that China had deployed long-range bombers on Woody Island in the Paracels in the South China Sea.
With the deployment, the Philippines is now within the radius of Chinese bombers, according to Washington-based think tank Asia Maritime Transparency Initiative.
China claims virtually the entire South China Sea while the Philippines, Vietnam, Malaysia, Brunei and Taiwan have overlapping claims. China's entire claim was voided by a United Nations-backed arbitral tribunal in 2016, but the Chinese government does not recognize the ruling, which also awarded the Philippines sovereign rights over several areas in the West Philippine Sea including Panganiban or Mischief Reef off Palawan.
Analysts have stressed that the arbitral ruling allows the Philippines to assert its sovereign rights in the South China Sea, with international support, without resorting to war.
Duterte confirmed China has air assets that could reach the Philippines in minutes.
"If we go to a full-blown war, where would the Philippines end up? Why would I give away the lives of my soldiers and policemen in a battle which I cannot win?" he asked.
National Security Adviser Hermogenes Esperon Jr. said the Philippines had long known about China's landing bombers on Woody Island.
"There is an airport there, so what do you expect? Aircraft would naturally land there," Esperon said.
Esperon explained that the country has been concerned about such activities of China and the government has a way of dealing with it.
"We are doing something about it with China. We have our way of discussing it with China. And we are not noisy about what we are discussing," he said.
But Esperon was also quick to point out that if China's intention was to hit the Philippines as its target, then there is no need to use the bombers that land in Woody Island.
"China has missiles or the ICBM that could easily reach us without using the bombers," he said.
Duterte, for his part, denied allegations that he did not do anything to protect Philippine interests in the West Philippine Sea, the portion of South China Sea being claimed by Manila.
He said he informed Chinese President Xi Jinping about his plan to drill oil in the South China Sea during their meeting in 2016.
"Don't believe that I didn't do anything about the issue, that I just let it be. I told him (Xi) this straight the first time I said, 'I'm going there to dig my oil.' And then he said... 'We have just become friends and we have just begun to get to know each other. Let's not ruin the relationship that we have'," Duterte said, quoting the Chinese leader.
"Now, am I prepared to go to war against them? We don't have enough guns."
The President said he was open to China's offer to hold a joint exploration in the South China Sea.
"We don't have to fight. We can divide this in a joint development, joint exploration," Duterte stressed.
"And then we'll give you a bigger share rather than fight. It's only America who's worried because they lost a territory. You're the ones who came first. I was just new and then you adapted the rascal's propaganda," he added.
Duterte said he and Xi would talk about a joint exploration "someday."
The President has blamed the United States and the Aquino administration for their supposed failure to stop China's military buildup in the South China Sea.
Creeping invasion
Critics, however, claimed Duterte was just parrying allegations that he was being too soft on China, which has been providing military and economic aid to his administration.
Lawmakers said Duterte should immediately confront China regarding the deployment of heavy bombers in the disputed region.
Senate Minority Leader Franklin Drilon described the move as "the creeping invasion of Philippine territory in the South China Sea by China."
"If we don't work on this, maybe the time will come when even the elections – the 2019 elections is near – the question at the back of people's minds is that maybe China will interfere in our elections in 2019 at the rate things are going," he said.
Drilon said there are other remedies short of going to war with China.
"We should assert our sovereignty, not by waging a war against China – we cannot do that – but in other fora, we should be able to continue our campaign in order that we can retrieve those islands that have been occupied by China," he said.
Sen. Risa Hontiveros called for a review of the country's bilateral relationship with China.
"We can't call a country that robs us of our islands and threatens us with nuclear war a friend. This is unacceptable. This is a serious threat to the lives of our citizens, an assault on our Constitution and a direct violation of internationally recognized treaties to which we are a signatory," Hontiveros said.
Hontiveros called on Duterte to bring China's nuclear threats before the UN General Assembly.
She challenged Duterte and his officials "to end their subservience to China and muster the necessary political courage to stand up to protect our national sovereignty and the lives of our citizens."
Sen. Joseph Victor Ejercito said he was supportive of Duterte's efforts to improve ties with China but this should not come at the expense of the country's sovereignty and security.
On the other hand, the Department of Foreign Affairs (DFA) justified the diplomacy exercised by Duterte.
The DFA said the deliberate and nuanced diplomacy by the Duterte administration had lowered tensions in the region arising from South China Sea disputes and even resulted in clear economic gains for the country.
The issues in the South China Sea were raised by senior Philippine officials led by Executive Secretary Salvador Medialdea in a meeting with the commander of the US Pacific Command Admiral Harry Harris Jr. at the PACOM headquarters in Hawaii on Friday.The DFA said the Philippines and the US have reaffirmed their firm resolve to bolster their enduring alliance anchored on common values and interest, ties and the Mutual Defense Treaty during discussions in Honolulu.