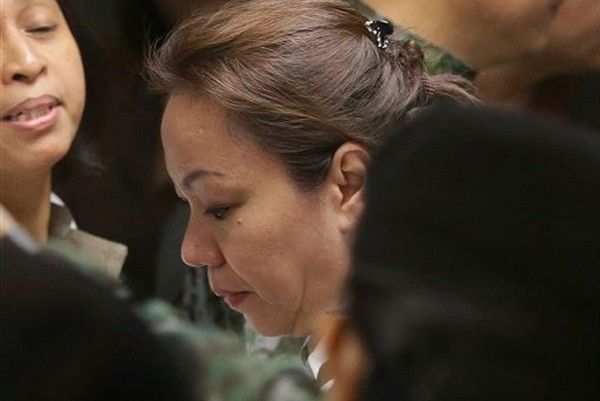 In this Sept. 23, 2013 file photo, businesswoman Janet Lim Napoles arrives to attend her arraignment at the Makati Regional Trial Court Branch 150 in suburban Makati, south of Manila, Philippines.
AP/Aaron Favila
Napoles no longer under state protection, says DOJ
MANILA, Philippines — Alleged mastermind of the multi-billion pork barrel scam Janet Lim-Napoles is no longer under government protection, the Department of Justice said.
In a statement on Friday, Justice Secretary Menardo Guevarra said that he has issued a letter to Napoles, informing her of her termination of the witness protection program coverage effective May 25.
Guevarra said that the three courts of the Sandiganbayan already junked Napoles' motion to be transferred to a safe house under the DOJ. The anti-graft court stressed that Napoles' appeal lacks merit as she is being lawfully detained and denied bail for plunder and other charges arising from her alleged involvement in the misuse of public funds.
The Justice chief said: "Considering the denial of Napoles' Urgent Motion for Transfer of Custody to the DOJ Witness Protection Security and Benefit Program by the First, Third, and Fifth Divisions of the Sandiganbayan, the main purpose for which Ms. Napoles had sought the admission into the WPSBP has become moot and academic."
On March 26, it was made public that Napoles has been under the Department of Justice's WPP since February 27. The businesswoman, believed to be the brains behind the Priority Development Assistance Fund scam, sought a transfer from the Bureau of Jail Management and Penology to a safe house.
READ: Janet Lim Napoles now enjoying partial witness protection
"As there has been further claim of threats to her personal security inside Camp Bagong Diwa, the Secretary of Justice has found no reason to extend further Ms. Napoles' provisional coverage under the Witness Protection Program," Guevarra added.
The DOJ—then under the helm of former Justice Secretary Vitaliano Aguirre II—said that Napoles executed an affidavit, and it will evaluate its content to determine if she will be given full protection by the state.
Napoles' admission comes months after the DOJ, led by Aguirre, said that it will reopen the investigation of multi-billiion Priority Development Assistance Program, under the administration of former President Benigno Aquino III.
Sen. Leila de Lima, who is Aguirre's predecessor, also initiated a probe into the pork barrel scam. This led to the detention of Sens. Jinngoy Estrada, Juan Ponce Enrile and Bong Revilla Jr.
Napoles' inclusion in the WPP was met with heavy criticism, as her credibility as state witness was questioned.
RELATED: Napoles will implicate anyone to get off the hook, warns Valte | De Lima: Napoles a 'polluted source'