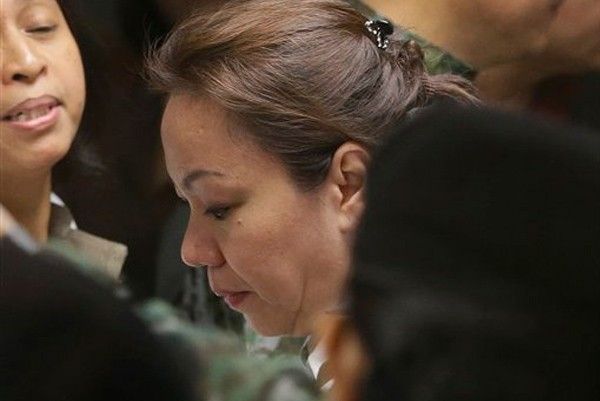 In this Sept. 23, 2013 file photo, businesswoman Janet Lim Napoles arrives to attend her arraignment at the Makati Regional Trial Court Branch 150 in suburban Makati, south of Manila, Philippines on Monday, Sept. 23, 2013.
AP/Aaron Favila
Janet Lim Napoles now enjoying partial witness protection
MANILA, Philippines (2nd update) — Janet Lim-Napoles, the alleged brains behind the pork barrel scam, has been placed under provisional government protection, the Department of Justice confirmed on Friday morning.
Justice Undersecretary Erickson Balmes told reporters that Napoles was admitted to the DOJ's Witness Protection Program, the Philippine STAR reported.
Balmes said Napoles executed an affidavit, but declined to detail its content.
The development marks the turn of the tide from the previous administration. The Aquino-led government with Leila de Lima as justice secretary initiated the investigation into cases of plunder over the rigged multi-billion Priority Development Assistance Program under the administration of former President Benigno Aquino III scam. This led to the detention of opposition senators Jinggoy Estrada, Juan Ponce Enrile and Bong Revilla Jr.
Senior Assistant State Prosecutor Ma. Nerissa Molina-Carpio signed a certification for Napoles to be partially admitted to the DOJ's witness program since February 27.
Napoles' camp has also issued an urgent motion to transfer Napoles from her detention cell at Camp Bagong Diwa in Taguig to the DOJ.
The DOJ similarly has an ongoing probe into the PDAF. The investigation stemmed from Presidential Anti-Corruption Commissioner Greco Belgica's petition to reopen the case for possible criminal charges against Aquino and his former officials.
Napoles, however, is also facing plunder charges before the anti-graft court Sandiganbayan over her involvement in the PDAF. It is still unclear if she will stand as witness before the DOJ or before the Sandiganbayan.
Estrada has been freed on bail while the Supreme Court had granted nonagenarian Enrile temporary freedom on humanitarian reasons. Revilla remains behind bars.
De Lima, meanwhile, has been in detention for a year for drug-related charges under a Duterte-led government which she heavily criticizes.
Tussle over Napoles' admission to the WPP
The DOJ and the Office of Ombudsman, in May last year, were at loggerheads on the eligibility of Napoles' admission to the WPP.
Justice Secretary Vitaliano Aguirre II said that under the WPP, a person only needs to appear as the "least guilty" in the case to qualify as a state witness.
Ombudsman Conchita Carpio-Morales has put her foot down and said that her office has the final say on the matter. Napoles, after all, was charged before the anti-graft court.
"As far as the prosecution is concerned, Napoles is one of the principal benefactors of the scam. The Office of the Special Prosecutor will block any attempt to make her a state witness," Morales said.
The Office of the Ombudsman has yet to issue a statement on this development.
Morales is set to retire in July this year.