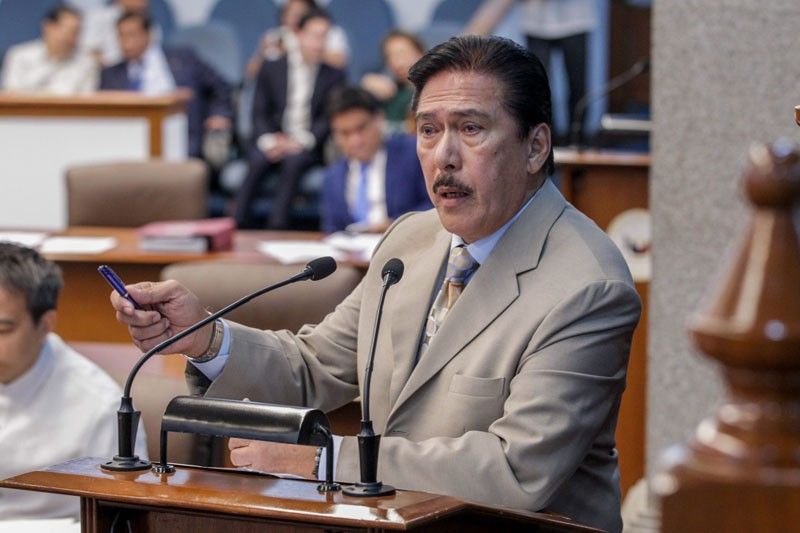 Vicente Sotto III has been elected Senate president, replacing Sen. Aquilino Pimentel III.
Geremy Pintolo, File
'Jurassic' Sotto vows to be 'more vocal' Senate chief
MANILA, Philippines — As Vicente Sotto III assumed his new responsibility as Senate president, he vowed on Monday to be more "vocal" in defending the Senate and asserting its independent voice amid criticism that there were better options to lead the chamber.
Sotto also obliquely denied that his colleagues in the majority bloc chose to replace Sen. Aquilino "Koko" Pimentel III as the body's leader because of his weak stance on several issues.
"If that is what they expect, I am more vocal, and I say what I feel and I say what my opinion is whether it is good or bad. I will do my best not to judge people or the work of other departments," Sotto said in a press conference after his election.
He also defended the Senate from criticisms that it has been slow in processing measures passed by the House of Representatives, which prompted House Speaker Pantaleon Alvarez to call the body the "slow chamber."
"Slow but sure. We are curing a lot," he said, adding that the chamber had only 22 senators who should be judicious enough to scrutinize every bill passing through the Senate.
Sotto, a host of a popular noontime program in the Philippines, has been embroiled in controversies because of his statements and actions.
He was accused of plagiarizing five foreign blogs and a briefing paper for his speeches which led to his being criticized as a supporter of digital piracy.
He was also accused of blaming a contestant on his show after being abused by a male friend following a drinking session.
Then he was slammed after he offered offensive remarks to former Social Welfare Secretary Judy Taguiwalo for being a single mother.
During Taguiwalo's Senate confirmation hearing, Sotto noticed that she had two children out of wedlock and said, "In street language, when you have children and you are single, it's called 'na-ano lang.'"
'Open line of communication with Palace'
Sotto also stressed that the Senate under his leadership would have an open line of communication with the executive department although he was yet to talk to President Rodrigo Duterte after his election.
He said that one important attribute the leader of the Senate should have is the ability to compromise on issues and policies and stressed that he would try to ensure that there would be a good working relationship between the majority and the minority in the chamber.
Sotto is the most senior member of the Senate, where he has been serving for 26 years.
Because of this, the Senate chief said that he would not mind being called "Jurassic."
"It's true that I am a Jurassic senator not because of age but because of my length of service in the Senate," he said.
He also defended his election to the top Senate post and said that his critics should look at his record and the number of laws he authored before comparing him to other senators.
He said that he would use the "template" of Senate leadership he learned from the chamber's past nine presidents, stressing that the knowledge and experience he gained from his predecessors could not be learned from any university in the world.
He also vowed that the Senate under his leadership would not lose sight of the chamber's priority measures under Pimentel.
"I pledge to continue the passage of laws that will be beneficial to the country and to every Filipino," he said in a speech after his election.
READ: 14 senators sign resolution backing Sotto as Senate president