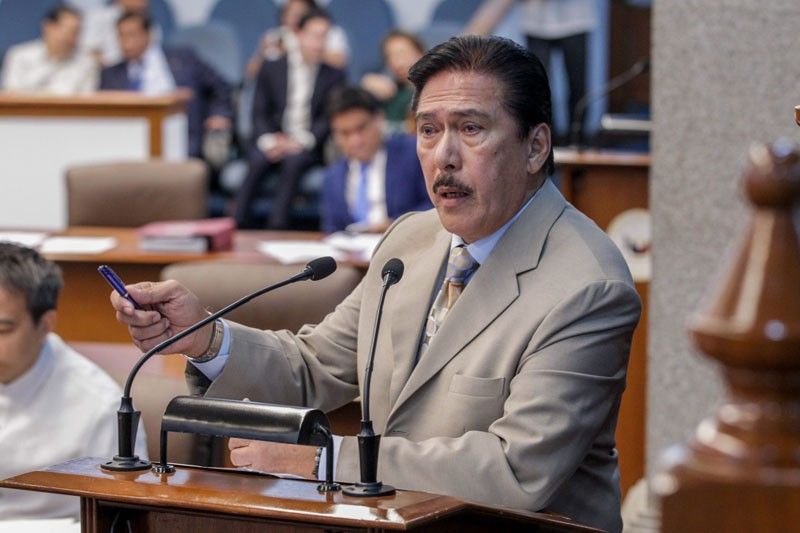 At least 14 senators have reportedly signed a resolution electing Sen. Vicente Sotto III as the new Senate president.
Geremy Pintolo
14 senators sign resolution backing Sotto as Senate president
MANILA, Philippines — A majority of senators have signed a resolution electing Sen. Vicente Sotto III, the current majority leader, as the new Senate leader and replacing Sen. Aquilino Pimentel III, who downplayed the supposed move to unseat him.
The resolution has already been signed by 14 senators, according to a copy of the resolution released by News5.
"By a majority vote of all the senators, Senator Vicente C. Sotto III is hereby elected as the new Senate President to discharge the duties and powers granted to him by the rules of the Senate," the unnumbered draft Senate resolution said.
"It is hereby resolved by a majority vote of all the Senators to express its sense to reorganize its leadership and hereby electing Senator Vicente C. Sotto III as the new Senate President," it added.
Under its rules, the Senate elects its president, president pro tempore, secretary and sergeant-at-arms.
In recent days, several media outlets have reported about the looming leadership change in the Senate which was supposedly part of an agreement between Sotto and Pimentel.
Pimentel himself said that his top choice for successor was Sotto, who reportedly enjoyed the support of at least 15 senators.
However, the current Senate chief said that he did not want to rush the change in leadership and it should be a "multi-step process" open to all members of the majority caucus.
When asked on Thursday for comment on the resolution, Pimentel said he had not yet seen it.
"(It was) reported but no one has seen it," Pimentel told Philstar.com.
Pimentel is the president of the ruling PDP-Laban party and was elected Senate president at the start of the 17th Congress in 2016.
The senators that have already signed the resolution are Juan Edgardo "Sonny" Angara, Nancy Binay, Joseph Victor Estrada, Francis Escudero, Sherwin Gatchalian, Richard Gordon, Gregorio Honasan II, Panfilo Lacson, Loren Legarda, Manny Pacquiao, Ralph Recto, Joel Villanueva, Cynthia Villar and Juan Miguel Zubiri.
The other members of the majority bloc are Pimentel, Sotto, and Sen. Grace Poe.