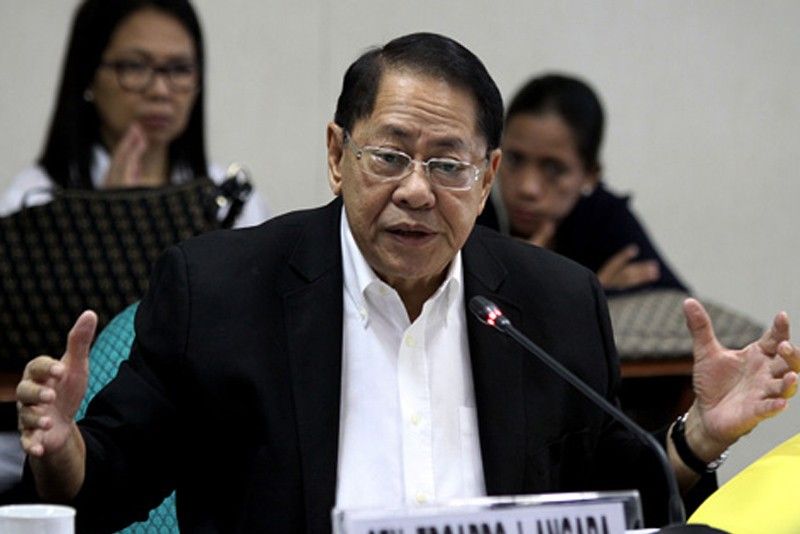 Former Senate President Edgardo Angara passed away on Sunday morning due to an apparent heart attack. He was 83.
File
Farewell to a principled public servant: Ex-presidents, senators pay last respects to Angara
MANILA, Philippines — Previous presidents and incumbent and former legislators honored the late Senate President Edgardo Angara, remembering his works and legacy as a public servant.
Former Presidents Joseph Estrada and Gloria-Macapagal Arroyo delivered their eulogies for Angara during a necrological service at the Senate Wednesday.
He passed away on Sunday morning due to an apparent heart attack. He was 83.
Arroyo, who defeated Angara in the 1998 vice presidential elections, lauded the former lawmaker's works, which she described as "larger than life."
She recalled Angara's "well thought-out laws" or the measures that created the Commission on Higher Education and the Technical Education and Skills Development Authority, among others.
"Edgardo Angara was a giant among legal luminaries, an accomplished educator, skillful and principled public servant," Arroyo said.
She added: "He achieved so much for many, especially in education and the economy, the farmers and the elderly."
Estrada, for his part, said it is a huge honor for him to have known Angara and chosen him as his running mate in the 1998 polls.
"We have lost a public servant of highest integrity and legislator with compassion, an intellectual with a heart for the poor, a champion for the cause of education," he said.
Estrada added: "Salamat sa iyong pamanang dangal sa paglilingkod at pagmamahal sa bayan. You'll be missed by all those who know you and by those whose lives were touched by your generosity and commitment to serve."
READ: Diplomats mourn Edgardo Angara's passing
Former Senate President Aquilino Pimentel Jr. said he would remember his colleague for his "whole-hearted dedication" for the cause of education.
"I guess Ed wanted all our citizens, especially the poor, oppressed and marginalized, to realize that to extricate themselves from the clutches of poverty, they must have access to education," Pimentel said.
Senate Minority Leader Franklin Drilon also paid tribute to his friend of almost 50 years, saying their friendship transcended political colors.
"Our friendship transcended political colors and affiliations, even if sometimes, we found ourselves opposing each other and sitting in opposite political fences. Once he even tried to depose me as Senate president. But the friendship remained," Drilon recalled.
He added: "Our country may have lost one of its brilliant minds and illustrious sons but I am certain that Ed's legacy is cradled in the bosom of a grateful nation."
Angara was senator from 1987 to 1998 and from 2001 to 2013. He became Senate president from 1993 to 1995. Prior to his Senate stint, he was the president of the University of the Philippines from 1981 to 1987.
He also served as the Agriculture secretary (1999) and then executive secretary (2001) to Estrada.