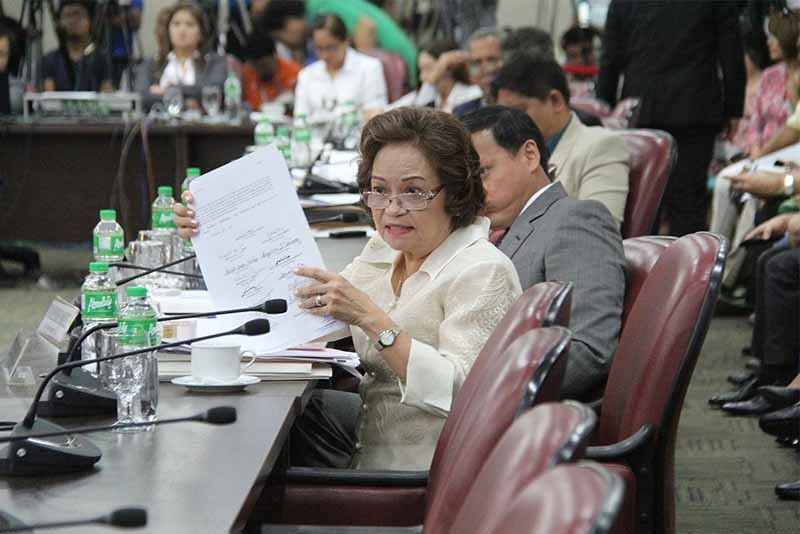 Solicitor General Jose Calida on Wednesday rejected Jocelyn Acosta's request to initiate a quo warranto proceeding against Associate Justice Teresita De Castro.
Pantaleon Alvarez/Released
Calida: No quo warranto against Justice De Castro
MANILA, Philippines — Solicitor General Jose Calida has rejected a citizen's call to initiate a legal challenge of the appointment of Associate Justice Teresita De Castro through a quo warranto proceeding due to "lack of merit."
Calida told Jocelyn Acosta—who asked him to initiate a quo warranto against De Castro on April 20—that the grounds he used to challenge Chief Justice Maria Lourdes Sereno's appointment cannot be used against De Castro.
"Justice De Castro, who is subject of your request was appointed to the Supreme Court on December 4, 2007. The argument, which the OSG propounded against Sereno does not apply to Justice De Castro since it was Sereno who was appointed as chief justice without the qualifications back in 2012," the solicitor general said.
READ: Calida urged to file quo warranto vs De Castro
Calida has asked the Supreme Court to nullify Sereno's appointment as head magistrate over her alleged failure to submit all her SALNS when she applied for chief justice in 2012. The government's chief legal counsel said that Sereno failed the "integrity test" of the council, and should be removed as chief magistrate.
Acosta, in her letter, said that Calida can also initiate a quo warranto proceeding against De Castro since the justice also failed to submit all her SALNs in her chief justice application in 2012. She pointed out that De Castro, during the House's impeachment hearing against Sereno, admitted that she was able to submit 15 of her SALNs.
This, despite records from the Judicial and Bar Council that she has been in government service since 1973.
The difference in the JBC's SALN requirement through the years was also a point raised by Associate Justice Marvic Leonen during the oral arguments.
Leonen pointed out that the JBC only instituted the SALN requirement for applicants to the judiciary on 2012, after the Chief Justice Renato Corona was ousted from the position.
Corona was impeached due to unexplained wealth, and the Senate, sitting as an impeachment court, voted to convict him in 2012.
Leonen pointed out that the SALNs were used as a measure of accumulated wealth over years of service, and not as a measure of an applicant's "integrity."
READ: At Sereno ouster hearing: Justice Leonen asks: Can SALN attest to one's integrity?
'Quo warranto did not emanate from Mallari letter'
Calida also denied that the OSG filed the petition for quo warranto due to the letter filed by suspended lawyer Elligio Mallari.
"Sereno's eligibility was brought to our attention when it was found out that in the course of the impeachment proceedings before the House of Representatives that she did not file her SALNS, as required by the Judicial and Bar Council for the position of Chief Justice at that time," Calida said.
Talking to reporters at his office before the filing, Calida asserted that the filing was not prompted by Mallari's letter and was due to the developments at the House impeachment proceeding.
However, Calida's 34-page petition for quo warranto Calida filed on March 5 noted receiving a letter from the suspended lawyer.
Part of the petition's substantive facts read: "Thereafter, the Solicitor General received a letter dated February 21, 2018 from Attorney Eligio Mallari requesting the filing of quo warranto proceedings against [Sereno]."
The petition's footnote also reads that the OSG "had less than seven working days from receipt of Mallari's letter on February 21, 2018, up to this filing, within which to source said certified true copies [Annexes], there were government agencies which have yet to comply with petitioner Republic's requests thereon."