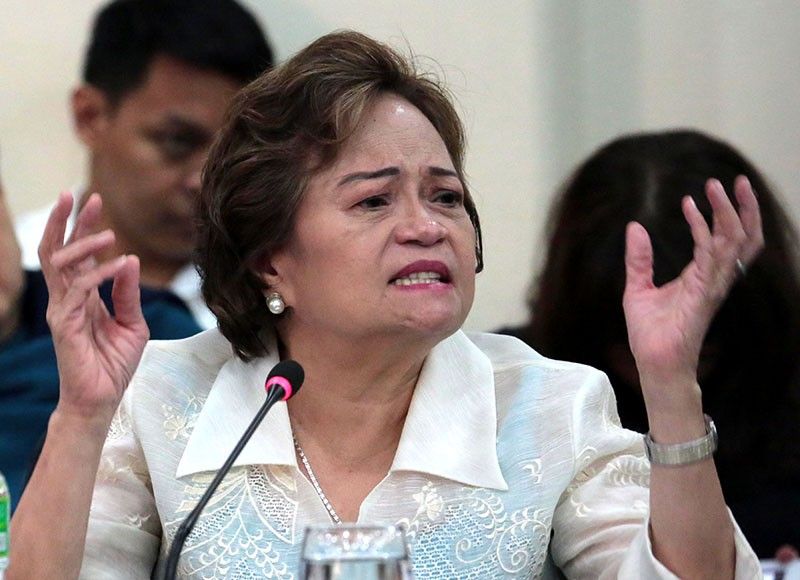 Associate Justice Teresita De Castro speaks at Congress during the continuation of hearing on probable cause for impeachement of Chief Justice Lourdes Sereno last Jan. 29, 2018.
The STAR/Michael Varcas
Calida urged to file quo warranto vs De Castro
MANILA, Philippines — A private citizen on Friday has urged Solicitor General Jose Calida to initiate an ouster petition via quo warranto against Associate Justice Teresita De Castro.
Citing the grounds used by suspended lawyer Eligio Mallari in a letter to Calida in February, Jocelyn Marie Acosta called the government's chief legal counsel to challenge De Castro's hold on her position as a magistrate of the high tribunal.
Calida sought for the nullification of Sereno's appointment as chief justice through a quo warranto petition. He said that Sereno failed the "integrity test" when she only submitted three of her Statement of Assets, Liabilities and Net Worth in 2012.
Acosta noted that De Castro, during the House's impeachment hearing against Sereno, admitted that she was able to submit 15 of her SALNs. This, despite records from the Judicial and Bar Council that she has been in government service since 1973.
According to the JBC, all applicants for the chief justice position should submit "all previous SALNs."
"Following the logic employed by Mallari, Justice De Castro and yourself, Justice De Castro's non-submission of all her SALNs since 1973 shows that she has also has employed deception in claiming that she complied with the SALN requirement, thereby lacking integrity and is not qualified to sit as a Justice of the [SC]," she said.
Under the Rules 66 of the Rules of Court, a quo warranto petition may be initiated by the solicitor general when "directed by the President of the Philippines, or when upon complaint or otherwise he has good reason to believe that any case specified in the preceding section can be established by proof, must commence such action."
During the oral arguments at the SC on Calida's case, Sereno brazenly asked her colleagues if they would also be willing to "testify under oath" should a quo warranto petition grounded on their filed SALNs be brought up. A heated exchange between Sereno and De Castro ensued, with both magistrates talking over each other. Acting Chief Justice Antonio Carpio later intervened to ask Sereno to just address De Castro's first question.
De Castro was also a candidate for the chief justice position in 2012. Former President Benigno Aquino III picked Sereno, who is several years junior to De Castro and other senior justices, to head the judiciary.
Sereno, in the quo warranto case, argued that the JBC deemed that her submission of three SALNs in 2012 was of "substantial compliance" with the SALN requirement.
She added that the SALN requirement was also relaxed for all applicants, including De Castro.
"As a citizen of this country and as a taxpayer, I humbly request that the Solicitor General urgently initiate quo warranto proceedings against [De Castro] for lacking integrity as a member of the SC," Acosta said.
"I anticipate that you would act with the same zeal as you did when you received the letter of Atty. Mallari in February 2018," she stressed.