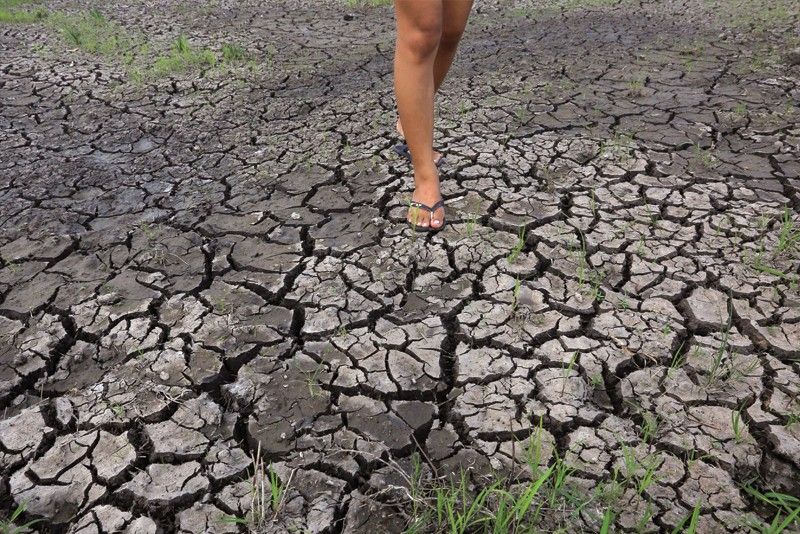 A woman walks through a dried-up ricefield in Barangay Calibuyo in Tanza, Cavite yesterday.
Edd Gumban
It will be hotter this week, Pagasa warns
Helen Flores
(The Philippine Star) - April 23, 2018 - 12:00am
MANILA, Philippines — Filipinos should brace for even hotter weather this week due to the ridge of high-pressure area, the Philippine Atmospheric, Geophysical and Astronomical Services Administration (PAGASA) warned yesterday.
The weather system, which is associated with good and sunny weather, will start affecting Northern Luzon, particularly the cities of Tuguegarao in the next few days, PAGASA weather specialist Ariel Rojas said.
Rojas said the temperature in Tuguegarao hit a sweltering 37.8 degrees Celsius on Saturday.
PAGASA said the ridge of high pressure is expected to affect Northern and Central Luzon today and tomorrow, causing warm and dry condition over these areas with possible isolated rain showers.
Metro Manila and the rest of the country will be partly cloudy to cloudy with chances of rain showers or thunderstorms.
Easterlies will continue to prevail over the country by Wednesday until Friday, bringing partly cloudy to cloudy skies with isolated rain showers over the entire archipelago.
PAGASA said no tropical cyclone is expected to form or enter the Philippine area of responsibility until Friday.
Meanwhile, temperatures in the next days would range from 24 to 34 degrees Celsius in Metro Manila, 25 to 32 degrees Celsius in Cebu province, and 24 to 33 degrees Celsius in Davao region, Rojas said.
In Metro Manila, the hottest temperature so far this year was recorded on April 13 at 35 degrees Celsius.
PAGASA officially declared the start of the dry or summer season in the country on April 10.
The Philippines normally experiences the warmest temperatures in May, according to PAGASA.
The hottest weather on record is 42.2 degrees Celsius, which was registered on May 11, 1969 in Tuguegarao City, Cagayan, it said.