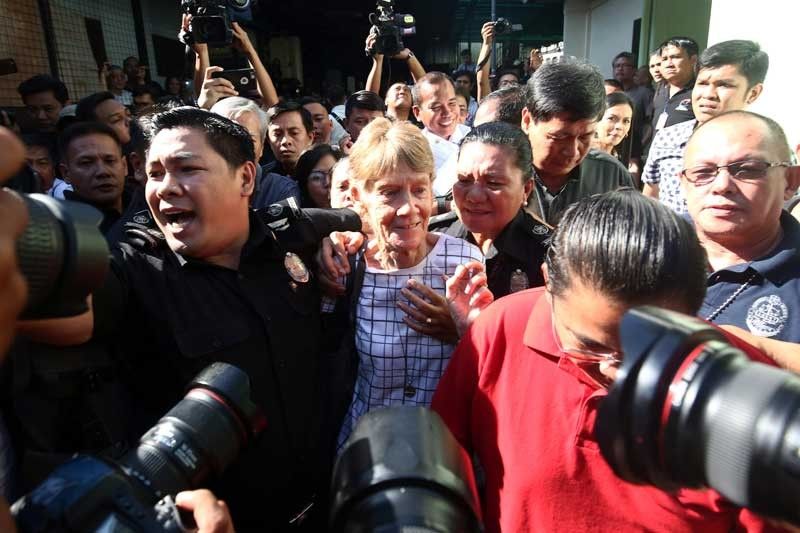 The President made the admission in remarks at the change of command ceremony of the Armed Forces of the Philippines (AFP) at Camp Aguinaldo in Quezon City.
Miguel de Guzman
Duterte: 'I ordered Australian nun's probe'
Roque: Apologies in order over Aussie's detention
MANILA, Philippines — His order to have 71-year-old Australian Catholic missionary Patricia Anne Fox investigated for "disorderly conduct" led the Bureau of Immigration (BI) to take her into custody and detain her for almost 24 hours, President Duterte said yesterday.
The President made the admission in remarks at the change of command ceremony of the Armed Forces of the Philippines (AFP) at Camp Aguinaldo in Quezon City.
Duterte said he was taking full responsibility for the arrest, but clarified that his original order was only to investigate Fox.
"It is not the military who arrested the nun. It was upon my orders implemented by the Bureau of Immigration (BI)," he said.
"I ordered her to be investigated – not deported at once, not arrested – for disorderly conduct," he said. "I take full responsibility, legal and otherwise, for this incident."
But he warned he would not hesitate to order the nun's arrest if she speaks out against his administration in rallies. "I assure you: if you begin to malign, defame government in any of those rallies there, I will order your arrest," he said.
"The only reason why she was released was she was not caught in flagrante delicto. Meaning to say she was not caught during her berating the government," he said.
Fox was picked up on Monday at her house in Quezon City and brought to the BI office in Intramuros. She is the superior of the Notre Dame de Sion Philippine Province.
After his admission, Duterte unleashed a broadside at the Australian nun.
He said Fox has a "foul mouth" and that she has no right to criticize him.
"You come here and insult us, you trample with our sovereignty. That will never happen," he said.
Duterte also threatened to put behind bars any member of the left who would invite foreign counterparts.
"Beginning today, I will decide who gets in, who gets out. You want to question that, you go to court and I will follow," he said. "But until then, you do not mess with the sovereignty of this country. You treat it with disrespect, you come here with – you stick and you try to defame government," he said.
"Look, I'm addressing the Filipino nation. I can swallow, I can take all attacks from the lumads to the highest and religious orders of all sorts, from my brother Moro, from the military, from everybody," he said.
"My appeal is that, you are a Filipino, you are entitled really to criticize. Freedom of expression is unlimited and it goes for everybody. But to otherwise undermine and treat the Philippines like a mattress there to wipe with your feet, that is something I…(detest that)," he said.
He said his administration could not be faulted for its vicious approach to stamping out criminality. "At least, I am killing criminals here. What about you?" he said.
Duterte said that under Philippine laws, he can bar the entry of foreign nationals whom he deems "undesirable."
Instead of finding fault in the Philippines, Duterte said the missionary should refocus her advocacies on saving refugees who are being rejected in Australia.
He also said the religious should assert their stand on abuses by priests. "The way you adore God, it's toward (the) corrupt. Stick to your own religion and try to correct the abuses within your organization, to address homosexuality and malpractices and adulterous priests," Duterte said with expletives.
"You are trying to promote international or geographical governance. That's more than threat of the West imposing their values on us. Please do not do that. Go home and try to solve your own problem," he said.
Foreign Affairs Secretary Alan Peter Cayetano yesterday defended the President's heavy handed approach in dealing with dissent and potential security threats.
"One can't protect people's human rights without providing them with security and there can be no security if people's human rights are not protected," Cayetano said at a forum of the Foreign Correspondents Association of the Philippines (FOCAP).
Apologies in order
For the wrongful detention, presidential spokesman Harry Roque said "perhaps apologies are in order."
In a television interview, Roque said "there seems to be a mistake" in the arrest and detention of Fox.
"The Commission on Immigration and Deportation released her immediately so maybe the CID made a mistake," Roque said.
But in another interview, Roque defended the deportation of Italian political activist Giacomo Filibeck, whom he accused of meddling in Philippine affairs.
Instead of interfering in Philippine politics, Roque said Filibeck should go to Sudan or Syria and volunteer as a human shield for the innocent civilians who might get caught in the crossfire between battling forces.
"Well let's lecture him now: whoever you are, stop those bombs from coming to Syria, after all you're a socialist. Stand up for your beliefs. Stop those bombs and be a hero," Roque said in Filipino in a radio interview over state-run Radyo ng Bayan.
Roque noted that it is within the prerogative of a country to ban foreigners that it deems undesirable or dangerous. He said it was clear that Filibeck had intended to engage in partisan politics by guesting at an event organized by Akbayan, an opposition party-list group.
He said Akbayan is not a true socialist movement but a "dilawan" or yellow, the color associated with the Aquinos.
Reacting to Duterte's admission, Fox's lawyer Jobert Ilarde Pahilga said it's the prerogative of the Chief Executive. He also said Roque's declaring that her arrest might have been wrongful should prompt the BI to drop the charges against the nun.
"We were pleased because the government, through attorney Roque, admitted that arresting Sister Pat was a mistake. It is a recognition that what Sister Pat did could not be considered as partisan political activities, and (what she is doing) is not prohibited," Pahilga said.
"We respect the statement made by our presidential spokesperson. We are constrained from making any further statements as there is a formal proceeding pending before our office," BI spokesperson Ma. Antonette Mangrobang said.
Roque's statement, Pahilga added, "is an admission that there is no basis (to file a complaint) against Sister Pat and that the basis for the mission order is wrong, there was no verification on the information provided by the intelligence."
The complaint therefore, he said, "should be dismissed because it is stressing Sister Pat."
"If the National Intelligence Coordinating Agency (NICA) would not be able to submit additional evidence against Fox in five days, then we would move for the dismissal (of the complaint). We would no longer submit a counter affidavit," the lawyer said.
The BI has given NICA five days to submit its additional evidence, while Fox has 10 days to submit her counter affidavit.
Review BI guidelines
Meanwhile, the Commission on Human Rights (CHR) will review the BI's policy that prohibits foreigners from taking part in political activities such as rallies in the country.
"We will take a look at that order and review and study it with the view towards issuing an advisory on the matter. The core principle is that fundamental human rights by their nature pertain to all persons," CHR chairman Chito Gascon said, citing the constitutional right to freedom of expression and peaceful assembly.
"While under certain circumstances the state is allowed to restrict or derogate these rules and regulations that set limits in exercise thereof, it must be balanced between the national interest sought to be protected as against the rights of the person," he added.
Gascon noted that the exercise of freedom of assembly for redress or grievance is a human right that applies to all people, whether local or foreign nationals.
"Even as every state has the prerogative to protect itself and its people from harmful actors, it does so by enforcing criminal laws," said the CHR chief.
"Serving poor and disadvantaged communities by demanding justice through activism is not a crime per se. Dissent is an essential aspect of democracy," he added.
Under existing immigration guidelines, "foreign tourists are prohibited from engaging in any political activity as defined by law and jurisprudence, such as but not limited to, joining, supporting, contributing or involving themselves in whatever manner in any rally, assembly, gathering, whether for or against the government."
In an earlier statement, CHR spokesperson Jacqueline de Guia said even foreign nationals are granted the right to peaceful assembly so long as they do not interfere with national security, public safety, public order, public health or morals or the rights and freedoms of others.
"It is the mandate of the government to protect and promote the human rights of all persons in the Philippines, including foreign nationals on its soil. This includes ensuring that everyone, including Australian nun Patricia Fox, is granted due process while we assert our national laws," she said.
"We urge the government to observe the rule of law and ensure protection of human dignity by respecting of the rights of all, while we carefully consider our national interests," De Guia added. – With Janvic Mateo, Pia Lee-Brago