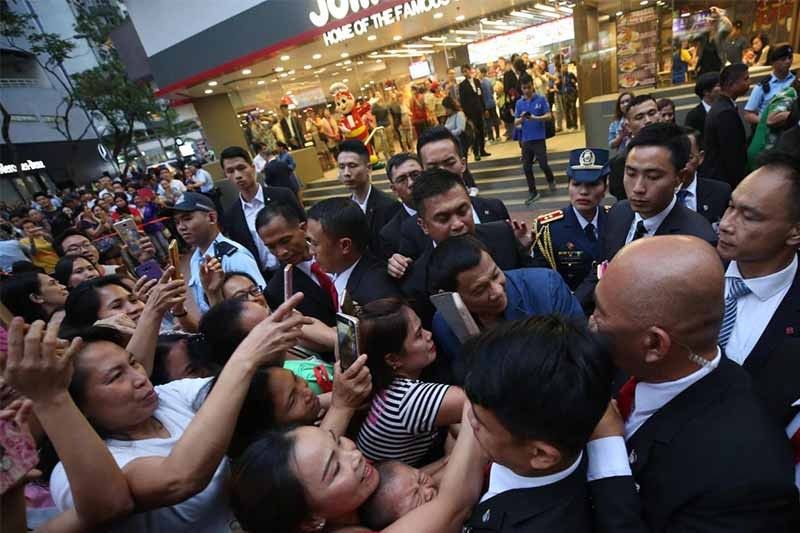 President Rodrigo Duterte makes an unannounced visit to a Jolibee outlet in Hong Kong before proceeding to Kai Tak Cruise Terminal where he was scheduled to attend the gathering with the Filipino community on April 12, 2018. Rep. Gary Alejano on Friday criticized this Hong Kong trip as a junket.
Presidential photo/Toto Lozano
Alejano: Duterte 'hypocrite' for unnecessary Hong Kong travel
MANILA, Philippines — President Rodrigo Duterte is a "hypocrite" for firing government officials supposedly because of imprudent overseas trips but engaging in a "junket" to Hong Kong together with his family and some Cabinet men, according to Rep. Gary Alejano (Magdalo).
Duterte, who arrived early this morning from Hong Kong, did not achieve anything to benefit the Philippines and the Filipino people on his "working visit" to the Chinese territory aside from giving a speech to some Filipinos and eating in a fast-food chain, which was for public relations purposes, according to Alejano.
"He has sacked some officials for overseas junkets or trips. But he has done it himself just now in Hong Kong with his family members and a large entourage, dining and sightseeing in that city, presumably with taxpayers' paying for the considerable costs of their stay in Hong Kong. Isn't this hypocrisy in the highest order?" the congressman said.
Early this year, the Philippine leader fired Commission on Higher Education chairperson Patricia Licuanan for supposedly making unnecessary trips.
He also fired Maritime Industry Authority Administrator Marcial Amaro III, Presidential Commission on the Urban Poor head Terry Ridon and Dangerous Drugs Board Dionisio Santiago for excessive foreign travels.
In December last year, Duterte vowed to impose a "starvation diet" on foreign trips in the executive branch this year.
In his arrival speech at Davao International Airport in Davao City early Friday, Duterte said that he met Filipinos working in Hong Kong and updated them about the developments in the Philippines.
Duterte said that he also vowed to do everything he could to help improve the situation.
"This latest visit underscores yet again the need for the Philippines to seek its destiny in Asia. We recognize that our neighbors in the region are our partners and friends with whom we can work with to achieve shared prosperity," he said in his speech.
Alejano said that instead of wasting millions of government funds in their trip to Hong Kong, Duterte should have instead spent the money in helping Filipino farmers by buying unhusked rice from them at P22 per kilo.
This he said would immediately replenish the stocks of cheap rice of the National Food Authority which they could sell at P28 to P30 to poor Filipinos.
"How can poor Filipinos find cheap rice from the NFA if Duterte and his officials are spending taxpayers' money enjoying the good life in Hong Kong and other overseas junkets," Alejano said.
Alejano said that Duterte should focus on improving the quality of life of the poor instead of embarking on frequent foreign travels and bringing along a number of government personnel at the expense of taxpayer money.
"Instead of spending a lot of taxpayers' money on frequent overseas trips, some of which are useless, Duterte should expand and strengthen his government's assistance to rice farmers using savings that can be made by limiting foreign travels to the barest minimum," the Magdalo congressman said.
"If rice farmers are empowered more with subsidy and other assistance, they can raise their production and perhaps enable the country not to rely more on imported rice," Alejano added.