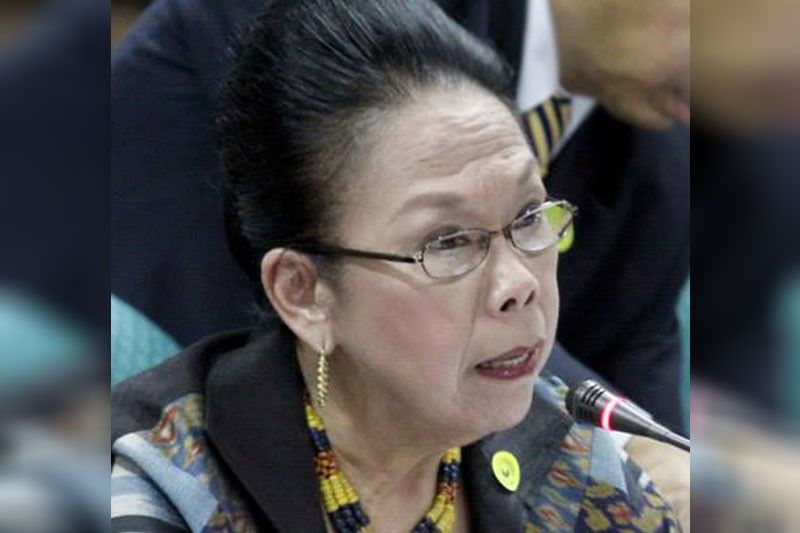 "I have dismissed Licuanan today from CHED and the one from Marina,"Duterte said yesterday in Davao City, referring to Maritime Industry Authority administrator Marcial Amaro III. "Many will follow." FIle
Duterte fires CHED's Patricia Licuanan; more to follow
MANILA, Philippines — Making good on his promise to fire another agency chairman, President Duterte yesterday sacked Commission on Higher Education (CHED) head Patricia Licuanan, who was accused of making unnecessary foreign trips.
"I have dismissed Licuanan today from CHED and the one from Marina,"Duterte said yesterday in Davao City, referring to Maritime Industry Authority administrator Marcial Amaro III. "Many will follow."
Duterte warned officials anew against corruption, saying, "Not during my time. Just give the Filipino a respite of about four years. Not during my watch, please."
Licuanan, during the weekly flag-raising ceremony at the CHED office, surprised employees with the announcement that she was resigning "effective immediately." She said she decided to quit after Executive Secretary Salvador Medialdea called her over the weekend to ask for her resignation.
"While my term by law ends in July 2018, I have decided it is time to go. It has become obvious that there are persons determined to get me out of CHED by hurling false and baseless accusations against me in what appears to be a fishing expedition and a well-orchestrated move in media," she told agency employees.
Asked when it would take effect, one of her staff said they would wait for Duterte to accept the resignation. Presidential spokesman Harry Roque told a press briefing that Duterte would accept it. The President's statement later yesterday made clear that he had fired Licuanan.
Roque said the Office of the President received the resignation letter at 8 a.m. by email.
"A hard copy is forthcoming. I've not seen the copy. I've been advised though, that since it's been received, it will be accepted," Roque said.
Although he could not confirm that Medialdea called Licuanan, Roque did say that the President has not yet named a new CHED chief.
Asked if Licuanan's foreign trips were considered in accepting the resignation, he said: "This is an act of resignation. It was a decision of Chairperson Licuanan herself. Her resignation has rendered all controversies moot and I don't feel compelled to issue any statement in that regard."
Partido ng Bayaning Atleta party-list Rep. Jericho Nograles, her most vocal critic, has been exposing irregularities like abuse of foreign travel privileges, including Licuanan's "business class" travels, and delays in the release of scholars' benefits.
He revealed that Licuanan traveled to Thailand in March; the US, France and Germany in June; Singapore in August; Taiwan and Singapore in October and Canada in November, although CHED director for international affairs Lily Frieda Milla said the Office of the Executive Secretary had authorized all these trips.
She also defended the use of business class, saying the former CHED chief has vertigo and this is allowed under the 2010 Memorandum Circular 7, especially for long-haul flights.
Iligan City Rep. Frederick Siao, also a critic, was responsible for the exposé on the failure and delay in releasing the benefits to scholars and the allowances of college faculty who are in the CHED K-12 Transition Program.
Roque said Duterte was aware of these allegations but stressed that it no longer matters what the President says or thinks "because Chairman Licuanan has resigned."
Licuanan, former president of Miriam College, was appointed in 2010 by former president Benigno Aquino III and reappointed to a second and final four-year term in 2014. She refused to step down when President Duterte asked all of Aquino's appointees to submit their courtesy resignations, noting that she has a fixed term as mandated by law.
With a rank of secretary, she was initially allowed to attend Cabinet meetings until December 2016 when she was disinvited, along with then housing secretary Vice President Leni Robredo.
Unlike Robredo who resigned as secretary, Licuanan decided to stay despite calls from some groups – including within CHED – for her to step down.
Fresh start
Nograles welcomed the move, saying this will give CHED a fresh start as he hopes "to see urgent reforms in the commission."
This exit, he added, "will allow easier implementation of reforms envisioned by President Duterte to provide Filipinos free and quality education."
Siao said he welcomed the development, noting that Licuanan "still took the hardline stance" even after his suggestion for her to resign earlier.
"Nevertheless, I thank her for her service to CHED. Steering CHED through much of the transition, through the most significant education reform our country has ever seen – K-12, the impact of which continues to be felt in higher education," Siao said in a statement.
At the Senate, Sen. Francis Escudero said he respects Licuanan's decision, which he sees as "unfortunate, given the reforms and good job that she has done in the past years."
Sen. Sherwin Gatchalian said he and Licuanan had their differences over her opposition to the Free Higher Education Act but appreciated the speed in which CHED prepared the guidelines for the law's full implementation.
"I hope that her sudden exit will not have a negative impact on the free college policy at this critical stage of its implementation," he said, adding that the exit presents an opportunity to appoint a younger, more dynamic CHED chair "who is more sensitive to the struggles and aspirations of students."
He urged Duterte to "appoint a genuinely pro-student CHED chair – one who whole-heartedly supports the Free Higher Education Law, and is ready to fight the unjust imposition of additional costs which threaten the right of all Filipinos to quality and accessible education at all levels."
Sen. Paolo Benigno Aquino IV said the higher education sector has lost a dependable ally with Licuanan's resignation and thanked her for "immeasurable service" to Filipino students and for the help in crafting the free college education law.
Baseless, malicious accusations
Just last week, Licuanan expressed hope that she would be able to finish her term amid allegations of excessive travel and mismanagement of scholarship funds.
"My term is over on July 20, 2018. I'm doing my job, just let me finish it. It's just six months. Why can't people wait? I hope I will not be forced to resign; that things will be so unbearable I will be forced to resign," she said in a television interview.
The pressure, it seems, became unbearable.
In her resignation statement, Licuanan repeatedly denied the allegations against her, branding these as an orchestrated move to remove her from office.
She noted false issues that were raised against her, including the supposed excessive travels and lack of travel authority from Malacañang.
"When records revealed that I traveled eight times officially in 2017 (with only five of these trips paid for by government) – five times in 2016, six times in 2015, two times in 2014 and only three times in 2013 – the accusation turned to travel without authority from the Office of the President," said Licuanan.
"When my office provided copies of travel papers... my ability to attend to CHED work for health reasons was maliciously peddled in social media, even if I have worked consistently in CHED from 6:45 a.m. to after 6 p.m. on most days and took a sick leave only for half a day in 7.5 years in office," she added.
After responding to travel-related accusations, Licuanan said those who are "dying to remove her from office" turned to alleged mismanagement of funds in relation to the release of allowances to faculty scholars.
"I must strongly denounce malicious allegations of corruption and mismanagement of funds. It has been my personal commitment to stomp out corruption in CHED since day one, despite the odds and the strong resistance. The K-12 transition program has been implemented with the highest level of ethical stewardship and every peso is accounted for," she claimed.
Given the accusations, Licuanan said it became apparent that her continued presence in CHED would be inimical to its interest.
"It will only serve as lightning rod to attract more controversy that is distracting the agency from vigorously pursuing urgent reforms that will redound to the benefit of future generations of Filipinos," she said.
"It is particularly important for CHED to focus on its work especially at this critical time when it prepares for the implementation of Republic Act 10931 or the Universal Access to Quality Tertiary Education Act," she added, referring to the free college education policy that will be implemented this year.
Licuanan expressed gratitude for the opportunity to serve in government, expressing hope that reforms would transcend divides and would continue once political clouds at CHED dissipate.
"As a private citizen, I intend to continue as a dedicated advocate for reform in Philippine higher education," she said.
Unhampered operations
CHED executive director Karol Mark Yee said operations of the agency would continue and will be unhampered while they wait for the appointment of a new chairman.
He said he met with CHED directors to ensure that the operations in central and regional offices continue.
Dismissed CHED executive director Julito Vitriolo, who has yet to fully re-assume his post despite a Court of Appeals ruling, expressed gratitude to Duterte for forcing Licuanan to step down.
"We have been clamoring for this since December of 2016 when she was barred from the Cabinet by President Duterte. CHED cannot be effective without the trust and confidence of the President in its leadership. She should have done this much earlier to avoid an unpleasant exit in her career," he told The STAR.
With Licuanan out, he hopes CHED will now implement the court order to reinstate him.
Vitriolo was dismissed by the ombudsman last year over his supposed failure to investigate an alleged diploma mill program.
But Licuanan, and later Malacañang, said the appellate court's ruling is still not final and executory as a motion for reconsideration is still pending.
Vitriolo led the call for Licuanan's resignation just weeks before the ombudsman ordered his dismissal.
He has been reporting for duty since he secured the CA reversal in August, although it is Yee – appointed by Malacañang to replace him – that is officially recognized by CHED as current executive director.
Andanar defends foreign trips
Asked whether Malacañang would also look into the foreign trips of the Presidential Communications Operations Office (PCOO) head, Roque replied: "I have no idea, but the President, in the one-on-one interview, has said that the Cabinet members must seek his approval for their travels."
PCOO Secretary Martin Andanar responded to criticisms against his 10 foreign trips, saying six were personally paid for or were sponsored. He claimed he paid for his two personal trips to Australia.
"Albeit two trips in Australia were personal, I still managed to attend three Filipino community events and I also met with the Australian Department of Foreign Affairs and Trade (DFAT), Special Broadcasting Service, Australian Broadcasting Corporation and China Global Network. The meeting with DFAT resulted in the free emergency broadcast seminar Australia will be giving to our government media personnel. They are coming over in February," he pointed out. – With Janvic Mateo, Rainier Allan Ronda, Delon Porcalla, Paolo Romero