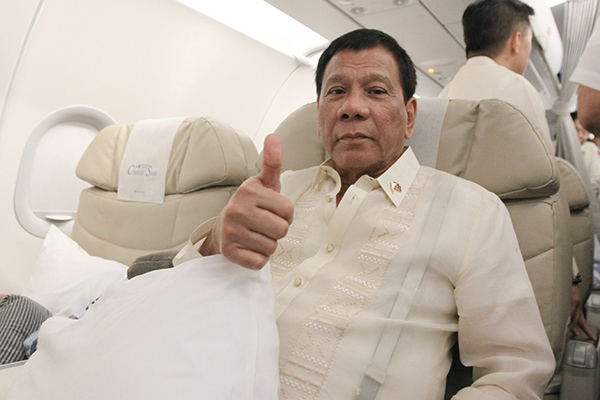 President Rodrigo Duterte does the thumbs up gesture while on board Philippine Airlines Flight PR001 after a successful official visit to Myanmar which was capped off on March 20, 2017. King Rodriguez/Presidential Photo
'Starvation diet': Duterte to limit foreign trips of officials in 2018
MANILA, Philippines — After firing officials over unnecessary travels, President Rodrigo Duterte vowed to impose a "starvation diet" on foreign trips in the executive branch next year.
Duterte said some officials, most of them in Metro Manila, are "dead woods" because they travel frequently and could not sign papers. He said these officials are using the people's money "for flimsy reasons."
"Kaya umiinit talaga ang ulo ko (That's why I'm losing my temper). Come January 1, I told (Executive Secretary Salvador) Medialdea – Well, I do not want to interfere with Congress and the Supreme Court… but here (in the executive branch), no travel now. I'll cut it. Whatever. Except the diplomats," the president said during the launching of an agriculture program Thursday in Davao City.
"Ayaw ko na lang sabihin mapahiya 'yung tao. Basta sabihin ko muna walang travel. Mag-starvation diet muna tayo diyan (I do not want to be embarrassed before the people. I will tell them no travel for now. Let's have a starvation diet on that)," he added.
Duterte noted that foreign trips require the government to spend for allowances, hotel accommodations and airfare. He also vowed to fire officials who leave the country every month.
"I'll look for plenty of victims. I will look at everything. Those who travel every month, you go. I do not need you in the executive department," the president said.
"I will be strict especially in the matters of money."
Cruz was named member of the DAP board of trustees on March 14, 2017. She served an unexpired term of office that began on July 1, 2016 and ended on June 30, 2017.
The DAP Personnel Association (DAPPER) had urged Duterte to fire Cruz for alleged unnecessary trips, threatening to terminate anyone who questions her policies and appointing non-plantilla officers to official posts.
"Let us be very clear on this: we are all friends, I do not have a problem with that but when it comes to government interest, forget about it," he said.
Duterte said he has begged off an invitation to visit India next month but the Foreign Affairs department is convincing him to push through with the trip. Indian Prime Minister Narendra Modi invited Duterte to attend the 2018 ASEAN-India commemorative summit last November.
"Problem is we do not have representation so the Department of Foreign Affairs is urging me to go there because India is also a big market," he said.
"I am not sure but I have to attend… whatever it is, it's heads of state."
Duterte reiterated that he does not enjoy foreign trips.
"I'm too old for that," he said.