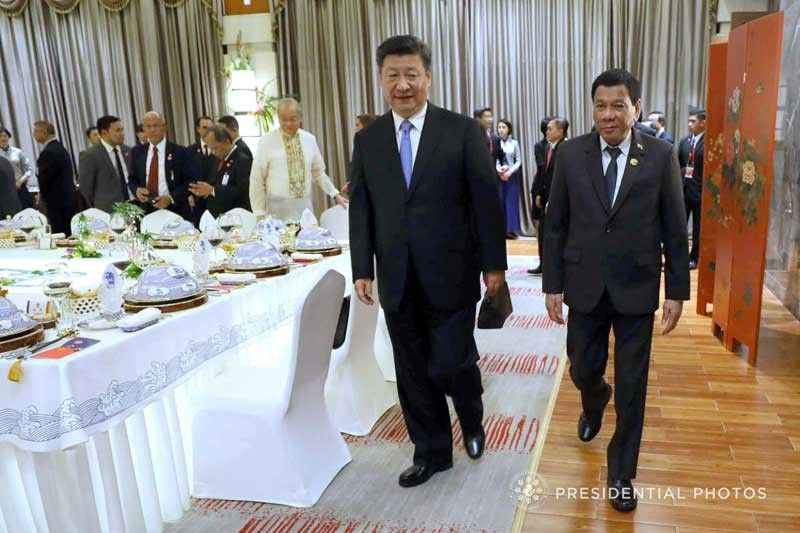 Chinese President Xi Jinping hosts dinner for President Duterte at the Boao State Guest House in Hainan province, following their bilateral meeting last Tuesday.
Palace: Xi Jinping to visit Philippines in November
HAINAN – Chinese President Xi Jinping is expected to visit the Philippines in November after the Asia-Pacific Economic Cooperation (APEC) summit in Papua New Guinea, Malacañang said yesterday.
Presidential spokesman Harry Roque Jr. made the announcement after the bilateral meeting of the two leaders here.
"President Xi to visit (Philippines) this November after APEC in PNG," Roque said in a statement.
Duterte invited Xi to come to the Philippines during his state visit to China in October 2016. He reiterated his invitation the following month on the sidelines of the APEC summit in Lima, Peru.
The Philippines' ties with China have improved under Duterte, who has agreed to hold bilateral talks on the dispute over the South China Sea, which encompasses an area of about 1.35 million square miles.
The resource-rich area is being claimed in whole by China and in part by the Philippines, Vietnam, Malaysia, Brunei and Taiwan.
Critics allege that Duterte has abandoned the Philippines' maritime interests in exchange for Chinese aid but the President denies this, saying he will not give up a single inch of Philippine territory.
Xi also vowed to provide the Philippines an additional RMB500 million (about P38 billion) in economic assistance during his meeting with Duterte last Tuesday.
After the hour-long bilateral meeting, Xi hosted a dinner for Duterte and his delegation.
They feasted on coconut-flavored soft red bean soup, fried lamb rib chop, roasted Diaji duck with Li riverside taro, steamed wrasse, pea pod in chicken soup, pastries, fruits and ice cream, coffee, tea and wine.
The dinner menu contained quotes from Duterte and Xi that emphasized the friendship between their two countries.
"China and the Philippines are close neighbors that cannot move away from each other for thousands and even tens of thousands of years," Xi was quoted as saying.
"The traditional friendship between the Philippines and China goes back to ancient times and is enduring. It will not be shaken easily," a quote attributed to Duterte read.
Duterte left here for Hong Kong minutes past 10:30 p.m. Tuesday. He arrived at China's special administrative region at 11:34 p.m.