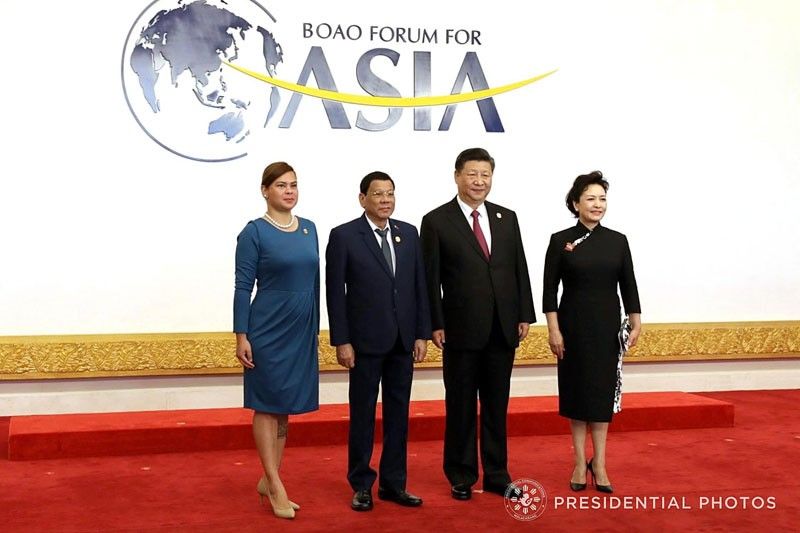 Duterte: Philippines, China partners in war vs drugs, terror
HAINAN – The Philippines is one with China in vigorously fighting illegal drugs, terror and corruption, President Duterte said yesterday at the opening of a global economic forum here, where he also pitched for greater partnership with the Asian giant in infrastructure development.
"To me, along with the illegal drug trade and terrorism, corruption is a pernicious and rotten social disease that devours my country. I have said it to my countrymen and I will say it again here: corruption will not have any place in my government. Not under my watch," Duterte said in his speech at the Boao Forum for Asia.
Manila and Beijing stand "shoulder-to-shoulder" in the campaign against terror, he said using the same common description of the Philippines' security partnership with the United States.
"With good governance as basis of our sound economic policy, the Philippines will do more to increase investments in the country, particularly in infrastructure, innovation and interconnectivity," he said.
The President reaffirmed his commitment to strengthen relations with China as the latter is embroiled in a trade tiff with the US.
"Bilaterally, the Philippines is showing how complex relations are not a bar to a positive and mutually beneficial engagement. With China, we stand together in the war on criminality and the illegal drug trade. We are shoulder to shoulder in the fight against terrorism and violent extremism. Make no mistake: there can be no progress without stability in Asia's lands and waters," Duterte said.
"As sovereign equals, the Philippines and China are partners in the building of much-needed infrastructure, which are building blocks and bridges of greater understanding between our peoples. We are working together on strengthening economic complementarities," he added.
While the Philippines is pursuing closer ties with China, Duterte said the Philippines, a traditional ally of the US, is prepared to work with other countries in the region.
"Let me say it again today: the Philippines' destiny is in Asia," the Philippine leader said.
"The Philippines is ready to work with all nations in the region that seek friendship and cooperation," he added.
Duterte's comments came amid concerns over simmering trade tensions between the US and China, a development that is threatening to derail the Philippines' growth momentum.
US President Donald Trump has imposed tariffs on $50 billion worth of Chinese goods to punish China's alleged intellectual property violations. China responded by slapping $50 billion worth of tariffs on American products.
Trump retaliated by announcing a possible imposition of an additional $100 billion in tariffs on goods from China, a move that is seen to hamper free trade and hurt the economic prospects of some countries including the Philippines.
The Philippines, through its ambassador to China Jose Santiago Sta. Romana, has urged the US and China to resolve their issues through negotiations.
China is the Philippines' top bilateral trading partner, with Manila's exports to Beijing increasing by 8.4 percent last year. China was also the fourth largest market destination for Philippine exports in January, with Manila sending $591.91 million worth of goods to the Asian superpower.
Nix Cold War thinking
In his keynote address at the forum, Chinese President Xi Jinping called on nations to reject Cold War mentality and focus instead on enhancing cooperation in the region.
"In a world aspiring for peace and development, the cold-war and zero-sum mentalities look even more out of place," Xi said.
"We must refrain from seeking dominance and reject the zero sum game. We must refrain 'beggar thy neighbor' and reject power politics or hegemony – the strong bullying the weak," he added.
The Chinese leader did not elaborate on his remarks made after Trump complained about what he described as "stupid" trade between the US and China.
Xi said countries should work together to promote common prosperity and development while respecting each other's core interests and major concerns.
He also called for a new approach to state-to-state relations favoring dialogue instead of confrontation.
"Human society is facing a major choice to open or close, to go forward or backward," the Chinese leader said.
"Openness leads to progress while seclusion leaves one behind. The world has become a global village with interests intertwined and our economy and social progress interconnected," he added.
Duterte said member-countries of the Boao Forum for Asia should do their share to achieve the common goal of achieving prosperity in the region.
"We all have a stake as well as responsibilities in the forging of a more prosperous continent and world. This is what nations – big or small – should act on collectively when we leave Boao: cooperate, coordinate and collaborate. So we can achieve our shared dream of prosperity for all," the President said.
Later yesterday, President Duterte met with Chinese President Xi Jinping and reiterated the need for closer cooperation in dealing with security threats.
"One of the things that we would like to assure you is that we would like the fullest cooperation between our two countries regarding transnational crimes and address terrorism," he told Xi.
"China and the Philippines can do more to boost military and defense cooperation under the framework of the 2004 Memorandum of Understanding on Defense Cooperation," he added.
Duterte also thanked Xi for providing military assistance to the Philippines during the Marawi siege last year.
"We are with you in this and we would like to thank you again for the military assistance you gave us. It spelled the difference between victory and defeat, at least on a shorter term, that we are able to put down the terroristic activities that have perpetuated in Marawi," he said.
Duterte and Xi witnessed the signing of the following six agreements:
• Economic and technical cooperation between the Philippines and China;
• Exchange of letters on phase III of the technical cooperation project for the Filipino-Sino Center for Agricultural Technology;
• Exchange of letters for the pre-feasibility study of the proposed Davao City Expressway Project;
• Exchange of letters for broadcasting equipment for the Presidential Communications Operations Office of the Philippines;
• Memorandum of understanding on the employment of Filipino teachers of English language in China;
• Preferential buyer's credit loan agreement on the Chico River Pump Irrigation Project.
On Monday, the forum elected Pampanga Rep. and former president Gloria Macapagal-Arroyo as a member of its 19-man board. Former United Nations secretary-general Ban Ki Moon was elected chairman of the board.
Meanwhile, Foreign Affairs Secretary Alan Peter Cayetano said China's opening up is sending both chills and comfort to Western countries.
He made the observation in response to a question about the impact of China's reforms on other countries during an interview with China Global Television Network on Sunday. He congratulated China for the 40th year of its move to open its economy. – Pia Lee-Brago