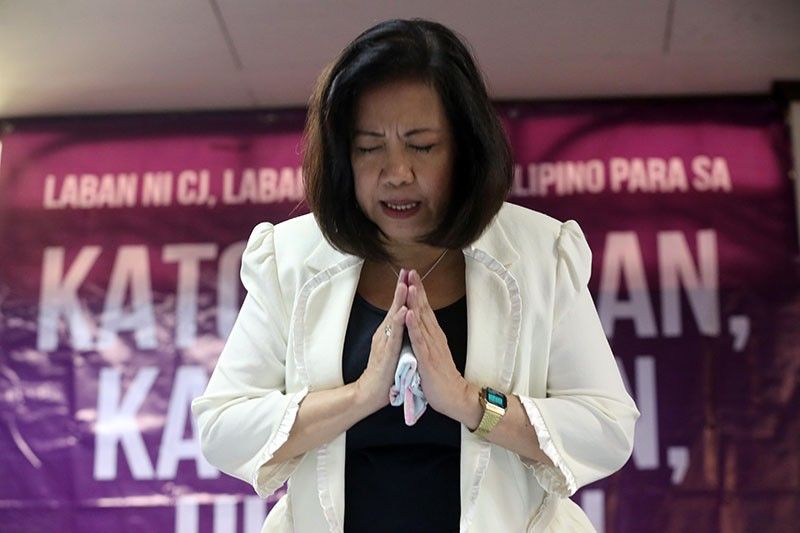 Chief Justice Maria Lourdes Sereno (right) stands next to Associate Justice Teresita de Castro during the annual convention of the Philippine Women Judges Association in Manila on March 8, 2018.
AFP
Sereno: De Castro said she'll 'never forgive me'
MANILA, Philippines — "I will never forgive you for accepting the chief justice-ship."
These are the words of Associate Justice Teresita De Castro to Chief Justice Maria Lourdes Sereno, according to the embattled chief magistrate.
Quoting her colleague, Sereno said that she was told: "You should have not even applied in the first place."
READ: Sereno, De Castro face off at judges' gathering
Sereno on Monday delivered a public speech as one of the honorees at the Valor Day event of the Movement against Tyranny.
De Castro has appeared several times as a resource speaker in the House of Representatives' hearing on the impeachment case against Sereno. In one hearing, she said that it was "grave injustice" when Sereno was shortlisted, despite filing only 3 of her Statements of Assets, Liabilities and Net Worth to the Judicial and Bar Council.
READ: Magistrates say Sereno's inclusion on chief justice shortlist an 'injustice'
Sereno and De Castro both applied, and were shortlisted, for the chief justice position in 2012.
Former President Benigno Aquino III handpicked Sereno, who was several years junior in serving the SC to others in the shortlist, to head the judiciary.
Sereno was then 52, the second youngest chief magistrate following Manuel Moran who was appointed at 51. She is poised to serve as head of the judiciary for 18 years.
Sereno has asked De Castro, and Associate Justices De Castro, Diosdado Peralta, Lucas Bersamin, Francis Jardeleza and Noel Tijam to recuse from deliberating on the petition for quo warranto filed against her.
She added that she is making the instance between them public since she is fighting for her right for "unbiased, fair" judges on the ouster petition against her.
She claimed that the five magistrates have shown their "bias" and "prejudice" against her when they appeared before the House justice panel's deliberation on the impeachment case against her.
Sereno, who is set to face her colleagues Tuesday as a respondent, also denied claims of her colleagues that she "reigns" as a "queen" in the SC.
She recalled that she went around the chambers of the justices and asked them for their cooperation, even if she knows that the other justices have grievances over her appointment as a chief justice.
Observers of the proceedings have pointed out that the justices' unprecedented appearance at the House hearing seem to confirm that there are rifts among the 15-member court.
However, Sereno in an earlier speech, said that she remains confident that once the issues have blown over, the SC as an institution will remain strong.