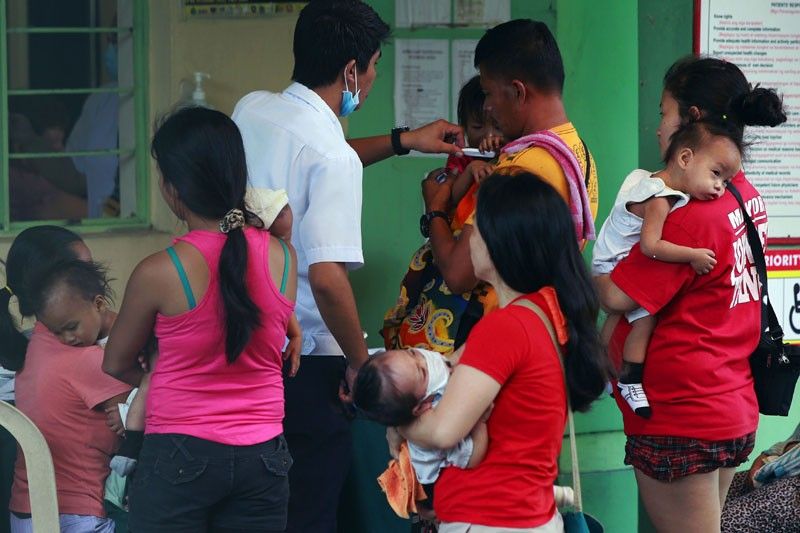 In an interview yesterday, Health Secretary Francisco Duque III said they decided to conduct two levels of immunization activities to effectively curb the rise of measles in the country. Philstar.com/File Photo
Catch-up immunization on as measles cases soar
MANILA, Philippines — With 598 confirmed measles cases in the first quarter of 2018, the Department of Health (DOH) has set a two-track immunization catch-up plan to contain the disease.
In an interview yesterday, Health Secretary Francisco Duque III said they decided to conduct two levels of immunization activities to effectively curb the rise of measles in the country.
The rise in measles cases had been attributed to the lack of trust of many parents in the government's immunization program following the controversy over the Dengvaxia vaccine used by the DOH in its dengue immunization program among 837,000 school children in the National Capital Region (NCR), Region 3, Region 4-A and Cebu.
"We really have to address this issue. We hope that parents will trust our vaccination program again to protect our children from vaccine-preventable diseases," he added.
He said the department had documented 598 confirmed measles cases from January to March this year, including 12 deaths.
Duque admitted this is very high compared to data that showed only 16 cases recorded from Jan. 1 to March 17, 2017. There was no reported death.
He noted the department will also be forming a task force that will oversee the implementation of the vaccination and education programs for measles.
Yesterday, Duque with DOH experts on epidemiology and immunization said they decided to do two-track immunization activities to contain cases.
"We'll be having measles immunization catch-up plan on a national level while we are going to enhance our local immunization which is now ongoing as part of our ORI (Outbreak Response Immunization) strategies," he said.
The local immunization plan targets people in areas where there are outbreaks of measles.
"We will be doing a more targeted immunization in coordination with the local government units. We'll do house-to-house and a massive campaign so parents will bring their children for immunization," Duque maintained.
On the other hand, the national catch-up plan will be done this second quarter all over the country.
Duque added the nationwide vaccination will be done at health centers while, at the same time, health workers will also be dispatched to do house-to-house immunization.
Records showed that the age of the patients ranged from one to 39 years old with those below five years accounting for 70 percent of cases.
Sixty percent of those eligible for the anti-measles vaccine and above nine months old have no history of vaccination.
The areas that have outbreaks are Davao City (93), Zamboanga City (38), Cotabato City (30), Taguig City (27) and Marawi City (20).
By region, the Autonomous Region in Muslim Mindanao had the most cases with 149, followed by Region 11 with 143, Region 12 with 76, Region 9 with 65 and NCR with 53.
The top provinces with confirmed cases are Davao del Sur (96), Lanao del Sur (63), Maguindanao (55), Metro Manila (53), Zamboanga del Sur (44), Lanao del Norte (30), Basilan (29), Davao del Norte (27) and North Cotabato (19).
The provinces of Misamis Oriental, Negros Oriental and South Cotabato have 17 cases each.