Magazine names De Lima among Southeast Asia's women to watch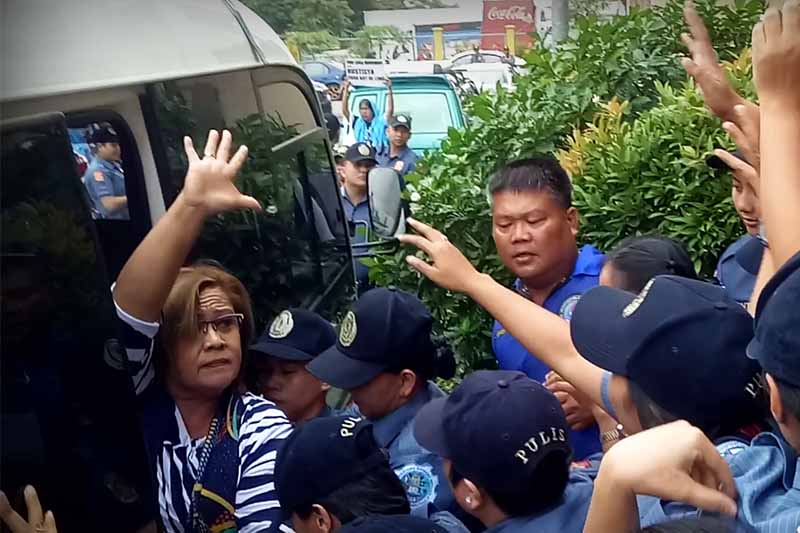 MANILA, Philippines — Detained Sen. Leila De Lima is among Southeast Asia's women to watch, an Asia-Pacific magazine says.
According to The Diplomat magazine, De Lima's refusal to stay quiet despite being incarcerated is an important message that there was a "robust resistance" determined to make the Philippines safe despite the massive popularity of President Rodrigo Duterte.
"She has continued her fight against the Duterte administration from behind bars and inspired progressive Filipinos and international human rights activists alike, including Pope Francis," Erin Cook of the Tokyo-based The Diplomat wrote.
"Her refusal to stay quiet is an important message often obscured that while Duterte continues to enjoy high polling and support in the country, there is a robust resistance determined to make the Philippines safe," Cook said.
De Lima is currently detained in Camp Crame, the headquarters of the Philippine National Police on drug-related charges.
She is accused of abetting the trade of illegal drugs in the National Bilibid Prison during her time as Justice secretary in the previous Aquino administration and using narcotics money to fund her successful senatorial candidacy.
The senator and her supporters claim that the cases filed against her are trumped up and are meant to intimidate and silence her as she has been a thorn in the side of Duterte and his illegal drugs crackdown.
De Lima has led probes into alleged extrajudicial killings under Duterte during his time as Davao City mayor and now that he is the Philippine leader. Prior to her arrest, she was ousted as chair of a Senate panel holding hearings on the killings.
"In a particularly vicious and misogynistic series of attacks, de Lima was accused by Duterte and his supporters of being engaged in sexual affairs and importing drugs and arms into the country," Cook said in her article.
Phelime Kine, deputy director of the Asian Division of Human Rights Watch, described the recognition as well deserved.
#Philippines @SenLeiladeLima named "Southeast Asian Woman to Watch" by @Diplomat_APAC "She has continued her fight vs the #Duterte govt from behind bars and inspired Filipinos & intl human rights activists alike" https://t.co/ARwBv517x8 Well deserved @hrw https://t.co/sftLovSsbm

— Phelim Kine ?? (@PhelimKine) March 28, 2018
Early this month, De Lima was also named as among the power women in Southeast Asia for being the "flag-bearer" for human rights in the Philippines — a cause that the country's top diplomat and the president's spokesperson have tried to link to drug lords and the illegal narcotics trade.
De Lima was also included in the list of Foreign Policy's 2016 Leading Global Thinkers and of Amnesty International's Women Human Rights Defenders for 2017.
Also included on The Diplomat's list were Aung San Suu Kyi, who has been widely criticized for her government's tepid response to the Rohingya crisis in Myanmar, ousted former Thai premier Yingluck Shinawatra, Indonesian Minister of Maritime Affairs and Fishers Susi Pudjiastuti and Malaysian longtime activist Maria Chin Abdullah.