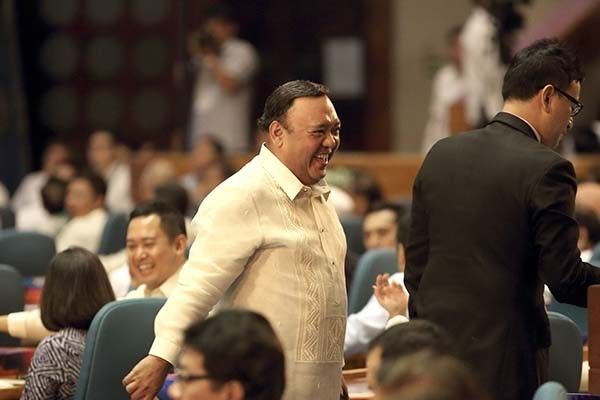 Presidential spokesperson Harry Roque, in 2011, warned future presidents that they "no longer have immunity for the commission of international crimes," since the Philippines' ratification of membership in the International Criminal Court.
Philstar.com/AJ Bolando
Roque defends ICC withdrawal, despite work he put into Philippines' membership
MANILA, Philippines — Presidential spokesperson Harry Roque said he has not changed his tune about the Philippines' inclusion in the International Criminal Court, but supports President Rodrigo Duterte's withdrawal from it.
Roque, a human rights lawyer before becoming Duterte's spokesperson, said his blog in 2011 that he never once dreamed the Philippines can be a member of the ICC. He had worked for as chairperson of the Philippine Coalition for International Criminal Court.
In 2011, he wrote: "To be candid, I never thought that membership in the ICC was possible, at least before I become geriatric."
"Well, it's always a pleasure to be proven wrong," he added.
Seven years later, Roque is throwing his support behind Duterte who declared that he is withdrawing the Philippines from its ratification of the Rome Statute effective immediately.
READ: Duterte announces Philippines' withdrawal from ICC
Roque in 2011
It took eleven years of lobbying for the Senate to give its concurrence to the Rome Statue of the ICC, Roque said in a blog post on Aug. 25, 2011.
He recalled that the local coalition even celebrated. "But after the celebration, the reality set in the task ahead [is] still challenging, if not daunting," he added.
He even thanked former President Benigno Aquino III for paving the way to "end impunity."
On Sept. 23, 2011, Roque said the Philippines' biggest challenge is changing the mindset of people, "that the commission of the most serious crimes against international community, such as extralegal killings, torture and enforced disappearances, should be subject of investigation, prosecution and punishment."
He also warned Aquino—then facing criticisms for deaths of journalists under his administration "all subsequent presidents" that since the Philippines has become a member of the ICC, they "no longer have immunity for the commission of international crimes."
"Surely, though, we cannot afford to sit long on our laurels as the path ahead remains long and winding. Be as it may, the message has been sent: no more impunity!" Roque added.
Roque's principal, Duterte, is accused of committing crimes against humanity for the thousands of death under its bloody war against drugs.
Roque in 2018
On Thursday morning, Roque said he is supporting the decision of Duterte, who is accused of deaths of more than 10,000 under his nearly two years of government.
Asked in an interview with ANC, he said that he has not changed his mind about the Philippines' membership with the ICC.
"I acknowledge, I was at the forefront of ratifying the ICC. I was convenor for [PCICC]. I filed cases but I agree with the decision of the president," he added.
READ: Fact check: Does the ICC have jurisdiction over Duterte?
He also said the ICC's conduction of preliminary examination "violated" its "complementarity" rule.
"Complementarity" is a law principle that states that there will no overlapping in jurisdictions. Roque insisted that local courts are still functioning.
"By becoming a member of the [ICC], states did not waive sovereignty but only reserve jurisdiction of the court, when domestic court is unable or unwilling, and under circumstances, there simply is no unavailability or unwillingness as far as Philippine courts are concerned," he said.
Even with Duterte's announcement of withdrawal, criminal investigations and proceedings will still continue.
Under Article 127 of the Rome Statute, a state party may withdraw from the treaty through a written notification addressed to the UN secretary-general. The withdrawal will take effect a year after the date of receipt of the notification.
READ: Publication not among usual requirements for treaties, agreements