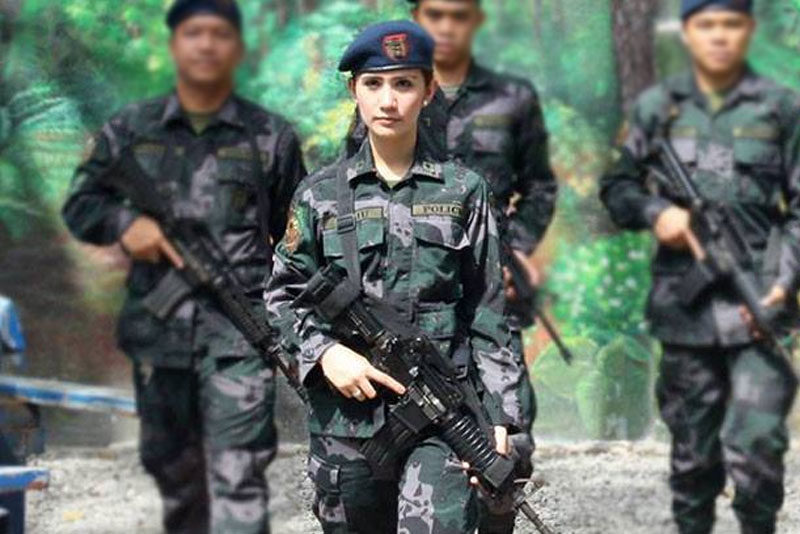 Duterte stood as godfather at the wedding of Deliu to Inspector Abdul Bassar Abdurajak, a classmate of Deliu at the Philippine National Police Academy (PNPA). Sofia Loren Deliu Facebook Page
Duterte to female aide: Get out of PSG, multiply
(The Philippine Star) - March 12, 2018 - 12:00am
DAVAO CITY, Philippines — President Duterte has told Senior Inspector Sofia Loren Deliu to get out of the Presidential Security Group and be near where her husband is assigned so they can lead normal lives and have babies.
Duterte stood as godfather at the wedding of Deliu to Inspector Abdul Bassar Abdurajak, a classmate of Deliu at the Philippine National Police Academy (PNPA).
Deliu, a Filipina-Romanian, married Abdurajak in reportedly Muslim ceremonies at the Palacio del Sur in Zamboanga City late Saturday afternoon.
The President flew to Zamboanga City to also hold a "Talk to Men" session with soldiers belonging to the Western Mindanao Command and policemen in the area at the Edwin Andrews Air Base after attending Deliu's wedding.
Deliu stood out as the President's close-in security because of her beauty.
A Bachelor of Science in Tourism Management graduate from Saint Louis University in Baguio City, Deliu was eventually shortlisted among the 16 women out of over 3,000 applicants who passed the PNP's entrance exam.
In 2006, shortly graduating from Saint Louis University, she entered the PNPA and joined the police service in 2014.
Deliu was also in the news when she joined the Miss Earth-Philippines beauty pageant representing her hometown Baguio City in 2015.
Deliu may not have won the pageant but she ended up in the top 15 of that year's edition of the beauty contest.
She reportedly pushed for the implementation of environmental laws to raise awareness to the existing laws in the country and at the same time incorporating it into the projects of the PNP.