Pantaleon Alvarez denies branding Davao Mayor Sara Duterte as part of opposition
February 23, 2018 | 12:00am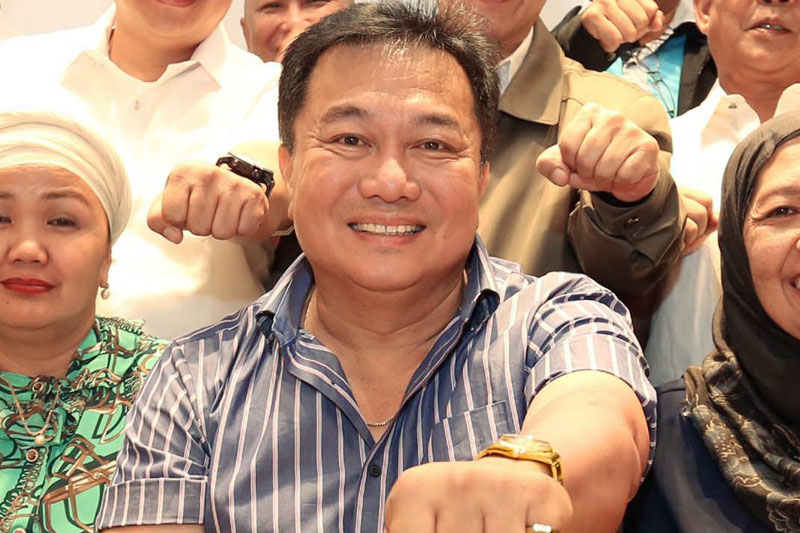 MANILA, Philippines — Speaker Pantaleon Alvarez has categorically denied reports that he branded Davao City Mayor Sara Duterte-Carpio, daughter of President Duterte, as part of the political opposition.
"I never said that. I don't know where these insinuations came from. How could she be a part of the opposition when she belongs to the administration," he said in Filipino.
Alvarez made the denial yesterday when asked for his reaction to the Davao mayor's social media post over his supposed statements against her and her father. According to him, somebody may have fed wrong information to the mayor.
On Wednesday, Alvarez said Carpio's formation of a regional political party is a "non-issue" and that this should be respected.
He also rectified misimpressions that he was going after political dynasties in the country, which may be extended to Davao City, stressing that he fully supports the President.
Carpio, who formed the regional political group Hugpong ng Pagbabago (Alliance for Change) reportedly composed of four anti-Alvarez governors, issued an official statement declaring the group as having the imprimatur of her father.
"The Speaker's latest media statement that he respects the creation of Hugpong ng Pagbabago or that the unity is a non-issue, was unfortunately betrayed by his comment on political dynasties," the mayor said.
Meanwhile, Alvarez yesterday advised his estranged buddy, Davao del Norte Rep. Tonyboy Floirendo, to stop blaming him for his misfortunes and focus instead on defending himself in the graft charges he faces before the Sandiganbayan.
Ombudsman Conchita Carpio-Morales indicted Floirendo, who is also a very close friend and top campaign contributor of President Duterte, for violating a constitutional prohibition on public officials' having direct interest in government projects.
This involved the family-owned Tagum Agricultural Development Co. (Tadeco), which is leasing a huge property of the Bureau of Corrections for its banana plantation, where inmates and their families also get to work.
Alvarez said that the arrest order issued by the Sandiganbayan is "part of due process."
"He (Floirendo) now has every opportunity to answer the charges against him. This is our judicial process taking its course and allowing him to properly answer the graft charge and clear his name in the proper judicial forum," he added.
Resolved in less than six months and indicted in less than a year, Floirendo has bewailed the lightning speed by which Morales filed the graft charges that Alvarez first raised in March 2017.
Morales, an appointee of former president Benigno Aquino III, initially resolved the banana king's case involving Tadeco in September 2017. She also denied his appeal in January this year.
In a statement, Floirendo attributed the "hasty filing of graft charges against me before the Sandiganbayan and the subsequent issuance of the warrant of arrest" as "a clear sign of the existence of abuse of power and arrogance on the part of the Speaker."
"While I welcome the hastily filed complaint, I would like to point out that this transgression on the part of the Speaker is not only political but a veiled attempt at grabbing the deal for his business and personal interest," he declared.
Both are congressmen of Davao del Norte – Alvarez representing the first district while Floirendo's turf is the second.
Floirendo nevertheless expressed confidence about the "benefits" Tadeco had given for 30 years to the thousands of inmates and their families.
"I am ready to face this case as this will give me the opportunity to clear my name. My only hope is for the Speaker to insulate the courts from his established brand of maneuvering and undue influence. Despite such setback, I maintain my faith in our justice system because I have not done anything wrong. In the end, I am confident that I will prevail because the truth is on my side," he said.
In September 2017, Floirendo questioned the "haste" by which Ombudsman Morales, who has been threatened with impeachment several times, recommended his indictment for graft, expressing optimism he will eventually be absolved of the criminal charges.
"This unfortunate development is unanticipated, given the haste the complaint was decided as opposed to other similar grievances that have taken years before they were resolved," Floirendo said in a statement.
He told the ombudsman in May 2017 that he "did not have any direct or indirect financial or pecuniary interested in the 2003 (BuCor and Tadeco accord) that would fall within the ambit of the prohibition under the 1987 Constitution, or any other law."
The anti-crime watchdog group Volunteers Against Crime and Corruption, a supporter of Duterte, has vowed to file impeachment charges against Morales whose seven-year term will end in July this year, but has yet to formally file the complaint.
All complaints against impeachable officials emanate from the House of Representatives.
Several lawmakers, then numbering about 28, including House Minority Leader Danilo Suarez, have given assurance that they would endorse such an impeachment complaint as they noticed the "selective prosecution" being adopted by Morales.
Suarez and his colleagues alleged that the ombudsman has been "very harsh against the political rivals of Aquino's Liberal Party," which was the most dominant party during the previous administration but is now relegated to the opposition.