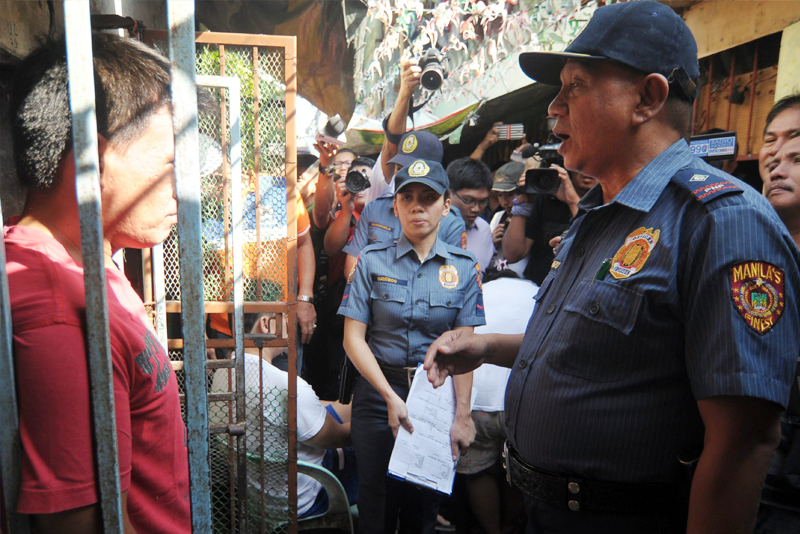 Police officers visit homes in Tondo, Manila to ask suspected drug users to undergo rehabilitation during yesterday's relaunch of Oplan Tokhang. Edd Gumban, File
Dozens killed in past 2 months as police return to war on drugs
MANILA, Philippines — Dozens of suspected drug traffickers were killed by cops in the past two months, the Philippine National Police said Friday after officers made a comeback to anti-narcotic operations that they previously said would be less bloody.
Some 46 drug suspects were killed during alleged gunfights with policemen in 3,253 anti-drug operations from Dec. 5, 2017 to Feb. 1, 2018, the PNP said in a statement.
During the same period, 4,968 drug suspects were arrested nationwide.
The data were released since President Rodrigo Duterte reinstated the PNP after barring them twice from the drug war amid international concern over staggering death toll and several killings of minors.
He placed the country's undermanned drugs enforcement agency, PDEA, in charge of the campaign.
During this week's relaunch of "Oplan Tokhang," where police visit homes of drug users and dealers to convince them to surrender, a total of 2,127 operations were conducted while 821 suspected drug personalities surrendered from January 29 to February 1.
"No casualties were recorded as of the fourth day of Tokhang activities in 17 regions around the country," PNP spokesman Chief Supt. John Bulalacao said in a press conference on Friday.
READ: PNP's Oplan Tokhang, Week 1: No deaths so far
Duterte has stoked international alarm for activating his ferocious anti-drug campaign which has been a hallmark of his three-decade political career.
The PNP is already facing unprecedented scrutiny due to concerns about their conduct during anti-narcotics operations.
Critics say most of the fatalities in the crackdown were extrajudicial killings committed by cops. But the force had repeatedly denied executing suspects in cold blood, saying they only killed in self defense.
While there was already public clamor for policemen to wear body cameras during anti-drug sweeps, the PNP omitted these in their request, choosing instead 48 bomb-sniffing dogs with a price tag of P511,672 each last year.
PNP chief Director General Ronald dela Rosa earlier said they put stringent measures to ensure cops are of good moral character and not involved in any irregularities.