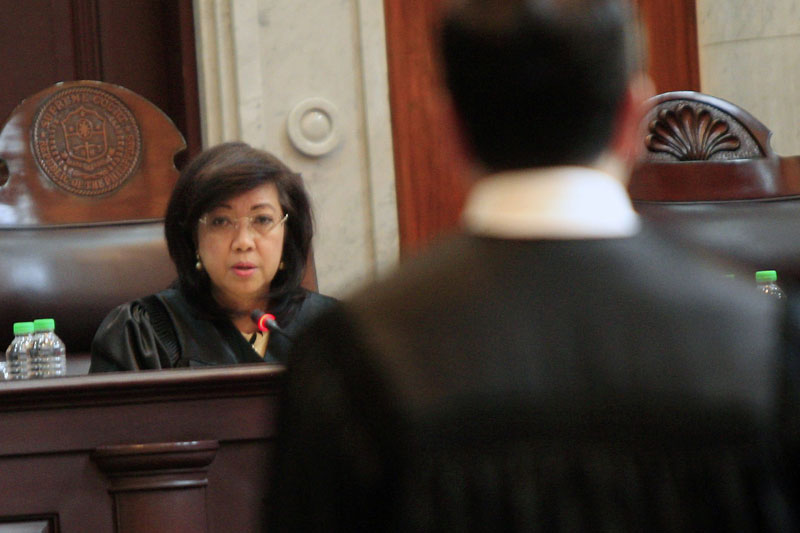 When the 292-member House upholds the report, Sereno will then be considered impeached and the Articles of Impeachment prepared by the lawmakers will be sent immediately to the Senate Impeachment Court, where senators will sit as judges in a court-like trial. Edd Gumban
'Probable cause' for Sereno impeachment seen this month
MANILA, Philippines — The House committee handling the impeachment complaint against Chief Justice Ma. Lourdes Sereno will decide this month if there is probable cause to send the case to the plenary for final approval.
Committee chairman Oriental Mindoro Rep. Reynaldo Umali said they would hold four more hearings this month, which will include the voting among some 50 members.
When the 292-member House upholds the report, Sereno will then be considered impeached and the Articles of Impeachment prepared by the lawmakers will be sent immediately to the Senate Impeachment Court, where senators will sit as judges in a court-like trial.
Psychiatrists and Bureau of Internal Revenue (BIR) officials who have been summoned are expected to appear at the hearing, Umali said.
Dulce Liza Sahagun-Reyes and Genuina Ranoy will testify on the psychiatric records of Sereno when she was applying for chief justice in 2012.
Reports showed the psychiatrists hired by the Judicial and Bar Council (JBC) gave Sereno a rating of "4" from a scale of 1 to 5, with "5" being the lowest.
According to the same report, such grade meant that while she projected a "happy mood," she also exhibited "depressive markers."
The report added that after the test results were revealed, Sereno, who was chairman of the JBC, refused to renew the contracts of the two psychiatrists and terminated them in 2013.
The BIR officials will testify on the tax records of Sereno, who only filed her supposedly annual statement of assets, liabilities and net worth three times – 1998, 2002 and 2006 – since she became a UP law professor in 1986.
Complainant Lorenzo Gadon filed charges against her at the Department of Justice for failing to file her SALN 17 times, a clear violation of the law, not a ground for impeachment but became so after the Senate convicted Corona for a similar offense.
The Umali committee will check Sereno's tax payments with BIR commissioner Cesar Dulay.
'Threatened'
In a related development, Supreme Court Justice Andres Reyes testified on Monday that Sereno threatened to end his career as a magistrate in mid-2017 if he allowed his former colleagues in the Court of Appeals to pay a courtesy call on President Duterte.
"This might end your career," he quoted Sereno as telling him last year when he was a CA presiding justice applying for the SC post, apparently alluding to his vulnerability since Sereno heads the JBC.
The JBC is a constitutional body that screens applicants to the judiciary.
"You cancel that courtesy call," Reyes recounted Sereno as telling him, adding that "she was not smiling at me."
"I'm just telling the truth, the whole truth and nothing but the truth," he assured lawmakers.
Reyes, who was appointed SC justice by Duterte, said he repeatedly apologized to the SC chief, with whom he even furnished a copy of their letter about the CA justices' visit to Malacañang, where they presented the CA's 80th anniversary coin and commemorative stamp.
"I told her I didn't mean to bypass the SC because I didn't have any mean bone in my body. I told her I'm really sorry," he said.
Reyes said he didn't join his fellow CA justices who pushed through with the courtesy call.