DOJ files charges against IS-linked doctor Russell Salic
January 30, 2018 | 1:16pm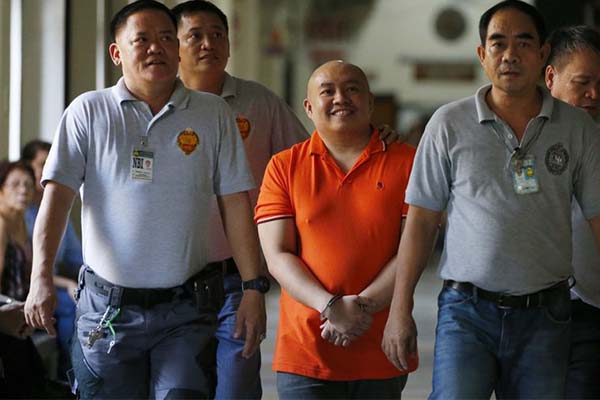 MANILA, Philippines — Maranao doctor Russell Langi Salic, also linked to US terror plot, is facing a string of criminal cases after the Department of Justice indicted him on the beheading of sawmill workers in 2016.
The DOJ charged Salic and 53 others, believed to be part of the Maute group, of kidnapping and serious illegal detention with murder before the Malabang, Lanao del Sur Regional Trial Court Branch 11.
The case stemmed from the complaints filed by Gabriel Permitis, Alfredo Cano-os, Esperanza Janubas, Adonis Mendez and Julito Janubas, who claimed that on April 4, 2016, they were abducted by members of the Maute group while they were working in a lumber yard.
Also abducted with them were Jaymart Capangpangan and Salvador Janubas.
READ: Filipino wanted in US terror plots stands accused at home
The complainants said that they were brought to Barangay Poktan, Butig, Lanao del Sur where they saw more than 100 armed members of the Maute group.
Six days later, Capangpangan and Salvador Janubas were beheaded. The complainants were eventually freed.
During their captivity, the complainants claimed that they saw Salic at an adjacent room full of firearms. Salic was cleaning and guarding the firearms.
Salic, in his counter-affidavit, said that "in his entire life, he never step foot in Butig, Lanao del Sur, neither has he cleaned any firearm."
The doctor also said that on the day of the abduction, he was on duty as resident physician at Northern Mindanao Medical Center (NMMC) in Cagayan de Oro City. On April 5, 2016, he was attending the 26th Philippine Orthopaedic Association Mid-year Convention in Puerto Princesa, Palawan. He added that he returned to NMMC on April 10.
In weighing in on the case, the DOJ said: "[Salic's] negative assertion cannot prevail over the testimony of victims/testimony of victims/complainants...describing in sufficient detail his active participation in the commission of the crimes charged."
"Criminal liability exists notwithstanding non-participation in every detail in the execution of the crime. Where conspiracy is established, it is unnecessary to pinpoint who among the accused inflicted the final blow. The inaction of a respondent where he could have prevented the crime only reveal his complicity thereto," the 24-page resolution read, penned by Senior Assistant State Prosecutor Peter Ong.
READ: Philippines to extradite ISIS-linked terror suspect to US
The US is also seeking Salic's extradition. He is also accused of helping fund the foiled jihadist plot targeting the New York subway and Times Square in 2016.
The US justice department said that Salic transferred $423 to other suspects in the failed operation that was planned through internet messaging applications.
Salic has denied the allegation.