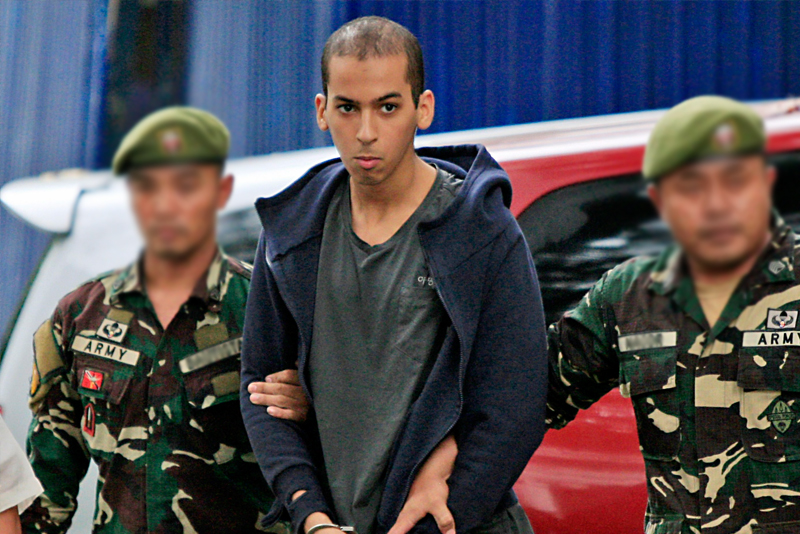 Suspected terrorist Abdelhakim Labidi Adib, a Spanish national, is escorted by soldiers to the DOJ building in Manila yesterday for an inquest following his arrest in Basilan, a stronghold of the Abu Sayyaf. Edd Gumban
Spanish terror suspect nabbed in Basilan
MANILA, Philippines — The military yesterday filed criminal charges against a Spaniard caught carrying grenades and bomb parts earlier this week in Basilan.
Abdelhakim Labidi Adib was charged before the Department of Justice (DOJ) for illegal possession of explosives. A team led by Army Capt. Exequel Panti filed the complaint.
Labidi Adib denied he owned the two grenades and bomb parts the military said belonged to him.
The 20-year-old Labidi Adib was caught at a roadside checkpoint in Masulo town last Monday. He was reportedly carrying a backpack containing a hand grenade, one rifle grenade, a cellular phone to be used as detonating device, his passport and some personal belongings with P8,520 cash.
Labidi Adib was captured in the hinterlands of Maluso town, where the Abu Sayyaf has presence, while a local militant with him managed to escape, the military said.
Panti added they set up a road checkpoint on intelligence reports of a foreign terrorist in the area.
"Labidi Adib is a known Abu Sayyaf sympathizer and ardent supporter of the establishment of (an) Islamic caliphate here in the Philippines," Panti said.
"He was arrested. He threw (away) his bag containing explosives while his companion jumped from a cliff," Panti told reporters yesterday after flying Labidi Adib to the DOJ in Manila.
The Spaniard denied the military's account.
Labidi Adib later told prosecutors that he "came from the jungle" in Basilan but refused to say why he traveled there and whom he met.
He said this was the first time he visited the Philippines and went to Basilan because he wanted to meet beautiful women. He claimed to have been arrested since Jan. 19.
But when he was asked again what he was doing in Basilan, the island province often avoided by tourists due to kidnapping threat by the Abu Sayyaf, he refused to answer.
Labidi Adib, of Tunisian descent, claimed he flew from Switzerland to Manila and went to Zamboanga before going to Basilan.
Authorities, however, said his passport only showed he went to Morocco and Tunisia.
Adib said he intending to go home to Spain when he was arrested.
Authorities said Labidi Adib arrived in the Philippines in October 2017, about the time the siege in Marawi City ended.
Maute group militants loyal to Islamic State, including the Abu Sayyaf, attacked the southern city of Marawi in May last year in what authorities said was part of a campaign to establish a Southeast Asian caliphate for IS.
The Marawi siege lasted for five months and left more than 1,100 people dead and half the city in ruins.
The Islamist militants reportedly looted the city worth tens of millions of dollars during the five-month siege.
Sen. Ralph Recto urged the government to track down and recover the loot.
He said authorities must exert all efforts in seeing to it that "the fruit of the loot will not harm a single Filipino."
Recto said the intelligence funds appropriated by Congress to various agencies should be used to follow the money.
"If some has entered the banking system, then the protocols under AMLA (Anti-Money Laundering Act) should kick in, to prevent it from being laundered and re-circulated as clean," Recto said.
"We can only roll back terror if we stop those bankrolling it. Like any evil enterprise, money is the lifeblood of those who commit mayhem. We stop terror by stopping its financing," he said.
On gold and jewelry taken from Marawi City, Recto said other possible refuge or recycling places – like pawnshops – of stolen property, like gold and jewelry, must be put on notice by regulators to be on the lookout for any suspicious transaction.
Sen. Francis Escudero also called for the recovery of the loot but said it may not be that easy as most of it was in the form of cash, gold bars and jewelry. – Paolo Romero, Roel Pareño, AFP, AP