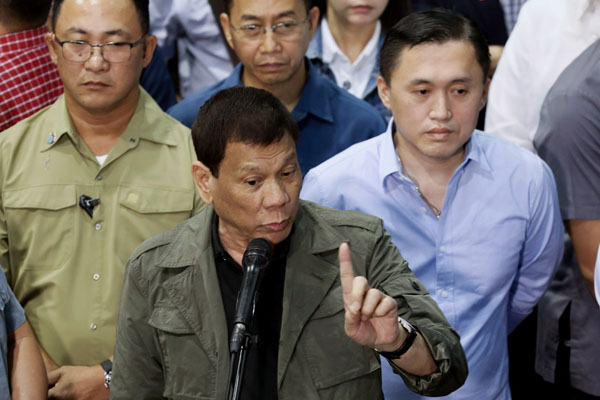 Duterte, who enjoyed overwhelming support from OFWs during the election, said that there is no reason for him to stay in his position if he cannot address the problem. Presidential Photo/Marcelino Pascua
Duterte to Middle East nations: Treat Filipinos with dignity
MANILA, Philippines — President Rodrigo Duterte on Wednesday called on countries in the Middle East to treat overseas Filipino workers with respect amid troubling reports of abuses and suicides.
"Can I ask you now to treat my countrymen as human beings with dignity?" Duterte said in a press conference before departing for India for the Association of Southeast Asian Nations-India Special Commemorative Summit.
He added: "We are poor; we may need your help but we will not do it at the expense of the dignity of the Filipinos."
Duterte threatened the withdrawal of OFWs in Kuwait following the deaths of six Filipinos there. He, however, did not clarify if the total ban will also apply to other Middle Eastern nations.
"I hope I'm not committing diplomatic faux pas but one more incident of Filipina worker being raped there [or] committing suicide, I'm going to stop. I'm going to ban. I'm sorry to all Filipinos there, you can all go home," he said.
The chief executive added: "Let me be blunt about this because Kuwait has always been an ally. But please do something about it and for the other countries in the Middle East."
Duterte, who enjoyed overwhelming support from OFWs in the 2016 elections, said that there is no reason for him to stay in his position if he cannot address the problem.
Last week, DOLE suspended the deployment of OFWs, both returning and new hires, to Kuwait.
Remittances from OFWs is one of the major drivers of the country's economic growth.
READ: DOLE suspends deployment of workers to Kuwait