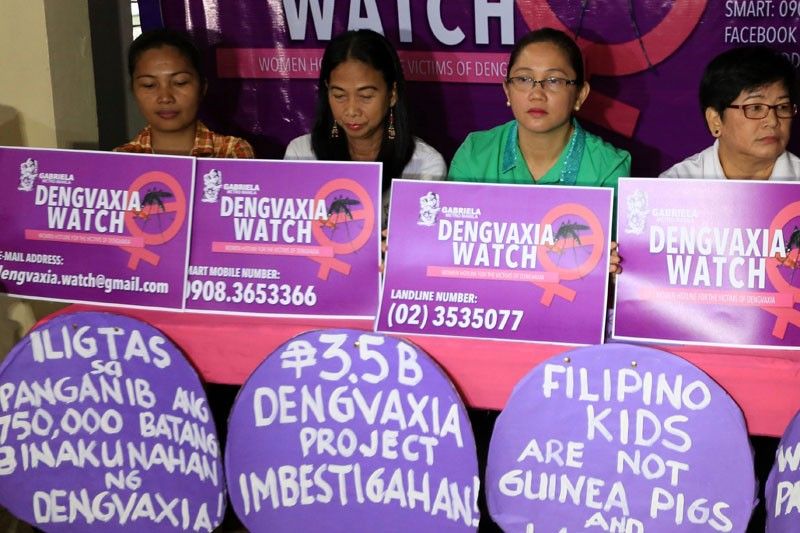 The consultant, Dr. Francis Cruz, accused 19 incumbent and former DOH officials, including former health secretary Janette Garin, of benefiting not only from the controversial procurement of the dengue vaccine but on two other projects. File
DOH 'mafia' involved in plunder – consultant
MANILA, Philippines — A former consultant of the Department of Health (DOH) yesterday urged President Duterte to take action against a "mafia" composed of incumbent and former health officials that allegedly plundered the government's coffers through anomalous projects, including the purchase of P3.55 billion worth of Dengvaxia vaccines.
The consultant, Dr. Francis Cruz, accused 19 incumbent and former DOH officials, including former health secretary Janette Garin, of benefiting not only from the controversial procurement of the dengue vaccine but on two other projects.
Garin branded the accusations as "foolishness" and challenged him to substantiate his claims and file cases in court.
Dengvaxia became controversial following reports that it led to more serious symptoms for people not previously afflicted with dengue.
"Mr. President, you are removing people in government who are going abroad but for this, they went overboard in stealing people's money," Cruz said in a news forum in Quezon City.
Cruz, a consultant to former DOH secretary Paulyn Jean Ubial, said Duterte should act soon as Health Secretary Francisco Duque III is surrounded by people with questionable backgrounds.
Asked if Garin is the leader of the group, he answered, "I cannot say that, I'm not the NBI (National Bureau of Investigation). What I'm saying is she still has influence."
But he claimed that Garin and several other officers benefited from "ghost projects" of the DOH's Health Facilities Enhancement Program worth P23 billion and from the procurement of assorted medicine amounting to P12 billion.
He explained that the officials benefited through a "conversion process" where 90 percent of a project's budget allegedly goes back to the agency and only the remaining 10 percent goes to the financier, often the supplier.
"When you convert, 90 percent of the money goes back to you and they divide among themselves," Cruz claimed.
The former consultant did not present documents to back his allegations and admitted that he has not thoroughly studied the supposed ghost projects and anomalous purchase of assorted medicine.
Prove it
In a phone interview late yesterday, Garin challenged Cruz to substantiate his claims as she is considering suing him for libel.
"He made serious allegations against people who are just working," Garin said.
Branding the revelations as "foolishness," Garin denied that she and 18 other incumbent and former health officers amassed billions of pesos from at least three projects, including the P3.5-billion procurement of Dengvaxia.
"If his allegations that several officials were involved, I myself would have filed cases against them," she said.
The former health chief lashed out at Cruz for making sweeping allegations in the media without presenting concrete evidence and tarnishing the reputations of career officials in the process.
She called on Cruz to file cases so these can be answered in the proper forum.