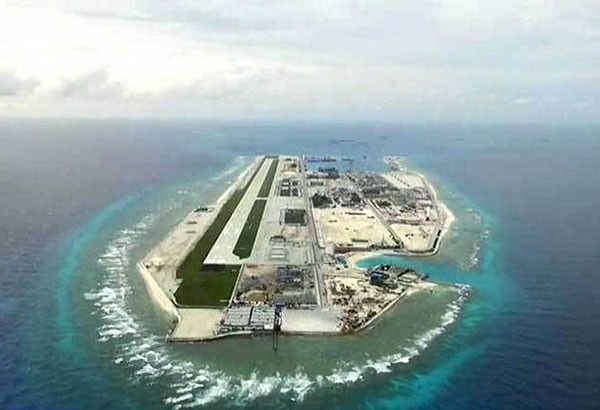 An image aired by China Central Television last Dec. 30 shows the completed construction of facilities on Kagitingan (Fiery Cross) Reef, one of Beijing's artificial islands in the Spratlys.
Lorenzana: Philippines to protest China airbase on Fiery Cross Reef
MANILA, Philippines — The Philippines will file a diplomatic protest against China for the latter's reneging on its promise not to militarize artificial islands in the West Philippine Sea and South China Sea, defense chief Delfin Lorenzana said on Monday.
Lorenzana's comment followed a Dec. 30 broadcast of aerial footage by the official China Central Television (CCTV) showing Kagitingan (Fiery Cross) Reef transformed into an airbase.
At Malacañang, however, presidential spokesman Harry Roque said there's no need for such protest as China's promise of "good faith" concerns only land reclamation and not the setting up of structures – including military facilities – on artificial islands Chinese forces already occupy.
The United States has criticized China's build-up of military facilities on the artificial islands and is concerned they could be used to restrict free movement along the key trade route.
"The Chinese government said some time ago that they were not going to militarize those reclaimed islands," Lorenzana told reporters, adding that the protest would be made through the foreign ministry.
"If it is true and we can prove that they have been putting soldiers and even weapons systems, that will be a violation of what they said," he said.
Asked about the planned protest, China's foreign ministry spokesman said the construction was on the country's territory and was intended to aid peace in the region, as well as maritime safety and disaster prevention.
"Of course, China also needs to construct necessary defense equipment for its territory," ministry spokesman Lu Kang told a regular briefing yesterday. "The relevant equipment is not directed at any particular country."
China and the Philippines have long sparred over the South China Sea and West Philippine Sea, but relations have improved considerably under President Duterte, who has been courting Beijing in hopes of winning business and investment.
China has assured the Philippines it will not occupy new features or territory in the South China Sea, under a new "status quo" brokered by Manila as both sides try to strengthen their relations.
Reports about China militarizing reclaimed islands were not new, Roque told a regular news briefing.
"We have always been against the militarization of the area," he added. "It is certainly not OK, because it constitutes a further threat to peace and security in area."
China has denied US charges that it is militarizing the South China Sea, which also is claimed by Brunei, Malaysia, Taiwan and Vietnam.
Chinese structures on Kagitingan Reef include a hospital with more than 50 doctors, high-speed mobile connections and an airport with a runway of 3,160 meters to serve what Beijing calls a "weather station" equipped with radar, Chinese state media say.
In the last 27 years, China's navy has sent more than 1,000 soldiers to guard the reef, state media have said.
Roque downplayed the reports. He rebutted a reporter who asked if Manila would continue to rely on China's "good faith."
"You know, that's a misplaced question. When we say we are relying on China's good faith, it is because China has committed not to embark on new reclamations," he said.
"Kagitingan is one of the islands that it had already reclaimed," he said, referring to China. "And this is also one of the islands subject of the arbitral tribunal's decision that it is within the Philippine economic zone," he said.
"So when China – when we invoke the good faith of China, it is against making further reclamations and not making further works on islands that it had already reclaimed," he pointed out.
"I hope that is very clear. So the good faith we're relying on is the commitment of China not to embark on new reclamations," he added.
Told about Lorenzana's pronouncement, Roque said it is within the purview of the Department of Foreign Affairs (DFA) to file the protest. "Of course, that's the proper remedy. But that's something that the Department of Foreign Affairs will have to address," he said.
Still no breach
"But all I'm saying is that there is still no breach of the good faith obligation for as long as China has not embarked on new reclamations."
Roque, a self-proclaimed international law expert, admitted it would not be good if the Chinese would continue developing their military capability in the South China Sea through fortification of artificial islands.
"But the point is, has there been a breach of Chinese commitment not to reclaim any new islands or shoals in the area?" he said.
"For as long as there is none, then we continue to respect that they are true to their commitment not to do so. But I think, from the very beginning China, we knew, was militarizing the area by reclaiming these areas and by using them as military bases," Roque added.
China's military buildup in disputed waters, he stressed, was "not news" anymore.
"The fact that they are actually using it now as military bases, as far as I'm concerned, is not new. It's not news because we've always been against the militarization of the area. But the good faith commitment is not to reclaim new islands. I hope that's very clear," he said.
He maintained that the ruling of a UN-backed arbitral court in July 2016 invalidating China's massive maritime claim would be enough to compel the Asian power to scrap its plan to deploy nuclear platforms before 2020 on artificial islands.
"Well, the tribunal says that if these infrastructure are within our EEZ, only the coastal state, the Philippines, has the right to make these installations in these artificial islands," he said.
"I think, without doing anything, the tribunal already articulated the correct legal position of the country and the correct legal principle that it is the Philippines as a coastal state that should exercise sovereign rights within its exclusive economic zone," he said.
The Philippines, he pointed out, may file a separate protest against China's nuclear plans. "That would be probably the subject of a separate protest as contrary to the sovereign rights of the Philippines," he said.