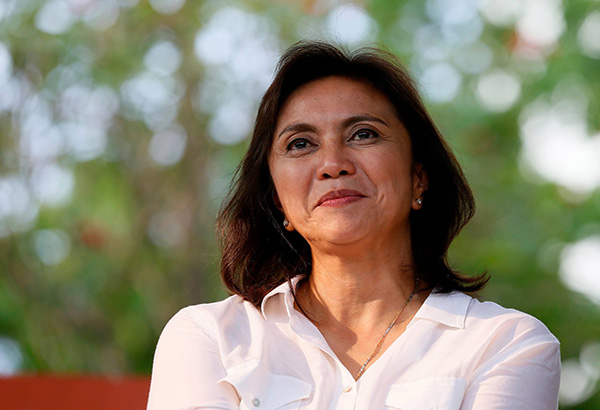 In her New Year's message, Vice President Leni Robredo said she hopes Filipinos remain resilient to overcome challenges the nation faces, including what she describes as the "proliferation of a culture of fear and violence in our society." AP Photo/Bullit Marquez
Leni, senators wish Pinoys a better life in 2018
MANILA, Philippines — Vice President Leni Robredo wished all Filipinos better lives in 2018.
In her New Year's message, Robredo said she hopes Filipinos remain resilient to overcome challenges the nation faces, including what she describes as the "proliferation of a culture of fear and violence in our society."
"This 2018, our dream to provide better future to every Filipino family remains," the Vice President said in Filipino.
"As we welcome 2018, we pray that Filipinos will continue to live with the light of love and hope in their hearts," she said. "Let's remain strong and determined in our aspiration to uplift the lives of the poor and fight for the rights of every Filipino."
Senators, for their part, yesterday called on Filipinos to face the New Year with love, hope, and determination for them to overcome challenges, and take advantage of opportunities that will come their way in 2018.
Sen. Grace Poe said 2017 challenged Filipinos' mettle and unity as a nation with the security crisis in Marawi City, typhoons, earthquakes and other calamities.
Despite these, she said, Filipinos remained united and resilient as a nation and turned the corner relying on each other's strength.
Sen. Loren Legarda urged Filipinos to welcome the New Year "with a grateful heart" and hope for Filipinos to be "stronger, wiser and more resilient."
Sen. Nancy Binay said Filipinos were challenged in the past year "but like the bamboo that sways with the fiercest winds, we Filipinos survived and soldiered on."
Sen. Sonny Angara wished that Filipinos will be able to work together as a nation to transform their dreams into reality.
"We are hopeful that these reforms under TRAIN would bring growth to our families and to our nation. This new measure is just the beginning. There is more work ahead of us in making taxes work for us, especially the poor, who must benefit more from government services," he added.
Sen. Francis Pangilinan asked Filipinos to make 2018 a kinder year as "in the eyes of a child, a wrong becomes right if this is done by an adult."
"Toy guns are a fad again. Some children who may have received toy guns for Christmas are going around their neighborhoods playing war games, hurting themselves and bystanders and passers-by alike," Pangilinan said.